They say you should never go into business with your friends, but on the other hand, what the hell is the point of opening a bar if you're not going to do it with your friends? Especially if it's something you and said friends have been plotting, in bars, ever since you were old enough to realize you'd all eventually have to get some kind of job.
To help turn this terrible decision into a great one, we enlisted a panel of experts who've successfully avoided the pitfalls and emerged with businesses and friendships intact: Josh Harris of San Francisco's Trick Dog (and spirit-ual advisors The Bon Vivants); Brett David, the co-creative director of NYC's Leave Rochelle Out Of It (the name comes from a mutual ex- he shares with friend & partner Stephen Yorsz); Larry Rice of Louisville's Silver Dollar and El Camino; and Joe Dallas, part of a crew who banded together to help pal Justin Fay open Portland's Base Camp Brewing Company. Their advice:
1. Don't do this with just any friends
"If you've ever said, 'I could never live with that person,' you shouldn't open a bar with them either," says David. We all have friends who are thoughtless, irresponsible, or even good old-fashioned a-holes -- and while we'd still do anything for them, going into business with them is bad news.
"Sometimes passing along a problem can be the best way to fix it." - Joe Dallas
2. Clearly define roles and responsibilities
If you don't manage expectations at the outset, you're headed for ugliness. "If the guy with a lot of money says, 'I'm going to give a million bucks and that's it!', then that's cool, it's all clear," says Harris. "But if you expected the money guy to run the business and he doesn't do a damn thing except show up and sit on a bar stool, then things will get adversarial." Figure out who'll be handling marketing/money/management, etc, and stay in those lanes.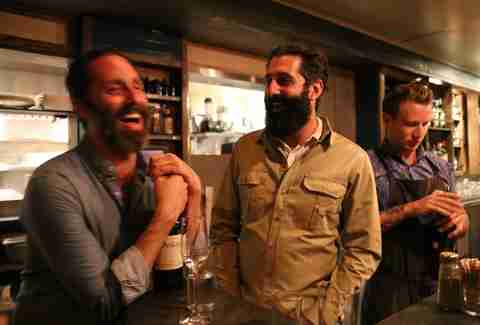 3. If nobody's an expert, choose roles by talent
"Our roles and responsibilities developed -- and, honestly, continue to develop -- over several years," says Dallas. "Divvying up our goals and operations into somewhat manageable pieces has at least provided us with some moving targets." One caveat: even if one of you is math-inclined, Harris says that once the business takes off, you should bring in a real accountant who can be a valuable jerk by telling everyone where they're screwing up.
 
4. Do your defining on paper
Ultimately you'll want a partnership attorney, but, says Harris, "You could have four guys with a piece of paper and a sharpie… and that's a much better start than most guys who've been high fiving each other since high school football usually get off to." Again, be specific, e.g., "Jimmy will be behind the bar a minimum of four times a week the first two years, and after that Jimmy can do whatever Jimmy wants."
5. Bring in one partnership attorney
In the beginning, when you all have the best intentions, you just need one lawyer, and his goal should be to set up the healthiest business possible. "Don't think of it like two parties coming together, think of it like one party looking to protect itself from itself," says Harris. "And write the agreement so one guy being an ass won't sink the business."
 
6. Have rules
"When you're a sole owner you can do whatever the **** you want," says Harris. "When you have partners in the mix, you need to treat yourself like an employee. You need to know that you have to go into the office every day."
7. Three heads can be better than two
Not just because you are now an even more awesome mythological creature, but because as Rice notes, when you've got at least three partners, "someone always gets to play devil's advocate, you have fewer direct confrontations, and you make fewer mistakes."
 
8. Don't let "friends of the bar" become its enemy
You'll all come in with mutual friends and friends from other places. Each camp could produce freeloading jackasses expecting their bar tabs to read "Zero, because you're my boy!" Harris suggests covering comps in individual scope of work agreements -- "whatever the legal language is for 'you're not allowed to give away the house.'"
 
"Back when I was working for somebody else, every time someone told me they were friends with the owner, I'd say, 'So am I.'" - Larry Rice
9. Empower your staff to shaft those freeloaders
Tell your bartenders to make the partners the bad guys. David feeds his staff this line: "Sorry buddy, the boys have a rule: we take a credit card from everyone, even girlfriends and mothers -- because both have walked out without paying their tab."
10. Don't have everybody vote on everything
For overarching decisions (expansion, what the hell are you going to name this place, etc), everyone should get a vote, and you should work damn hard on getting consensus because constantly voting down one partner will make them resentful and possibly turn into a villain from Gotham. But for decisions that fall squarely within one partner's area of expertise -- adding a new cocktail/beer/food item, etc -- just let that partner handle it, or you'll never get anything done.
"Everything you do should build up harmony in the partnership. Speak up when you're really passionate, but when you're not really passionate, just say 'cool'." - Josh Harris
11. When there's no consensus, let top employees weigh in
When Rice and his partner come to a draw on one of those big calls, they bring the matter up at the managers' meeting. Those guys know as well as anyone how a decision will affect the staff and customers.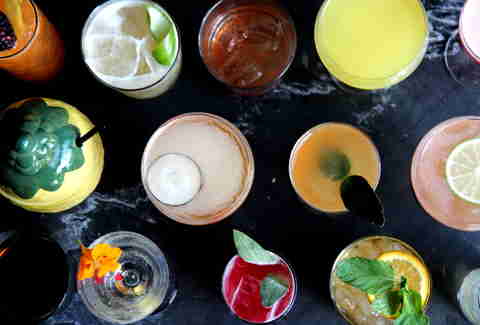 12. Figure out ways to let your partners into your territory
Say you're the beer guy. That's your job. The other partners shouldn't be questioning your every decision. But: everybody wants to weigh in on beer selection, because it's fun. David's partner Stephen Yorsz narrowed down his beer possibilities to 20 can't-misses, then had David help pick the final lineup -- mostly based on label-coolness, because David hates the taste of alcohol and doesn't drink.
 
13. Value all opinions
Offering up an opinion just for the sake of yapping is a bad idea, but if a partner feels strongly about something that falls outside their area, hear them out. For instance: Larry Rice has been in the bar & resto business 20 years; Shawn Cantley has not. But Rice calls that perspective invaluable; Cantley isn't jaded, and whereas sometimes Rice sees things from a purely operational perspective, Cantley sees them the way a customer would see them. "Don't go into business with people if you don't value their input."
 
14. Whatever decisions get made, present a united front
"Whoever has the most compelling argument, you have to back that person's idea," says Rice. "You can't undermine the idea to the staff or the public."
15. Distributions are equal. Salaries are not.
The ultimate goal is to make the bar so profitable that the distributions become enormous and nobody has to work. You can't get there if everyone's drawing a fat paycheck. So: You only get salary for the work you do at the bar. And, you only pay yourself what a non-partner would make in the same role -- less than that if things are tight and you can survive it.
 
16. Have each other's back
When your partners asks, "My kid's got a birthday, can you go wait for a permit for four hours?", you put on some comfortable shoes and head to City Hall.
 
"Will we open another bar together? Who knows. But ours now is a huge success and we are having a blast like Thelma and Louise. That had a happy ending right?" - Brett David
17. Have some freaking fun together
You're all about to get very, very busy. "Our long days with planning and build-out segued right into even longer days," says Dallas. "Get into the brewery ass-crack-of-dawn early, put in a full day, then tie on an apron and close the taproom around midnight." Harris stresses the importance of getting out of the office, having some drinks poured by people who don't work for you, talking about new ideas, and getting back in touch with the ideas that got you so pumped in the first place. Who knows, you might get so excited that you decide to open another bar.

As a loyal reader, your opinion is more important to us than oxygen, or hydrogen even. Please take this quick survey and tell us what you think!