Design by Chineme Elobuike for Thrillist
Design by Chineme Elobuike for Thrillist
We're adults now, which means that we're the ones responsible for packing our coolers for outdoor excursions, a daunting task that makes us nostalgic for the days parents took care of such details—even if it meant eating a soggy PB&J sandwich on the beach.
After all, there are so many things to consider: How much should we pack? How can we prevent sandy snacks? What food and drinks will not just sustain us, but keep us in good spirits over the course of a day? How do we meter our day drinking so that we don't end up falling asleep under the sun and waking up with embarrassing tan lines?
Lucky for you, we sought out some experts to answer these questions and more, so that your next beach bash is complete.
Pack a crowd-friendly staple
First things first, the problem that often arises when packing food for a beach day is that coolers have a limited amount of space, and a lot of foods will become soggy, messy, or sandy on their journey to the beach.
To advise on this serious subject, we reached out to Maya Bollinger, the market buyer at Hi-Lo Liquor, a neighborhood market with two LA locations that prides itself on carrying items at low and higher price points.
When in doubt, you can't go wrong with classic chips and guac. Bollinger recommends a snack like TuTu's Tortilla Chips, a small, SoCal-based company where the chips are cooked in a home kitchen by TuTu herself. The chips are seasoned with a secret spice blend that sets them apart from other dippables and makes them delicious whether eaten on their own or with guacamole.
"They have an original flavor and a Hollywood hot flavor, which is my personal favorite," Bollinger revealed. "When I wrote about it in our newsletter, I basically declared it 'hot chips summer' because I was really passionate about these hot chips."
Bollinger isn't the biggest guacamole fan, but credits Hope's Green Chile Guacamole for making a believer out of her. Packed with organic and non-GMO ingredients including Mexico-grown hand-picked avocados, green chile, onion, sea salt, tomato, garlic, lime juice, and cilantro, the dip's larger 15-ounce container is tightly sealed and compact. And, while not especially exciting, chips and guac are easy crowd pleasers and the chips don't have to be refrigerated, which allows you more room for additional snacks and bevs.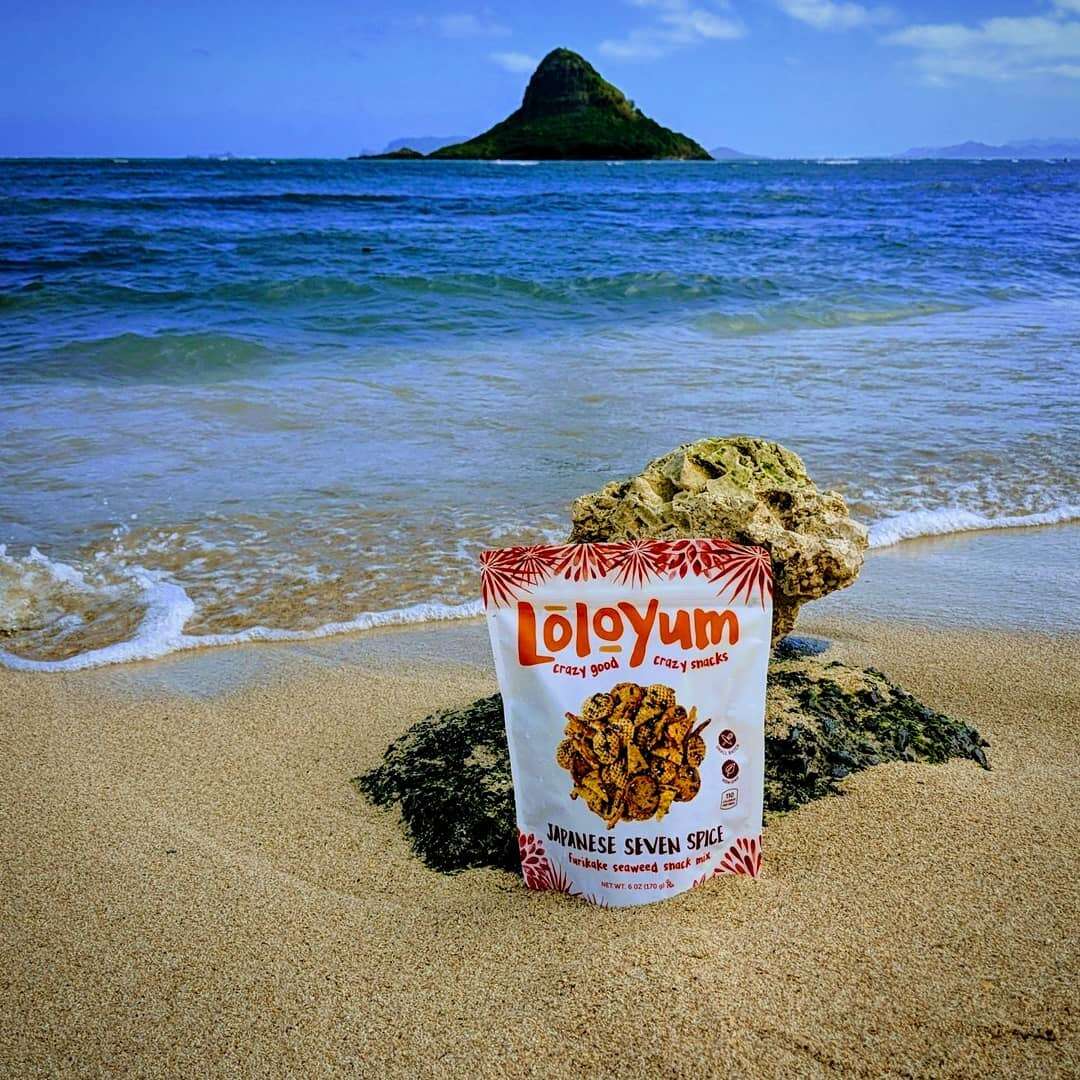 Elevate your snack game
If you want to venture outside of classic tortilla chips, Bollinger recommends seaweed snacks and specifically LoloYum, a furikake seaweed snack mix that comes in three flavors: original, matcha, and Japanese seven spice. The latter adds some heat to the salty-crunchy mix and is Bollinger's favorite.
Packing a box of Moonshot crackers will feel good not just in your belly, but also in your heart once you learn the company's commitment to fighting climate change by working with sustainable farmers and using a shorter supply chain. Get the variety pack so you can try all three tomato basil, sourdough sea salt, and rosemary garlic flavors.
Sometimes you come back to the shore after boogie boarding and all you want to do is collapse on your beach towel and shove the closest food into your mouth—preferably something filling that will restore your energy so you can tackle those waves again. When that happens, you'll want to reach for something easy like jerky. Anaheim House of Jerky comes in inventive flavors like Buffalo chicken wing, Moroccan fried garlic, sweet and spicy pineapple, and maple brown sugar bacon—plus rare meat options like whiskey rabbit, teriyaki ostrich, and sriracha shark. They're an ideal quick snack that doesn't take up a lot of space.
Finally, Bollinger recommends something cold and compact to satisfy your sweet tooth. Take a party pack of Jeni's Street Treats, adorable 3.6-ounce ice cream cups that come with a spoon under the lid for maximum grab-and-go effectiveness, as well as flavors like frosé sorbet, brown butter almond brittle, and honey vanilla bean.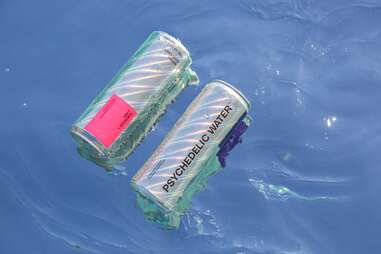 Stay hydrated and stress-free
Water is a necessity for any beach or all-day adventure, so throw a 12- or 24-pack of bottled water in your trunk to help stave off dehydration. If you enjoy the flavor of hops but want to skip the brews, Bollinger recommends Hop Water, a calorie-free, hop-infused sparkling water with adaptogens and nootropics to help you de-stress while you lounge in the sand.
"It's a really refreshing drink, especially if you don't want to drink beer that day, it's really hot, or you don't want to take glass containers on the beach," Bollinger said. She added that, "The blood orange and mango flavors are my favorites."
Psychedelic Water is another option for staying hydrated and happy while you bake under the sun—and don't worry, it won't make you trip (unless you stare at the cool holographic can for a really long time). But it does promote an elevated mood and relaxation with ingredients like green tea leaf extract, kava root, and damiana leaf.
"We like to think that we're inserting a little psychedelia into people's everyday life," said founder Keith Stein, "You can have this psychedelic component or fixture in your daily life without tripping, without getting sloppy or messy or anything."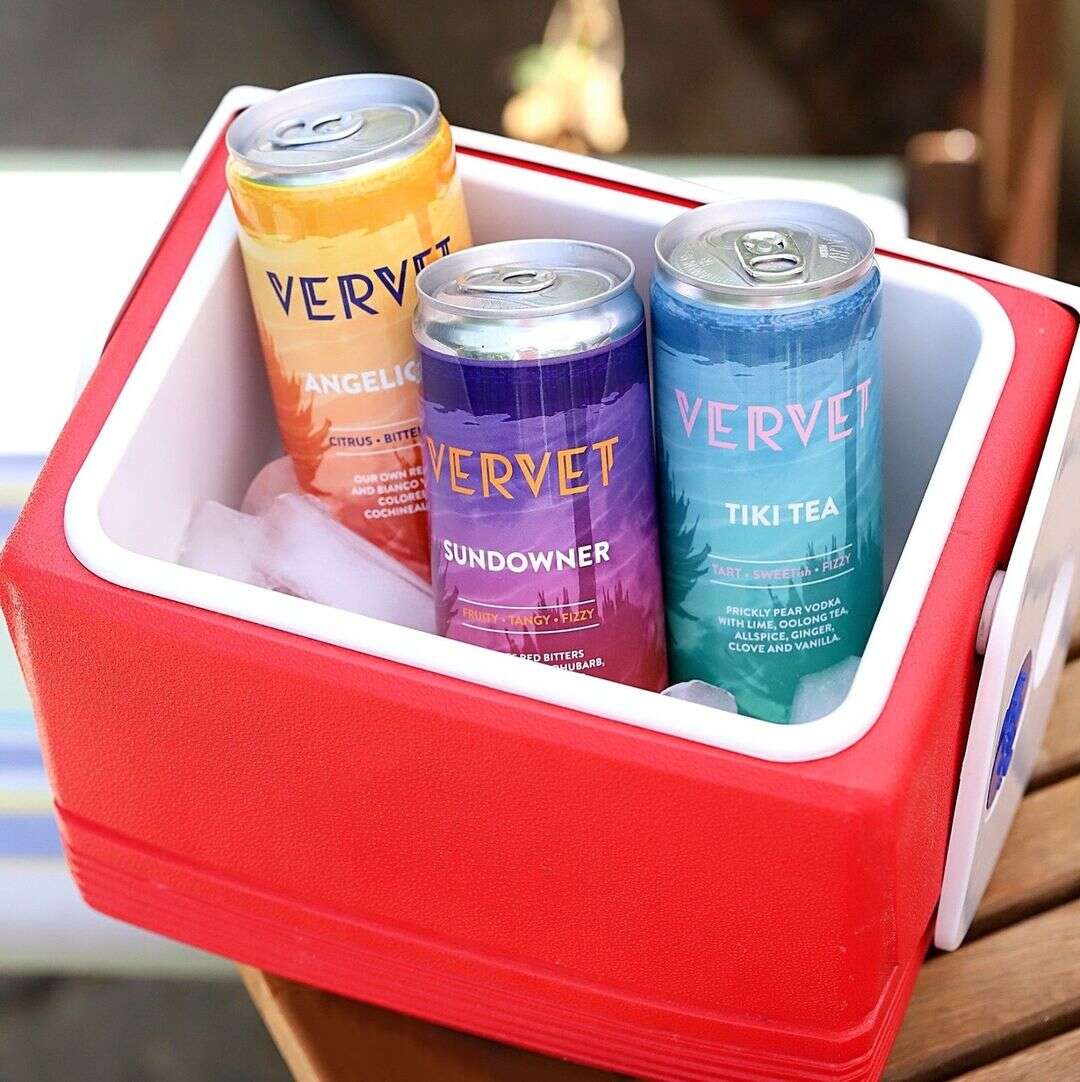 Save on cooler space and day drink in style
But obviously, you want at least some booze to round out your cooler. Most opt out of preparing cocktails on the beach because who wants to risk getting sand in your shaker? Thankfully, The Dry Cocktail solves those problems by freeze-drying the ingredients from your favorite cocktails into a powder, so all you have to do is add ice and your preferred liquor. Launched this past Memorial Day, The Dry Cocktail currently offers Old Fashioned and margarita powders, and the website offers fun recipes that put a twist on classic preparations.
"A box of The Dry Cocktail, a bottle of booze, a bottle of wine, and you are the star of beach day," declared Kristola. She clarified that, "There's so much room for error when making drinks, but The Dry Cocktail lets you dilute your drink with more ice if it's too strong, or add more spirit if it's too weak."
In addition to conserving precious cooler space (each box comes with seven small packets that each make one full cocktail), the concoction is vegan, non-GMO, gluten-free, and low calorie, with real fruits and spices, plus a housemade bitters that's freeze dried in the Old Fashioned.
Add some craft to your canned cocktail
Sometimes you don't want to do any work and just want to crack open a cold, refreshing canned cocktail. Vervet, an LA-based canned cocktail, celebrates the city's diverse culture with carefully crafted recipes that utilize local ingredients and reimagine classic drinks.
"Our Tiki Tea is a pun on Tiki-Ti, the iconic bar on Sunset Boulevard," revealed Vervet co-founder Tuan Lee. "The cocktail is a really tropical Moscow Mule inspired by Tiki and celebrating Filipino culture, with Mexican prickly pear fruit, cold-brewed oolong tea, fresh lime, ginger, clove, allspice, vanilla, and clove."
Other flavors include a light, refreshing take on a Bloody Mary called Pale Mary, a Negroni-inspired Angelicano with housemade red bitter amaro and light bianco vermouth, and Sundowner, a boozy strawberry soda with cold-pressed Oxnard strawberry juice, rhubarb, kombucha, drinking vinegar, oak, vanilla, grains of paradise, gentian, herbs and spices. Each of Vervet's canned cocktails clocks in at an approachable, but not-insignificant 8% ABV.
How to Tetris your cooler items
Now comes the tricky part. You've got everything you need for your ultimate day at the beach, but how will you get it there?
First, to help your perishables remain fresh for as long as possible, leave your cooler outside or store it in a cool corner of your home the night before your trip.
If possible, bring a separate cooler for canned liquids that can take up a lot of space, plus you'll likely be grabbing from it more often, which means your drinks will warm faster and your food could spoil. However, if you're limited to one cooler, you can at least organize your items so that they're easy to grab when you need them.
Rather than get a big bag of ice cubes, try freezing large blocks in Tupperware the night before your trip so that they don't melt as quickly. Reusable freezer packs are also great if you're only heading out for a day. For food, remove any cumbersome store packaging and repackage them into airtight Ziploc bags to save space.
When it comes to packing your cooler, start with a layer of ice blocks at the bottom, then cover them with a barrier like cardboard to avoid food items slipping to the bottom and getting soggy. Pack your food in the opposite order you expect to eat it, and try to fill as much space in your cooler as possible by layering food on top of ice blocks until your cooler is full. Air pockets will accelerate how quickly your ice melts, so stuff it to the brim. Finally, top your cooler with a reusable freezer sheet to trap all of the cool air inside.
Keeping your cooler cool
Now that your cooler is packed and ready to go, store it in the air conditioned car with you—not just so you can easily grab a snack if hunger strikes on the way to your destination, but also because your trunk and roof of your car are more directly under the sun and therefore hotter.
Once you arrive, make sure to keep your cooler in the shade, away from direct sunlight and that it's closed whenever it's not in use. Rather than browse an open cooler for too long, decide what you want to grab before you pop it open. Unless you have more ice to replace melted water, your items will remain cooler if you drain the melted water when you get home.
Now that you're more than ready for your ultimate day at the beach, don't forget the most important part: Bring a trash bag with you and set it up as soon as you arrive so that when you're ready to head home, cleanup is quick and easy.