Verjus Might Be Your Bartender's Most Versatile Ingredient
Use it for non-alcoholic drinks, a mixer in cocktails, or in a salad vinaigrette.
Design by Chineme Elobuike for Thrillist
When bartender Alba Huerta called up Scribe Winery in Sonoma a few years back and asked if they had ever thought about making a verjus, there was a bit of confusion. Scribe co-founder Andrew Mariani asked, "Alba, are you planning on making salads?"
Up until that point, it was more common to see verjus—or the pressed juice of unripened grapes—in the kitchen rather than the bar. Its sweet-tart taste and gentle acidity makes it a great ingredient in salad vinaigrettes, pickling juices, or mustards. But as the owner of craft cocktail bar Julep in Houston, Huerta had other ideas.
"I was starting to get really into the idea of verjus for drinks since it's a great acid that's really stable," she says. "I started trying different kinds, and thought they were too harsh. But Scribe ended up using estate grapes and it was beautiful. It reminded me of prickly pear. I was stunned by it and this product has gotten more and more interesting every year."
While wineries making verjus is nothing new, the idea of the ingredient being commonly used at the bar—both as a mixer alongside booze and a base for NA drinks—is now more prominent than ever. You'll see the non-fermented wine used in a Pimm's Cup, mixed with scotch or bourbon, or simply topped with soda water for a spritz.
"People are more open to these non-traditional versions of alcoholic and non-alcoholic drinks," says Marinari, a fourth-generation California farmer, who runs Scribe with his brother Adam. They just released the seventh bottling of the product, which they also use in the winery's salad vinaigrette. "There is something inherently delicious about verjus, with its great acidity and round fruit character. You're getting a wine flavor profile without the alcohol."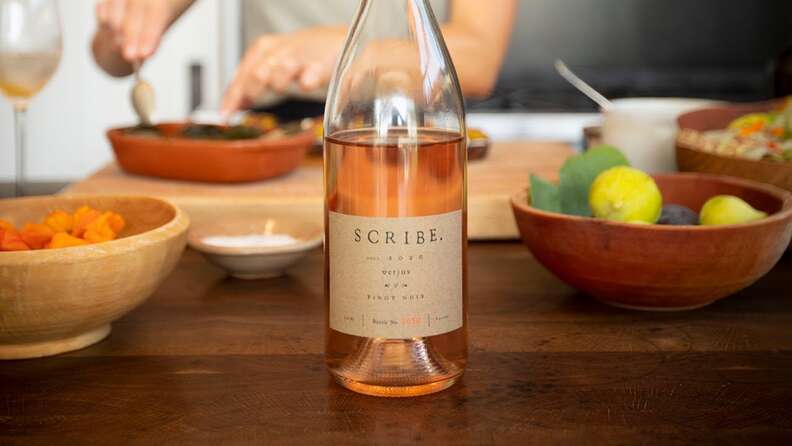 Vert jus is French for "green juice" and, decades ago, American winemakers were inspired by this tradition and decided to produce it for French restaurants. Roman Roth, the esteemed winemaker at Wolffer Estate Vineyard on Long Island, was introduced to verjus by an article his wife read in The New York Times in 1996, and has been making it ever since.
"At the time, we tasted a French one and a California one, and one tasted like acid water and the other like canned vegetables. I thought ours couldn't taste worse than these two," Roth remembers. "But we got ours in Le Bernardin and some other great places. Now we make 700 cases every year for restaurants."
And Roth noticed a more recent shift a few years ago, when he heard about chefs drinking his verjus with San Pellegrino. So Wolffer started producing its non-alcoholic sparkling Petite Rosé Verjus, sort of a spritz in a bottle, which has become beloved.
In fact, it's that movement towards NA options that has popularized verjus, making it a staple ingredient in the "spirit-free" section of bar menus or even on the cover of cocktail books, like Julia Bainbridge's acclaimed non-alcoholic cocktail book, Good Drinks.
"There is something inherently delicious about verjus, with its great acidity and round fruit character. You're getting a wine flavor profile without the alcohol."
"We all know that booze can make us feel terrible, but it tastes so good," laughs Brooks Reitz, the owner of Leon's Oyster Shop in Charleston, South Carolina, and founder of mixer company Jack Rudy Cocktail Co. "Of all the non-alc offerings, verjus tastes most similar to something that has alcohol in it. Everything else feels a little engineered, lacks the complexity or oiliness that alcohol has. There's a nutty character that almost reminds me of a sweet vermouth."
Leon's is featuring verjus on its drink menu in two ways: as a base with elderflower tonic, honey syrup, and club soda and as a mixer with bourbon and grenadine. Verjus' ability to do both equally well is what makes it such a special ingredient. In fact, Huerta refers to the juice as the ultimate binder, saying it can marry two seemingly disparate ingredients and make an entire drink harmonious.
Take the Cape Fear Cooler, featured in her cocktail book Julep: Southern Cocktails Refashioned, where 10-year-old Laphroaig Scotch and watermelon puree, which "usually aren't the best of friends, come together beautifully," Huerta says. "Verjus is acidic without citrus and can open the door for a lot of things."
Beyond its dynamic flavors, perhaps the most exciting thing about verjus is that it stems from a process winemakers are already doing. Fruit thinning occurs many times before harvest, essentially removing clusters from the canopy to increase fruit size. Those removed grapes are really high in acid, have a tiny bit of sugar accumulation, but not enough to ferment. "Take some of that fruit, press it, chill it way down, and, boom, you'll have verjus," Marinari says.
Of course, like all wines—whether you're using pinot noir grapes in California or pinot meunier grapes in New York—the whole idea is that verjus still reflects the land on which it's grown.
"It is really a beautiful grape juice, not cloyingly sweet or overly produced," Roth adds. "When you taste verjus, you can really smell the harvest."
Cape Fear Cooler Recipe from Alba Huerta
Ingredients:
1 ounce Laphroaig 10-year-old scotch
1 ounce watermelon puree (recipe follows)
1½ ounces carbonated verjus
Directions:
Pour the scotch and watermelon puree in a rocks glass and stir lightly. Fill the glass with 1 ¼-inch ice cubes. Top with carbonated verjus and stir gently. Garnish with a watermelon wedge.
Watermelon Puree
Ingredients:
2 cups 1-inch cubed, seedless watermelon
1 cup granulated sugar
1 ounce vodka
Directions:
Place the watermelon, sugar, and vodka in a blender and puree until smooth. Strain the puree through a fine-mesh strainer. Transfer to a covered container and refrigerate until cold before using. Store in the refrigerator for up to 3 days.
Fleurette Cocktail Recipe from Leon's Oyster Shop
Ingredients:
2 ounces Scribe Verjus
½ ounce elderflower tonic
¼ ounce honey syrup (equal parts honey to hot water, stirred to combine and cool before using)
Directions:
In a Collins glass, combine ingredients. Add ice, top with club soda, and stir. Garnish with a long peel of grapefruit and a slice of cucumber.
Monkey Jungle Cocktail Recipe from Leon's Oyster Shop
Ingredients:
1 ½ ounces bourbon
1 ounce Scribe Verjus
¼ ounce Jack Rudy Grenadine
Directions:
In a mixing glass, combine all ingredients. Add ice, stir well, and strain over fresh ice in a rocks glass. Garnish with a twist of lemon and a Jack Rudy Bourbon Cocktail Cherry.
Hacienda Verjus Vinaigrette Recipe from Scribe
Ingredients:
½ shallot, diced
⅓ cup verjus
2 tablespoons white wine vinegar
Healthy pinch of sea salt
½ cup olive oil
Directions:
Place the shallot in a small bowl. Pour over the verjus, vinegar and salt, and let macerate for 10 minutes. Whisk in the olive oil, mix, and adjust to taste.
Jess Mayhugh is the editorial director of Food & Drink for Thrillist, who has been enjoying verjus spritzes to beat the heat. Follow her on Instagram and Twitter
.