1988 Was the Most Important Year for Craft Beer
Thirty years ago, Gary Fish walked into a bank looking for a loan. He told the banker about his plans to build a restaurant with a brewery in Bend, Oregon.
The banker, confused by the very concept, shut Fish down, saying, "We don't loan to restaurants." Fish tried to explain the brewery aspect, but was met with "We don't know beer."
"We went back and forth a while," Fish said. "Eventually, it was, 'All right, thanks for your time.' Banks didn't want to talk to us. At that time, there wasn't a marketplace, no industry, no one knew how to make beer."
Looking back from the present era where San Diego's Ballast Point sold to Constellation Brand for $1 billion and craft beer is omnipresent, the bank sounds crazy. But 30 years back, few people knew anything outside the macro lagers. Fewer still would lend money to upstarts seeking to make their own weird beers.
Fish eventually did secure enough for his little brewery. He opened Deschutes Brewery in 1988. The brewery has grown into one of the largest and most influential breweries in the US on the strength of well-respected flagships like Black Butte Porter and Mirror Pond Pale Ale, an experimental barrel-aging program, and newer additions like Fresh Squeezed IPA.
Deschutes made its debut in a small and stagnant beer world. Yes, there was craft beer out there: Appliance heir Fritz Maytag had purchased San Francisco's Anchor Brewing in 1965, which is widely seen as the starting point for the modern era of craft brewing. But not many people followed suit: fewer than 90 breweries opened their doors between 1965 and 1987. The breweries that did make waves -- like Bell's Brewery in Michigan, Sierra Nevada in California, Boston Beer Co. -- certainly helped pique interest and started the heavy lifting of making people rethink beer, but they were bright sparks on wet tinder.
In 1988, that tinder exploded.
Fish, way out in Bend, had no idea he was part of a burgeoning revolution, nor did the nearly 60 other independent breweries that would open during the course of that year, many of which helped shape the industry into the powerful force it is today.
The list of so-called Class of '88 breweries includes plenty of familiar names. In Cleveland, Great Lakes Brewing was restoring the brewing history of the Rust Belt town, while in New York Brooklyn Brewery started distributing a caramel-colored lager. In Oregon, several Nike executives branched out to brew up quirky beers at Rogue Ales & Spirits, while in Chicago, Goose Island Beer Co. started its Windy City legacy. In northern California, North Coast Brewing gained a foothold, and in Denver, Wynkoop Brewing helped lay the foundation for an all-out craft takeover a mile above sea level.
"They wound up being something of a North Star for breweries to follow in the ensuing decades."
Through a combination of good fortune and great beer, 1988 became the most important year in craft brewing, one that helped shift the American palate, develop economies, and influence local and national laws. Without the sudden emergence of these breweries, it's unlikely the industry would be the economic driver it is today. Deschutes helped turn Bend into a destination city for reasons beyond skiing. Great Lakes transformed the distressed Ohio City neighborhood and served as the nucleus for Cleveland's current beer renaissance. One of Wynkoop's founders, John Hickenlooper, became governor of Colorado (and a potential 2020 hopeful), talking beer all along the campaign trail. In ways big and small, these breweries made waves.
"The Class of '88 had a huge influence on craft beer both collectively and individually," said Josh Noel, a journalist with the Chicago Tribune who released Barrel Aged Stout and Selling Out, a book chronicling Goose Island, this spring. "Those that opened and stuck around, they wound up being something of a North Star for breweries to follow in the ensuing decades. They covered different parts of the country, excelled at different aspects and had different identities. They provided a bunch of different examples of what the industry could be."
Evolving through the years, several of the breweries are now among the largest in the country: Deschutes (No. 20), Brooklyn Brewery (No. 21), Great Lakes (No. 30), and Rogue (No. 32). Goose Island also ranked among them before becoming a part of global beer conglomerate AB InBev.
Each brewery has taken its own unique path to their respective places today, a beer industry not one of founders could have imagined 30 years ago, said Brett Joyce, whose father, Jack Joyce, was one of the Rogue's founders and a well-respected beer pioneer.
"It's a funny thing that the Class of '88 has this quality of breweries that evolved and became important players in different ways, reasons, and circumstances," said Brett Joyce, whose father Jack was one of Rogue's founders (he passed away in 2014). "... All are remarkably world-class breweries built so differently in distribution, ownership, product style, and location."
The boom was incidental, but the commonalities between the disparate brewers were stark. So too were the beer-adjacent industry pioneers that influenced them.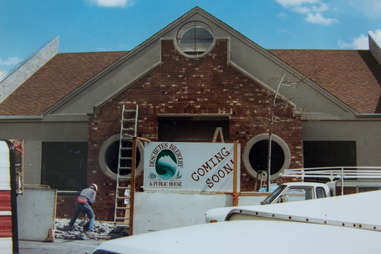 Craft beer takes cues from wine
In the '70s, wine was at the forefront of the American beverage industry, and early 1980s began making waves internationally, driven by the red wines of California. And to those who dreamed in beer, an appetite for bigger, bolder Californian wines showed potential for bigger, bolder, and more flavorful beer.
"If the vineyards hadn't done what they did, I'm not sure the brewery activity would have flourished," said Pat Conway, who co-founded Great Lakes Brewing with his brother, Dan. "Those boutique vineyards making stunning, award-winning wines in tiny vineyards and within a few years getting worldwide respectability, it really set the table for beer, then chocolate, coffee, tea, breads; one gourmet product after the next."
For Deschutes' Fish, the connection to wine was much closer. Fish's father had been involved in the Northern California wine renaissance in the late 1960s and early 1970s and chatted about this "new thing in beer" with his son as Gary looked for his next career step beyond restaurants.
"If you understood how to run a restaurant, which I thought I did, and could actually make decent beer -- which I didn't know how at the time -- it could be a tidy little business," Fish said. "This seemed to make a lot of sense."
If wine glasses could be filled with new flavors, so could pints. Fish wasn't a homebrewer, but like the Conways and numerous other beer entrepreneurs that year, he saw the budding consumer trend away from the homogenous commodities that took over the nation following World War II, including beer and its mass-produced light lagers. People wanted something different, but they didn't know it yet. And they certainly couldn't find it easily. Not in stores. Not in bars.
"There wasn't wholesale demand. There were no customers," Fish said. "No one would take a Bud handle off to put one of ours on, so we had to band together to build an industry and create a marketplace, share the message, and become craft beer.
"AB didn't care about us at the time. We weren't big enough. But there was something in that primordial soup that we used to become an actual viable industry."
Each of these pioneering breweries started small by necessity. At the time, microbrews -- as they were called -- made up less than 1% percent of the overall beer market. The big breweries of the time all made similar beers, and Anheuser Busch, Miller, Coors, Stroh's, and the like weren't going to adapt to a nonexistent market segment.
Risk-taking entrepreneurs, however? Why not? With no distribution market, most of these breweries in 1988 opened as taprooms, offering a direct access point to consumers and letting word spread.
"The big deal was getting people to drink it, come and taste it," said John Hall, founder of Goose Island. "[At the taproom], we really interacted with the consumers and got feedback from them. Part of it was the product itself, but also being part of the community."
It took most of these breweries several years to move beyond the four walls of their brewpubs and into bars and retail outlets. Once the breweries started distributing, it was an uphill battle to build a community of consumers interested in their products.
That was a tough sell, considering most people hadn't heard of the styles.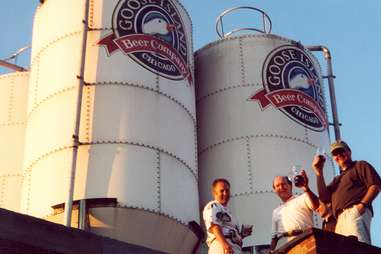 Strange brews
When Goose Island opened, Hall served up six beers in a range of flavors and colors. Breweries at the time weren't inventing new beers as with today's hazy IPAs, pastry stouts, and glitter beers. Instead, brewers simply were imitating traditional styles that weren't widely available in the US, most of which originated in Europe. Honker's Ale, an English-style ESB (extra special bitter), wound up being the brewery's flagship.
"I was making English beers," Hall said. "[Customers would] look at the beer and say 'it doesn't look like beer.' Color had a lot to do with it. You asked them to try [all the beers] and [the most popular] turned out to be Honkers Ale."
As the Midwest and nation's beer preferences subsequently shifted, the ESB took a back seat to many of the other beers Goose Island produces today, including the beloved Bourbon County Stout. And Hall, who's no longer day-to-day at the brewery, is happy to see beer has come full circle.
"We just celebrated the 30th anniversary and we did a collaboration with (British brewery) Fullers," he said. "They were my model -- Honkers was a copy of London Pride. If London could have a hometown beer, why not Chicago?"
"I went over there and I couldn't help but notice they're doing a bourbon barrel-aged beer," he added. "They're copying us."
In another Midwestern city, Great Lakes launched with two German-inspired beers: Dortmunder Gold and Eliot Ness Amber Lager. Both are excellent beers for a blue-collar town that hadn't yet made a dynamic swing toward more eccentric consumables.
Those beers helped pave the way for bolder varieties like Edmund Fitzgerald Porter, Burning River Pale, and Christmas Ale, all released a few years later to great acclaim among the brewery's rabid fans.
While Edmund Fitzgerald is a standard bearer of porters, there's another example of the style in Oregon, a beer that helped build Deschutes.
Black Butte Porter wasn't the best seller at the Deschutes pub, but it was the one that grabbed distributor's attention. The distributor told Fish he felt the dark beer was the one that could make it in the marketplace.
"You could have a small slice of the rather large light beer-pie, or a smaller dark pie and have the whole thing. I was contrarian enough to like the sound of that a lot better," Fish said. "We did what no one else was willing to do: We promoted our second beer first, and in doing so we created a brand that is still the largest-selling porter."
Beers like Edmund Fitzgerald and Black Butte helped push adventurous drinkers into a bold new flavor profile. Likewise, California's North Coast started brewing its big, boozy, jet-black Russian Imperial Stout Old Rasputin in its early days of 1988, while its Red Seal Ale and Scrimshaw Pilsner became staples on beer shelves in much of the nation.
"We just dinked and dunked and experimented and we hit that home run."
On the other side of the country, Brooklyn Brewery opened, brewing Brooklyn Lager, a true Vienna-style lager, hitting shelves with an eye-catching "B" logo by famed designer Milton Glaser that draw eyes and usher in an era where eye-catching labels were a surefire way to grab attention.
Back in Oregon, Rogue's flagship, a mild hybrid ale/lager called Dead Guy Ale, wasn't even intentional when it was released, Joyce said.
"We just stumbled into it," said Joyce, who was 15 when Rogue opened and worked in every aspect of the business imaginable. "Dead Guy was just a funky project for a Tex-Mex chain and it was just the combo of the beer, the name, the logo. It was all right. We just dinked and dunked and experimented and we hit that home run."
The now-ubiquitous 22-ounce bottles Rogue used gave the brewery the ability to continue its experimentation, pushing out new beer after new beer, a practice that won them legions of fans. While most of Rogue's beers were traditional European styles or newer craft-innovation, some of the products were pure creativity (maple bacon beer, anyone?). Rogue also became a model of diversification in brewing companies, spawning nine brewpubs in Oregon and Washington, as well as Rogue Farms, Rogue Spirits, and Rolling Thunder Barrel Works, integrating as many steps and ingredients as possible.
"At some level, we're hopeless entrepreneurs and we love doing things that are fun to do, hard to do, and that we can learn from," Joyce said. "The crazier a project sounds, why not? I just hope we keep doing things, taking on projects that we're all proud of, and to dare, risk and dream."
Influencers and elder statesmen
In the intervening decades, craft beer has become ubiquitous, growing to more than 7,000 taprooms nationwide. IPAs, ESBs, and porters are commonplace. Barrel-aging is huge. Sours are everywhere. Haze is king.
And yet despite the growth of the industry they helped jolt into life, the standouts who got their start in 1988 haven't rested on their laurels. Sure, oftentimes people pass them up for the hot new thing -- Deschutes actually announced layoffs of 10% of its workforce recently. Still, the class of '88 breweries continue to wield tremendous influence. As they did when they launched ESBs and IPAs on an unsuspecting public that didn't know any better, they still serve as relative early adopters to trends, introducing masses to new styles, just like they did when everyone was concentrated on drinking what Spuds MacKenzie and bikini-clad women were slinging. They're still doing their part to change a game they helped invigorate as legacy breweries that still have the capacity to surprise.
Lovers of history, as evidenced by their beer names and neighborhood preservation, the Conways have done their best to preserve Great Lakes' future, announcing an ESOP in the spring and a plan for expansion in another part of Cleveland, further cementing itself in the fiber of the North Coast's ever-expanding beer scene.
"With the expansion, we'll get into more brewing and canning, but we'll have a taproom that celebrates the river and downtown Cleveland," Conway said. "Breweries used to be a special part of the Cleveland fabric, just like newspapers, sports, and politics."
As Great Lakes has continued to weave itself into the fabric of Cleveland, and the Midwest, Brooklyn has made massive strides in changing the public's relationship with beer. In 1994, Garrett Oliver joined as brewmaster. Few have done more to help people fully enjoy and understand beer -- especially in its relationship with food -- in the past 24 years. Beer dinners, now as common as tap takeovers, were an anomaly before Oliver made matching food and beer as normalized as wine pairings.
Goose Island, another food-and-beer pioneer, has grown beyond the Midwest into worldwide distribution with AB InBev, but Hall said that growth also means more variety for everybody. While some staunch craft beer enthusiasts felt betrayed by his decision to sell the brewery, Hall believes beer should be drunk for quality, and the industry will never be dominated by one brand as it had been for the second half of the 20th century.
"No one will ever have 50% of the market again," Hall said. "There's no way they can dominate like they used to."
Now with nearly 7,000 breweries in the US, AB InBev has no choice but to pay attention to the craft industry that big beer (and small-town bankers) dismissed long ago. The industry has changed innumerably since 1988, but not all for the better. The beer world got bigger, and as it did it got less personal.
"I used to know everybody nationally, now I don't even know all the brewers in Bend," Fish said. "We've gone through cycles of people who got in that didn't care about it. It's more impersonal than it was. It's hard, no one is entitled to a consumer or a place in the market, but I think in a lot of cases, good work isn't always being rewarded."
Fish wasn't necessarily talking about Deschutes and its brethren, but the older legacy craft brewers have lost a step to some of the breweries that have stormed into the industry with new beer styles and, at times, unexplainable hype.
Still, some view the elder statesmen label is a badge of honor.
"Now that we're officially your dad's beer, I look at that list [of '88 breweries] and these are people who have really done yeoman's work: they've all made really great beer, taken care of their staff and communities, and all forged different paths," Fish said. "We've innovated and created... for more than three decades in this environment. Early on the enemy was ambivalence to beer. Today, the enemy is ambivalence to hyperextension of variety.
"It's gotten different, not easier."
Sign up here for our daily Thrillist email and subscribe here for our YouTube channel to get your fix of the best in food/drink/fun.