Inside the Great Pappy Van Winkle Bourbon Heist
Everything you need to know about the bourbon burglary featured on Netflix.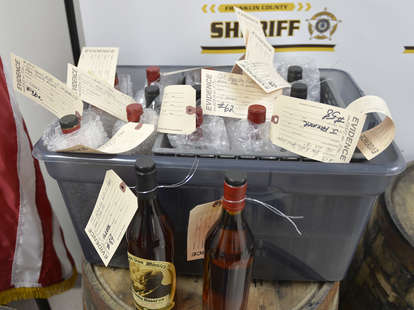 AP Photo/Timothy D. Easley
AP Photo/Timothy D. Easley
Back in 2013, authorities in Frankfort, Kentucky, discovered that the Buffalo Trace Distillery was bleeding bottles of Pappy Van Winkle. More than 200 bottles of the super-small batch brown were missing, and it attracted international attention because Pappy Van Winkle (which bottles a mere seven to eight thousand cases of its ultra-premium bourbon, about one-thousandth of the output of Jim Beam) is the sort of thing that millionaires will fight each other for, because people who can buy anything go crazy when they can't buy something.
The caper will be the subject of a new Netflix documentary, premiering July 14, called Heist. The six-episode true crime series chronicles three separate stories—one involving Vegas casino cash and another on the Miami airport—but the one we're most intrigued by revolves around a Kentucky dad accused of one of the biggest bourbon burglaries in history.
A little background: every barrel of bourbon loses liquor to evaporation with every summer it ages; distillers call that the "angels' share." But when a barrel of Pappy is aged for 20 years or more, the angels' share of a 55gal barrel of whiskey is about 50gal, leaving only 5gal to bottle after two decades in the rickhouse. And then, when the overaged wheated bourbon scored a 99 from the esteemed Beverage Tasting Institute, it created a recipe for obsession that drove the price of a bottle of 23-year Pappy Van Winkle into the stratosphere. People spending $1,500 to $4,000 per bottle on the secondary market is not uncommon, even if it is insane, given the retail price of $129.99 for the 20-year and $249.99 for the 23-year. Empty bottles sell for over $100 on eBay.
So when a load of the bourbon was found in the backyard of a former Buffalo Trace employee, and he and eight other men and a woman were arrested last month, accused of stealing Pappy Van Winkle along with an unknown number of barrels of other premium bourbons like Eagle Rare and Wild Turkey's Russell Reserve, it gave bourbon aficionados something new to obsess over: the criminal underbelly of Frankfort, the state capital of Kentucky. (Note: as of May 29, five of the accused have pleaded not guilty.)
Prosecutors recently filed more than 350 pages of documents with the Franklin County Circuit Court, including hundreds of text messages between the ten accused conspirators that cover a broad range of topics, including the stolen bourbon, steroids, growing weed, sex, more steroids, and food. We obtained the report, conducted some interviews around town, and came up with the following: the 21 things you need to know about the Great Pappy Van Winkle Heist.
1. Meet your alleged ringleader
Gilbert "Toby" Curtsinger, 45, a "senior employee" of the Buffalo Trace Distillery. Curtsinger, who worked in shipping, allegedly ran the primo bourbon theft conspiracy from 2008 until it was busted in April of 2015. Police say that during that time he routinely bragged "that he always had 20 cases of Pappy on hand in his basement." He was arrested in late April, charged with the bourbon theft, and also with trafficking in controlled substances, including anabolic steroids.

2. His whole property reeked of bourbon
After receiving an anonymous tip, sheriff deputies went to the home of Curtsinger and his wife, Julie. The cops knocked on the door to no avail, and went around back into the woods behind the house to look in the yard. There they spotted "what appeared to be one barrel covered with a grey colored tarp." The cops "could actually smell the bourbon from where we were located." They got a warrant, came back, and found four other barrels under the tarp, with the distillery markings blotted out with spray paint. They then got a second warrant to enter the house, and found multiple varieties of steroids, including Anavar, Dianabol, and Human Growth Hormone; needles for injecting steroids; "numerous firearms," including a backpack full of handguns and a pink rifle; cash; and "a very large safe." When questioned, Curtsinger said he was just holding the barrels for Mark "Sean" Searcy, a driver for Wild Turkey who was also arrested as part of the syndicate.

3. He was allegedly a pain in the ass at work
Curtsinger's former colleagues told authorities "he would sabotage someone's work in order to punish them for not doing something he wanted them to do," including a time he "took a hose out of... a coworker's tank of alcohol that she was working with and let it pour out in order to sabotage her... and get her in trouble." Why'd they put up with this? Here's a clue: "Toby often had a silenced .22 caliber pistol that he fired in the parking lot of Buffalo Trace into a dirt pile. Toby did this where other people could see this and it was intimidating."

4. He wasn't great at deflecting suspicion
At one point a supervisor believed she caught Curtsinger stealing bottles of Pappy. According to police: "She had found the Pappy Van Winkle inventory to be short... and found several cases hidden behind a guard rail in the warehouse. She suspected Toby was the one stealing it because he worked in shipping and had access." She moved the bourbon back. His reaction may not have helped his cause: "He accosted her and demanded to know where she had moved the Pappy Van Winkle... and demanded access to it, despite not needing any for orders he was working to fill."

5. It wasn't actually that hard to steal the Pappy
The former supervisor told police that the Pappy, though extremely valuable, was kept locked in a cage with a faulty door whose hinges could easily be removed. Also, because inventory was only done when the bourbon was placed in the cage, and not again until it was taken out to be sold, "she believed the Pappy theft of 2013... occurred over a long period of time." She urged the maintenance department to properly weld the hinges. They did not.

6. Turns out stolen Pappy is a relative bargain
Especially if you buy it in bulk. One man named in the report met Curtsinger at the gym. He knew he worked for Buffalo Trace and asked if Curtsinger knew any way that he could buy some Pappy. Curtsinger said yes, and the man bought a bottle of 20-year for $850, and nine bottles of various ages for $3,000. The buyer passed the bottles along to associates from coast to coast: Sacramento, Dallas, and New Jersey, according to the area codes of the phone numbers that he later gave to police. In April, when he realized what he'd actually bought, he rounded up the bottles and returned them to authorities.

7. It wasn't actually that hard to steal whole barrels, either
Prosecutors allege the gang stole barrels of Wild Turkey in transit. The company regularly moves barrels from its distillery in Lawrenceburg to a second facility in Nicholasville, so all driver and alleged co-conspirator Sean Searcy had to do was stop the truck someplace between point A and point B—that place being his step-dad's barn down a dead-end country road (more on that later)—where he could roll a few barrels off the truck using an aluminum ladder. And the company's inventory control policies were loose enough that no one was any the wiser. According to police reports, the barrels were sold for as much as $3,000 each.

But why steal a barrel when they could steal a whole pallet of bottled bourbon? "When it was possible they took a pallet by forklift across to the fence of the adjoining parking lot and sat the pallet in the back of a pickup truck."
Another heist ran more like a prison break. According to one account, Curtsinger allegedly filled 55gal barrels with Eagle Rare, let them sit for a few days, and slapped stickers on them that the company uses on barrels marked for removal and destruction. Then he just removed the barrels.

8. It was actually just pretty easy to steal bourbon, period
Why? The bourbon industry is still basically stuck in the last century. That's what makes it great, but it's also what causes outsiders to scratch their heads to think about a whole facility producing such a valuable commodity with near-zero inventory control and extremely lax HR policies. But fear not, due to the heist, the ensuing press coverage, and the recent corporatization of local distilleries, the bourbon industry is being dragged into the future by a robot forklift. Sazerac, the parent company of Buffalo Trace, is spending $70 million on a new automated warehouse. So very soon, the Pappy will be in much safer hands. At least until our robot overlords develop a taste for it, too.

9. The demand for black market bourbon was strong among fools
According to text messages between conspirators. (The following texts are taken from the report, and read from bottom to top unless otherwise noted. Also, it's not entirely clear from the report which of the accused is texting whom.)

"This fool wants a total of 8 now if you can get them!"
"I'll do the best I can, lol"
"I told him he's ready for all 8 :-) :-) :-)"
"$$$$$$$$ son!!!"

10. At least one cop got tangled up in the scheme
A Frankfort police officer who used to play softball with Curtsinger told investigators he went in on bulk purchases of steroids with members of the crew, but only for his own personal use. He also allegedly wound up with a load of Wild Turkey, but claimed he didn't know it was stolen. And he claimed he had received a bottle of Pappy as a donation to a police fraternal organization, but another cop had made off with it. He has not been charged.

11. Despite the demand, the gang remained respectful of one another's holidays...
Read from the bottom up.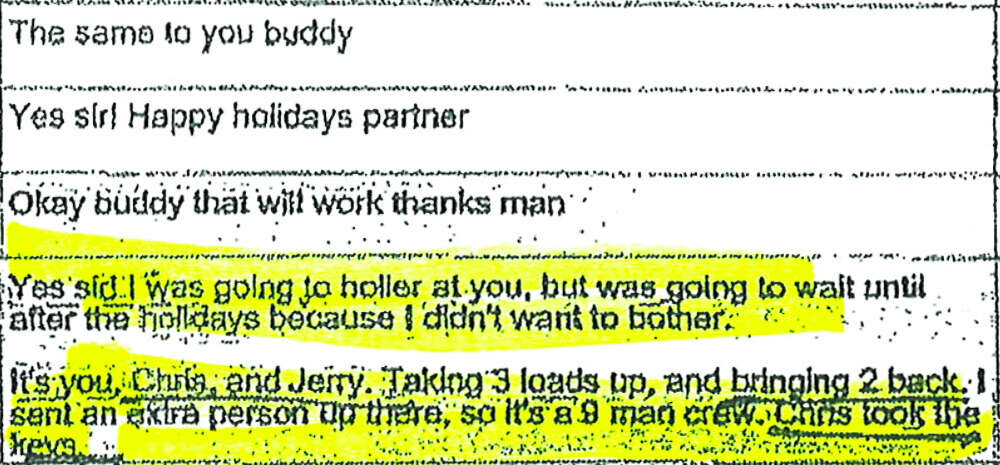 12. And they remained really into steroids
Selling them and doing them, in all their nipple-leaking glory. Read from the bottom up.
13. At least one of them even did animal steroids
... which apparently worked like magic in the sack, according to texts between he and his significant other. Plus he took penicillin that he bought from a farm supply store. Read from the bottom up.
14. Note: German steroids are best because... the Holocaust?
Read the second, then the third, then the first.

15. The gang was also very interested in weed. And church.
Bottom up.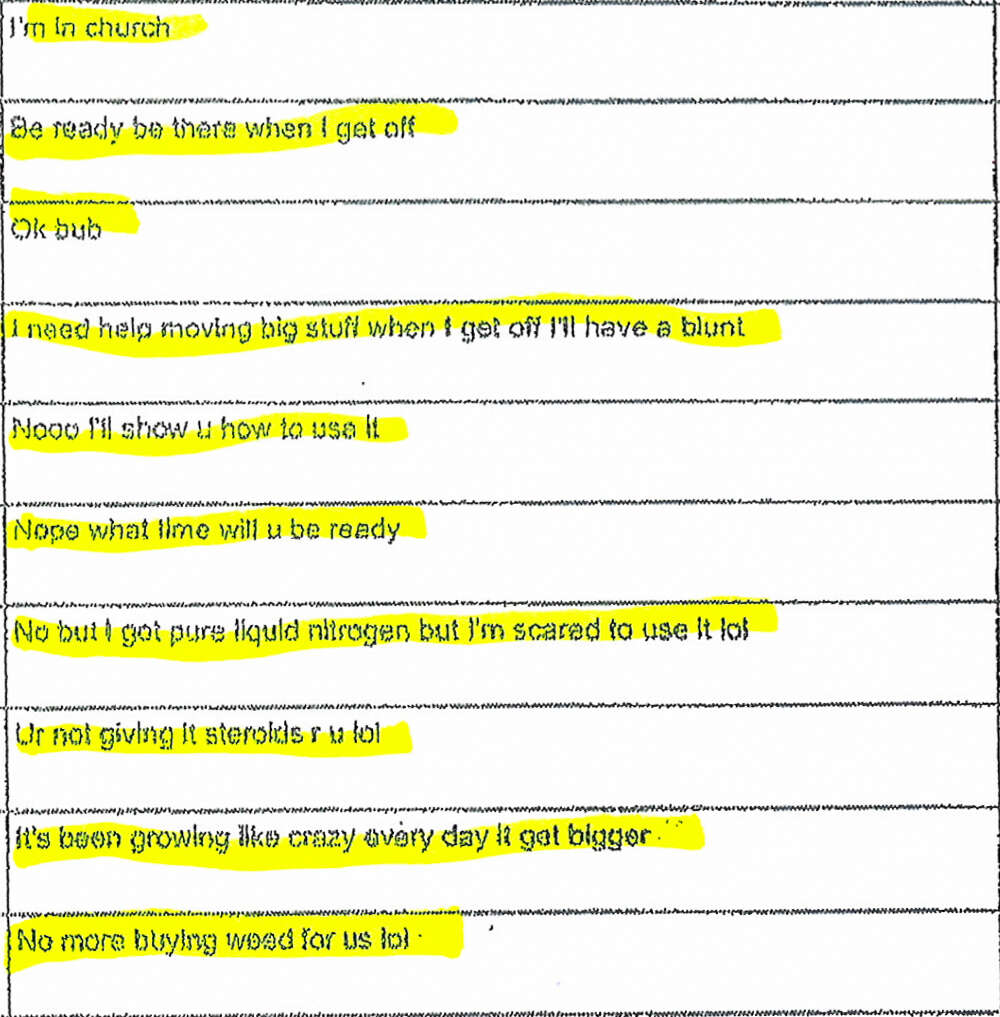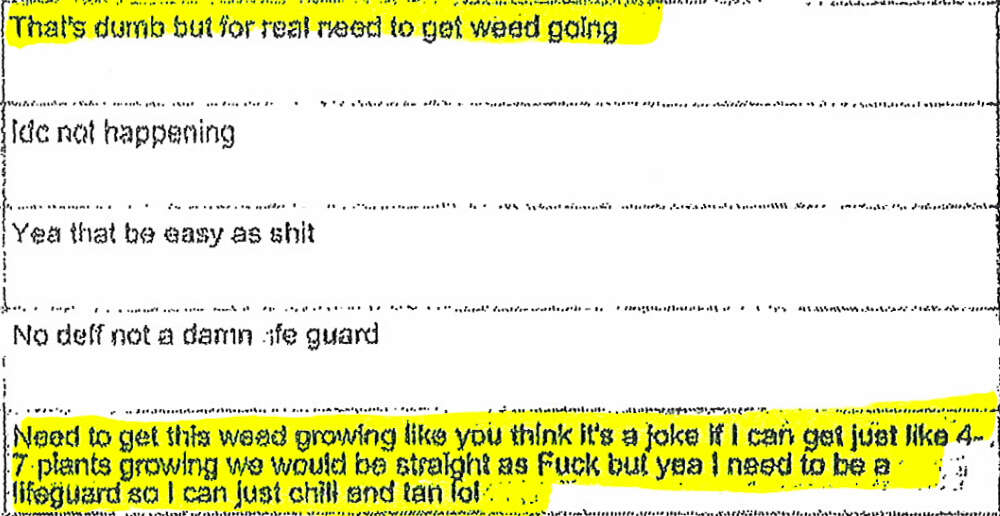 16. And had a terribly sexist name for large women
Read the second, then the third, then the first.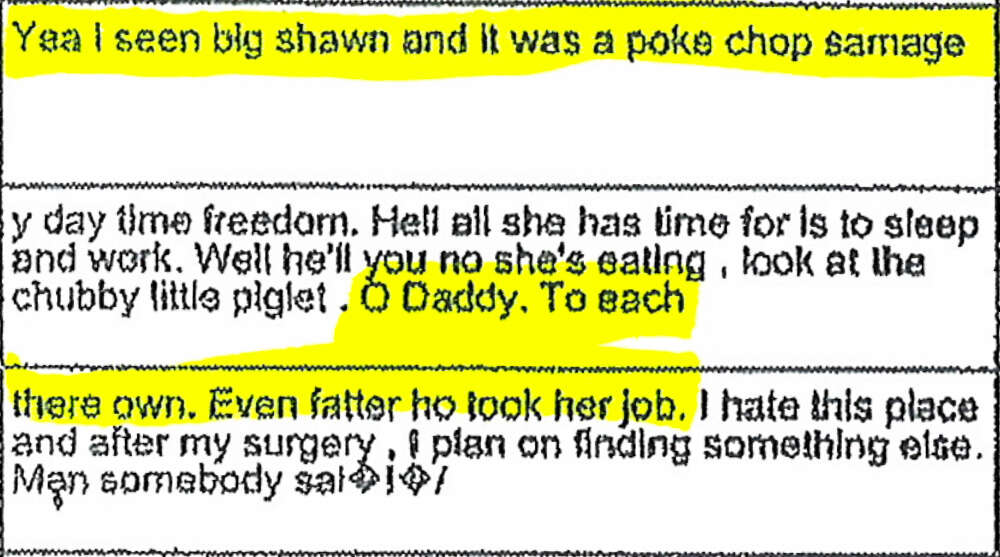 17. Nevertheless, it's a story not entirely without romance
An exchange between one conspirator and his lady. Bottom up.
18. The big snowstorm in March could have been the beginning of the end
After the second big snowfall of the winter, Searcy, the Wild Turkey truck driver, complained to a county employee that the dead-end country road where his step-dad lived hadn't been plowed, which raised suspicions as to why a Wild Turkey truck needed to go down that road in the first place.

19. That same morning, the Franklin County Sheriff Department got an anonymous tip
Searcy and Curtsinger are implicated, and the shit begins to fly in all directions. One couple panics.
20. Suddenly, all that weed became a problem
Read from the bottom.
21. As of right now, the fate of the recovered Pappy looks grim
All the recovered stolen bourbon is bound for death row. According to Kentucky law, all recovered stolen liquor is considered contraband and ordered to be destroyed. And by "destroyed," they mean that they will take it to a hazardous materials landfill, run it over with a bulldozer, and plow the broken glass into the slop—unless a judge intervenes.
James Higdon, a freelance journalist who lives in Louisville, is an expert on crimes committed in Kentucky and Kentuckians who commit crimes. He's the author of
The Cornbread Mafia
, which tells the story of the biggest marijuana syndicate in American history, and he has written for
POLITICO Magazine
, The Daily Beast, Al Jazeera America,
Esquire
, and
Fortune
. Follow him @jimhigdon.