Instant Coffees, Ranked by a Professional Coffee Snob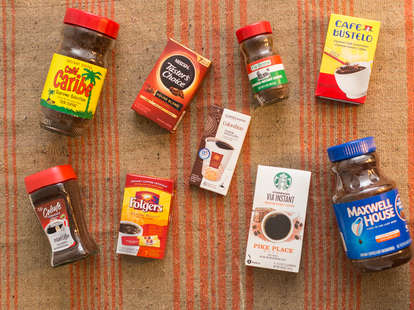 K-Cups' world-ruining popularity has overshadowed instant coffee, but back before pods, soluble coffee grounds were the go-to method for drinkers with a need for speed. But the stuff still has its fans, even if it's no longer in style.
To find out the best in class, we enlisted champion barista and founder of Austin, TX's Fleet Coffee, Lorenzo Perkins, to help blindly taste eight brands: Cafe Bustelo, Colcafe, Cafe Caribe, Folgers, Maxwell House, Nescafé, Via Roma, and Copper Moon. Instant coffee is a different beast than its brewed counterparts, and although some of these were a little offensive, the best of the batch will satisfy most non-discerning drinkers.
Honorable mention: Starbucks
We debated whether to include darker and thicker Starbucks because it was too much of an outlier to rank. But before you call us snobs, Lorenzo couldn't guess that it was Starbucks. He remarked that it tasted like a "get-shit-done coffee," the type a lumberjack drinks before felling a redwood. Once the coffee's identity was revealed, it made sense to Lorenzo. He actually knows several coffee bean sourcers that bring packets of Starbucks instant on trips to farms to fuel 5am wake-ups and treks through Nicaraguan mountains in search of the rarest beans.
If you want to put hair on your chest, Starbucks is the move, but it doesn't make sense to compare the flavor to the others on this list. It's not necessarily better or worse, just completely different.
8. Nescafé Taster's Choice
Aroma: Indistinct, vague coffee smell
Taste: On first taste the coffee was woody, with heavy notes of cedar and Christmasy spices. It was like coffee you'd drink while getting your oil changed. Over time the woodiness was replaced with bitterness.

7. Maxwell House
Aroma: Sweet'N Low
Taste: In the same way that artificial sweetener can invoke a mouth-puckering reaction, Maxwell House had a physical affect on Lorenzo. Once his face reset, he tasted predominantly peanut shell and wet paper.

6. Folgers
Aroma: Malted milk chocolate, Nesquik powder
Taste: A sip led to a nostalgia wave of candy shops, but Lorenzo couldn't place the exact flavor. A quick iPhone Googling of "classic candies" later and he settled on Atkinson's Peanut Butter Bars. Over time that flavors skewed saccharine, moving towards the realm of carnival cotton candy.
5. Via Roma
Aroma: Wet paper
Taste: Despite being the only coffee labeled as espresso, this was one of the wateriest flavors. The one predominant taste was the miniature marshmallows found in hot chocolate packets.

4. Copper Moon
Aroma: Smelled the most like brewed coffee of any on this list
Taste: Copper Moon was a curious cup because it started out tasting like solid diner coffee, but took on a remarkably disjointed sourness and bitter finish, like a roller coaster ride with sudden unexpected drops.

3. Cafe Caribe
Aroma: Damp carpet, preheating oven
Taste: This tasted almost nothing like coffee, and instead it was closer to diluted Ovaltine or thin hot chocolate. It has some sweetness, but is a little artificial-tasting. This would've placed higher if it had more body.
2. Cafe Bustelo
Aroma: Vague nuttiness
Taste: This actually tasted roasted, with heavy notes of dark chocolate. There's body to it and it has a substantial mouthfeel, but the finish was too rough for Lorenzo to say he could drink an entire cup of it.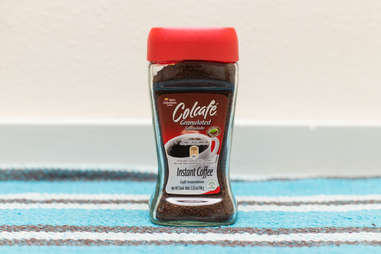 1. Colcafe
Aroma: The smell of this cup was totally misleading. It was so mild on the nose that Lorenzo couldn't pick up any distinct aromas.
Taste: On first sip there was a heavy note of aspirin and it was espresso-level bitter, but as it cooled this coffee revealed itself to be surprisingly solid. It had everything you'd expect from a more complex coffee in terms of acidity, balance, and fluidity of flavor, but despite being a well-rounded sip it lacked the nuance of a brewed cup. Even so, Lorenzo said he would probably drink three diner mugs' worth alongside a big pancake breakfast.

Conclusions
The biggest surprise for Lorenzo, aside from the Starbucks outlier, was that the lowest-placed finishers were US brands and the top three coffees were marketed more towards Latin America, where instant coffee still maintains a high level of popularity.
Perhaps the disappointing quality of the bigger brands led to the rise of pod-based coffee and the eventual destruction of our planet, but it's more likely that soluble coffee simply had its instant and people have moved on. Except this guy.
Sign up here for our daily Thrillist email, and get your fix of the best in food/drink/fun.
Dan Gentile is a staff writer at Thrillist. He now owns several lifetimes' worth of instant coffee. Follow him to what do I do with all this stuff at @Dannosphere.