The 25 Essential American IPAs
India pale ale remains the most popular style of beer in America. Every brewery, great or small, makes one. Probably more than one, actually. You probably even have one in your hand right now. However, we're gluttons for a challenge here, which is why we took on the daunting task of coming up with the 25 essential American IPAs.
Essential is, of course, a matter of subjectivity. For our purposes we focused on beers that have made an impact in one way or another, and ones that aren't some mysterious one-off that your beardo friend won't shut up about (and will never be brewed again). They're not necessarily the best IPAs out there, and to level the playing field we've eliminated imperials and the like, cutting these suckers off at 8% ABV, meaning you won't find Pliny or Heady Topper in these ranks. Simply put, these are what we consider the essential, most straightforward American IPAs on the market.
But this isn't a list of 25 caveats. It's the 25 essential American IPAs, so let's pop the top. We're sure we missed one or 1,000, and we're sure you're already in the comments telling us about it. Bring it on. A full bucket list is a beautiful thing, and beer is meant to be shared.
7.5%, 70 IBU
Paso Robles, CA
It's probably been keeping you up at night: which well-balanced IPA could be the favorite of beer writers and brewmasters (including Brewery Ommegang's)? Why, it's this one! Looking at the label (and that photo), you might assume it's a hop-bomb in a bottle, a West Coast IPA mistakenly packaged to look like it came from England. But that probably has more to do with the fact that an expat co-founded the brewery. Rest easy, friend. This is one of the easiest-drinking IPAs this side of the pond.

6.8%, 88 IBU
Durango, CO
CO's best breweries are in Boulder, Denver, and Fort Collins. Oh, and a tiny ski town called Durango, which is six hours southwest of Denver, though it might as well be in another world. And it's from that isolated environment where cans of the bitter, grapefruity Modus Hoperandi (and its fantastic, Trump-colored sibling Modus Mandarina) are brewed. It's the beer's fine mix of citrus and pine and ska-themed comic-book art that make it truly unique.

6.5%, 70 IBU
Spearfish, SD
Let's face it: for the majority of the beer-drinking public, the conversation about brewing in the lands between Minnesota and the West Coast starts with Missoula's Big Sky and ends in a question mark. That suck... for them. Because there are beautiful things a-brewing, and they're exemplified at Spearfish's Crow Peak, whose 11th Hour IPA makes up for what it lacks in nerd-baiting nuance by being one of the most reliably consistent classic IPAs around. In a beer world where everybody's trying to up the ante, CP's content to keep it simple: not too bitter. Not too strong. And, yep, it comes in a can, in case you don't want folks at the Sturgis Rally thinking you've gone too fancy with your beverage of choice.

6.2%, 51.5 IBU
Petaluma, CA
If Lagunitas was a person, it'd be a real smart-ass you can't help but like. Case in point: the brewery claims its stalwart IPA is made with "43 different hops and 65 various malts." While it might be exaggerating a tad, everyone who's ever had the beer knows it's an IPA you can drink and not tire of, despite being miles away from a watery session IPA. It's funny to think that it was introduced as a seasonal in '95. Our smart-ass friend Lagunitas has grown up.
7%, 55 IBU
Kalamazoo, MI
Hopslam is the Bell's of choice for those looking for a bitter blast. Oberon's the beer whose release is heralded on an annual basis. But Two Hearted is Bell's constant, a deceptively smooth IPA that bridges the gap for people who worship at the IPA altar and those who claim to hate them despite loving what Larry Bell hath wrought. It's subtle. It's complex. And, most importantly, it's the best damned beer that Bell's makes. Considering the portfolio, that might be a bold statement. But this is a bold IPA that has been consistently delicious since most of America thought "IPA" was some sort of tax code.

6%, 60 IBU
Milton, DE
90 may have come out of Dogfish founder Sam Calagione's lab first, but it tips above the ABV scale into the realm of IIPA, and frankly, sometimes you need an easier-drinking option. The 60 ticks off all the things that make a great IPA, melding New England mellowness with West Coast hops to perfection. The 60-minute thing (aka the continual hopping process where they add hops to the boil for 60 minutes) is a little misleading -- it actually takes over a month in total before the beer's ready. It's worth the wait for this game-changing favorite.

6.5%, 72 IBU
Monson, MA
Also known as "the beer that put Monson, Mass on the map" -- or at least it SHOULD be known as such -- Julius, in all its orange-hued, citrusy glory, is the rare beer that develops a cult following, complete with massive lineups, serious scarcity, and the whole shebang, and leaves anyone who jumped through hoops to acquire it thinking "hot damn, I regret nothing."

6.5%, 69 IBU
Boulder, CO
Twenty years ago, Avery IPA became the first packaged IPA in Colorado. Seems a little surprising considering it resides in a state that Oskar Blues also calls home (and in which it brews Deviant Dale's). And while Avery in 2016 might make waves with beers like Tweak and The Maharaja (and for its incredible food), it's this IPA with a "citrusy, floral bouquet" that initially got things started.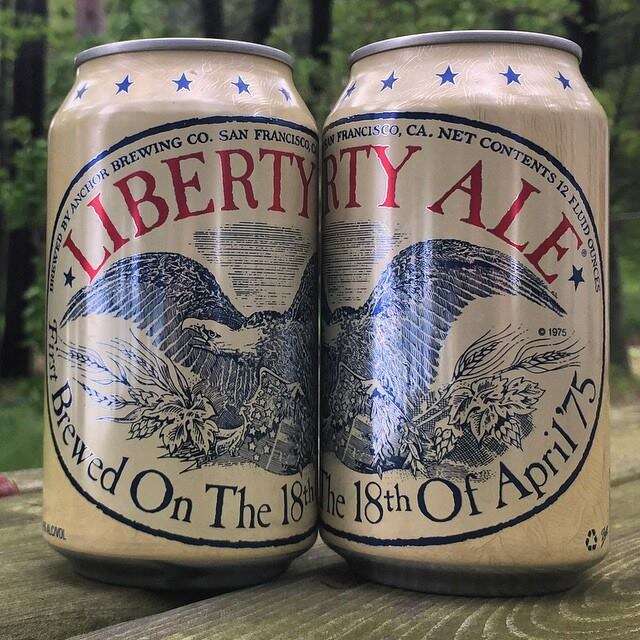 5.9%, 47 IBU
San Francisco, CA
This beer is probably older than you: it was first brewed in 1975 to commemorate Paul Revere's ride 200 years prior. Anchor claims it to be the first post-Prohibition American IPA. Nowadays, the West Coast IPA style has evolved way beyond brewing single-hop, dry-hopped IPAs. But it's important to recognize that back in '75, Anchor Brewing helped kick off a movement with an IPA bottle that featured Cascade hops. It still does.

6.7%, 68 IBU
Downingtown, PA
German malts and whole-flower American hops are HopDevil's major ingredients, and the way those ingredients commingle helps set the beer apart from the IPA pack. HopDevil helped Victory gain attention as a brewpub outside of Philly, and it's not surprisingly co-owned by a guy who grew up in Munich and speaks German. But HopDevil is not a German beer -- it's an American IPA with plenty of hops (along with 68 IBUs), and a spicy flavor profile all its own.

7%, IBU Unknown
Waterbury, VT
You'd have to have been living under a beer-proof rock not to have caught some of the hype surrounding Heady Topper, the double IPA that made Waterbury, VT a must-do beer nerd pilgrimage and had hop obsessives all over the country clamoring for a few cans. Well, Heady's liberally hopped, slightly lower-ABV little brother has lived up to an impossible legacy set by its sibling, with some claiming they even like it (gasp) better. If you manage to get your hands on either, life is good.

7.2%, 100 IBU
It takes some breweries years to perfect their signature IPA. For La Cumbre, it took one. One year: after one measly little year in business, the ABQ brewery had netted a gold at GABF and established itself as a powerhouse in a rising beer scene seeking (probably in vain, but we can hope) to wrest the city's rep from Walter White. All it took was a scientifically perfect blend of eight hops -- from Citra to Centennial to Nelson Sauvin outta New Zealand -- and a bitterness that pushed the limits without going into overdrive. And now, New Mexico has its own version of IPA gold.
7.2%, 65 IBU
Chico, CA
Some might argue that the regular old Pale Ale deserves a spot here, what with being a hoppy masterpiece separated from its brethren only by semantics. But the Torpedo also deserves love. Named after the Hop Torpedo -- a device designed for dry-hopping beers that could possibly also hunt Red October and is worth learning about -- it's undoubtedly a classic (after all, it's a favorite of beer writers) that was shockingly only added to the year-round lineup in '08, and remains one of the standout, solid beers that keeps Sierra Nevada in the conversation.

6.5%, 65 IBU
Athens, GA
Craft breweries are currently embroiled in a never-ending war to see who can make the hoppiest IPA imaginable. But instead of joining the fight, Creature Comforts goes as fruity as possible without going into Skittlebrau territory. Enjoy those passionfruit notes in perpetuity, and with the comfort that you'll still get your hops kick too.

7%, 70 IBU
San Diego, CA
It seemed unlikely that Ballast Point could improve on its uniformly fantastic IPA Sculpin, but this grapefruit version somehow did exactly that (though pineapple and habanero variants also have their adherents). The fact that it's now available in cans and enjoying increasingly robust distribution is a reminder that bigger isn't always bad, because a world where you can walk into your average grocery store and grab a 12-pack of this stuff is a world everyone should want to live in.

6.3%, 74 IBU
Portland, OR
How long did it take Portland's Breakside to establish itself as one of the best breweries in a state that might be the best place to get beer on the planet? About as long as it took Ben Edmunds to do what all Oregonian brewers are required to do: make an IPA. Which is to say, Breakside has been making one of the country's best IPAs for about six short years. Consistently. And while it's also added variety since winning a huge gold at GABF -- Wanderlust is a standout among the IPAs, though Breakside's the kind of place that prides itself on over 100 different beers a year -- it's that flagship IPA that still continues to stand out as one of the best on the West Coast. That's shorthand for "in the world," in case you haven't been paying attention. The brewery's been expanding of late. If you see a bottle near you, do yourself a favor and your neighbor a disservice and buy as many as possible.
7.5%, 70 IBU
Tampa, FL
There's a decent chance you've never played jai alai, but if you ever have the opportunity to choose between the sport and the beer (which would be an admittedly odd scenario), choose the beer, which remains one of the more compelling reasons to brave a visit to Florida -- although there's a good chance you'll be seeing it on more shelves soon. For now, a cold green can of this cuts through the thickest of Florida heat.

7.2%, 65 IBU
Grand Rapids, MI
One of the beers that helped put Founders on the map also helped America step up and take notice that the Midwest had a serious way with hop-forward beers too, dammit. Hell, the hops are right there in the name! Luckily they're also in the beer, which is dry-hopped, perfectly balanced, and eminently drinkable as it settles into craft beer middle age.

7%, 62 IBU
Freeport, ME
Actually named for a famous local whale who had a bite taken out of her fin and NOT a suggestion that you make an entire midday meal out of this brew (though if you do, you're living life well), Lunch has become one of the most sought-after beers of Maine's many fine selections, delivering well-balanced, almost tropical notes thanks to a quartet of hops (Amarillo, Simcoe, Centennial, and Warrior) and just the right touch of malt. Maybe have it for dinner, too? Kidding, Maine has you covered there, too.

7.3%, 82 IBU
Salt Lake City, UT
It's been a pretty strenuous uphill battle for Utah brewers to get their due. Luckily, those cats are used to climbing hills (have you seen their calves?!) And few have done more to pull back the (Zion) curtain on the myth of 3.2 beers than Uinta. Yet despite all the mash-tun sorcery the brewery does, the year-round Hop Nosh is proof that you needn't some fancy power play to raise eyebrows... just the perfect amount of hop flavor, bordering on excessive without tilting over to the dark side. It's the kind of beer that doesn't just sip well. It elevates the scene in which it exists.
6.6%, 100 IBU
Minneapolis, MN
The good people at Surly label this literal can of taste bud whoop-ass (in the best possible way) an ESB/IPA hybrid thanks to the pleasing dose of Scottish malt it gets to round out the flavor profile. But make no mistake, the soul of this beer (and brewery) is in the almost confrontational but ultimately refreshing hit of hops. Despite the name, it's a hard combo to be mad at.

6.8%, 80 IBU
Bend, OR
In the Pacific Northwest, IPA is king, with hundreds and hundreds of worthy contenders vying for the throne. We could go on about that all day, but instead, we'll just sit back and drink a nice Inversion, an IPA from the makers of Mirror Pond and Black Butte porter that eschews the hops arms race that runs rampant through the region in favor of a laid-back, balanced, piney beer that relies not on gimmickry or aggression. Deschutes has become something of a national ambassador for PNW beers (with a new location announced in Roanoke, VA). If there are any nonbelievers out there remaining, Inversion will make them converts.

6.8%, 62 IBU
Magnolia, TX
If you didn't guess by the name that this beer hails from Texas, you are really bad at guessing things. In just a few short years of production this has become one of the Lone Star (getting it now?) State's most celebrated brews that isn't a sour from a certain outfit outside Austin (cough cough Jester King). Crafted entirely from Mosaic hops, it has a distinctly drinkable profile, which is good thing because, with Texas being Texas, it of course comes in 750ml bottles.

7.5%, 87 IBU
North Olmsted, OH
How good is Fat Head's? Good enough that the Cleveland-area brewery has set up outposts in Pittsburgh and Portland, OR... and dominated in tough markets. And while Hop JuJu remains the Holy Grail, even that whale of a beer owes a debt to the year-round greatness that is Head Hunter, a Midwest IPA that emulates a West Coast so well that it's been immediately embraced by those it once imitated. Some would call that flattery. We're just going with good taste.

6.3%, 56 IBU
Decorah, IA
Iowa's formerly under-the-radar craft heavyweight made its name largely on the backs of big, heavy stouts like Kentucky Brunch and Mornin' Delight that rate among the most obsessed-over beers in the country, but make no mistake, these guys know what they're doing when the dial it back a bit, too, as is the case with their beloved pale ale pseudoSue and this spot-on IPA that packs a serious hop profile despite coming in on the slightly lower end of the ABV spectrum.
Sign up here for our daily Thrillist email, and get your fix of the best in food/drink/fun.
Lee Breslouer is a senior writer for Thrillist, and could use a Ska beer right about now. Follow him to Colorado beers: @LeeBreslouer.
Andy Kryza is senior editor at Thrillist, a Portland resident, and a Michigan native. Which is to say, he had a very hard time with this assignment. Follow him to consolation beers: @apkryza.