If you want to learn the colors of the rainbow, you can memorize the famous acronym Roy G. Biv... and then promptly forget it because smartphones have destroyed the need to memorize anything. If you want to learn the colors of the IPA rainbow, you only have to continue reading this story. The IPA rainbow is a term coined by resident beer genius Julia Herz of the Brewers Association, and it's used to identify the perfectly drinkable different kinds of IPAs in the ever-evolving world of IPA innovation.
We spoke to beer experts from around the country for some bottled/canned examples of their favorite red, black, white, and brown IPAs.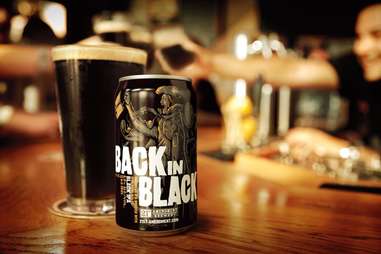 Black IPA
21st Amendment Brewery Back in Black
6.8%, 65 IBUs
San Francisco, CA
"Probably the most 'controversial' of the hybrid IPAs, the term black IPA is somewhat of a contradiction (it's both black and pale, get it?). But what's in a name? The black IPA I drink the most of is definitely Back in Black from 21st Amendment. The roast and toast on the beer is perfectly balanced by its hop bitterness. Subtle hints of coffee and and chocolate lead the charge, and are quickly followed by a soft, yet still present, punch of pine and grapefruit." -- Ashley Routson, The Beer Wench
Sanitas Brewing Co. Black IPA
6.5% ABV, 65 IBUs
Boulder, CO
"It's a little toasted, and there's a bit of coffee-ness in its backbone. Not super dry, and it's got a clean finish. You could pair it with a steak, or dessert, or cheesecake, and it'd be delicious." -- Jules Bouchard, Euclid Hall, Denver, CO
Firestone Walker Brewing Co. Wookey Jack
8.3% ABV, 80 IBUs
Paso Robles, CA
"[There are] roasted coffee and chocolate [notes] without being harsh. A very nice Florida citrus finish without being astringent." -- Richie Saunders, Shmaltz Brewing Co., Clifton Park, NY
Founders Brewing Co. Dark Penance
8.9% ABV, 100 IBUs
Grand Rapids, MI
"I said, 'no thanks' when I initially tried a few variations of this style a few years ago. I thought it tasted like an aggressively hopped, carbonated black tea with alcohol, but then Uinta invited me out to Salt Lake City to try their Dubhe release and I said, 'oh shit!' The Lagunitas NightTime further helped erase my doubts for this style, and most recently the Founders Dark Penance has garnered the title as the best I ever had. Notice the trend of them all being imperial? That's how I get down with black IPAs." -- Ale Sharpton, beer blogger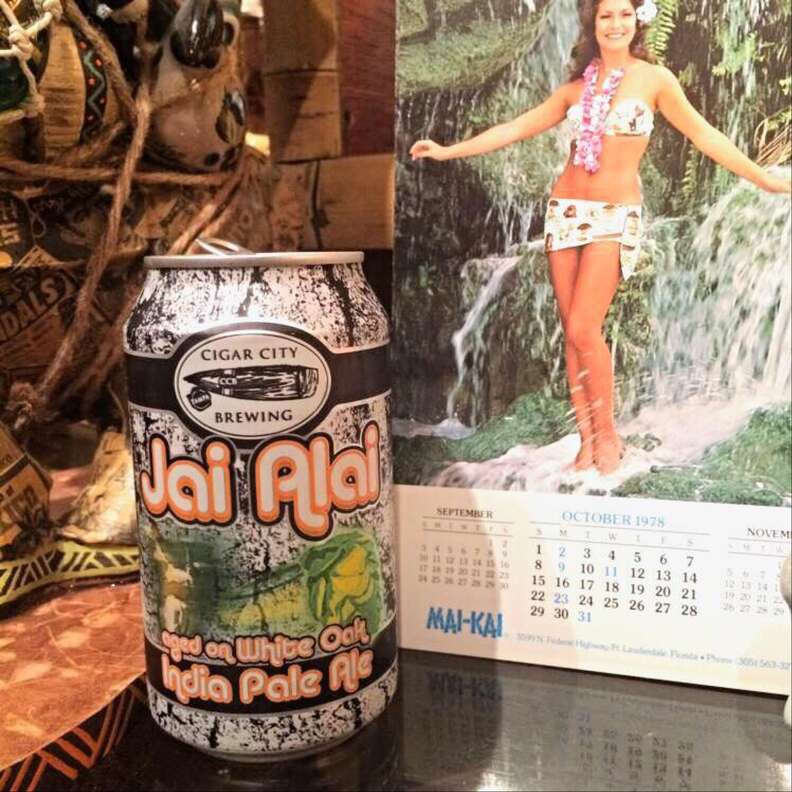 White IPA
Cigar City Brewing White Oak Jai Alai
7.5% ABV, 70 IBUs
Tampa, FL
"Lots of vanilla and citrus notes. The citrus is present but subdued. The toasted oak notes seem to mellow out the hop oil, making for a smooth and refreshing white IPA." -- Richie Saunders, Shmaltz Brewing Co., Clifton Park, NY
Deschutes Brewery Chainbreaker White IPA
5.6% ABV, 55 IBUs
Bend, OR
"I like that it's not a pretentious white IPA. It's just a straight-up, well balanced, mildly hoppy, and slightly lemony in acidity. You can drink it in the middle of the winter when it's 20° out, or you can drink it in July when it's 90°. It's simply a well-made beer." -- Jules Bouchard, Euclid Hall, Denver, CO
"The Belgian witbier meets the American IPA in this citrusy, spicy, and uniquely hoppy hybrid. But, I have to be honest: when I first learned of this new style, I was pretty hesitant. But any doubts I had about the merger of styles was quickly dissolved by Deschutes' Chainbreaker IPA. Light and crisp with bold notes of pine, citrus, and coriander, this beautiful, hazy, straw-yellow beer is a great gateway beer for those just beginning to explore the world of hops." -- Ashley Routson, The Beer Wench
Lagunitas Brewing Co. A Little Sumpin' Sumpin'
7.5% ABV, 65 IBUs
Petaluma, CA
"Lagunitas' A Little Sumpin' Sumpin' covers all the bases for a gangster white IPA: crisp and smooth at the same time, not overly malty, and still has that hoppy punch this phenomenal brewery is accustomed to delivering. ​I actually buy this." -- Ale Sharpton, beer blogger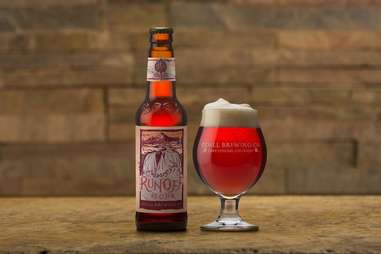 Red IPA
Odell Brewing Co. Runoff Red IPA
6.5% ABV, 50 IBUs
Fort Collins, CO
"It's super dry, clean, crisp, and straightforward. It used to be called Odell Red, but they rebranded and tweaked it. It's legitimately a red IPA now." -- Jules Bouchard, Euclid Hall, Denver, CO
"In my mind, Odell can do no wrong, and Runoff Red IPA is a fantastic example of an innovative, yet balanced and approachable, hybrid beer. It is incredibly aromatic with notes of pineapple, grapefruit, and pine. Bitter and fruity with just the right amount of toffee sweetness and piney bitterness, Runoff Red IPA finishes dry and clean, leaving your tongue craving another sip." -- Ashley Routson, The Beer Wench
Ithaca Beer Co. CascaZilla
7% ABV, 50 IBUs
Ithaca, NY
"The Tröegs Nugget Nectar ["excessively dry-hopped"] and CascaZilla [silver medal winner at the Great American Beer Fest] by Ithaca Beer Co. whip some serious ass in this category. Why I can't get these brews in ATL is the ​irony of it all. Bottle trades anyone?" -- Ale Sharpton, beer blogger
Brown IPA
Dogfish Head Indian Brown Ale
7.2% ABV, 50 IBUs
Rehoboth Beach, DE
"I like that you still get that bold, bitter IPA characteristics coming through, but it also has a nice chocolatey-ness to it in the malt. It's an easy-drinking beer. Can't go wrong with anything from Dogfish." -- Jules Bouchard, Euclid Hall, Denver, CO
"Being a true IPA advocate, I started getting a little worried when I witnessed the boom of variations. Regardless, pushing my purist, 'get off my lawn' ideologies to the side, I happened to enjoy some really good ones. Indian Style Brown isn't my favorite style -- most brown ales are typically too light in the pants in my opinion, and then hopped up on top of that? Yuck. Fortunately, Dogfish Head's Indian Brown Ale does a Barnum & Bailey balancing act of the hops, malt, and body with their version, and set the bar for others." -- Ale Sharpton, beer blogger
"My love affair with Dogfish Head is no secret and, surprisingly enough, it all began with their Indian Brown Ale in the summer of '07. Nutty and chocolatey, with just the right hint of caramel -- this is no ordinary brown ale. Rigorously hopped like the rest of its IPAs, DFH Indian Brown Ale is the OG brown ale-IPA hybrid. It's the standard all others should hold themselves up to." -- Ashley Routson, The Beer Wench
Smuttynose Brewing Co. Durty
8.4% ABV, 97 IBUs
Hampton, NH
"It has a great hop profile and also a great malt backbone. It's a bit piney, but still holds the citrusy fruit together. A great beer to find your way to loving hops." -- Richie Saunders, Shmaltz Brewing Co., Clifton Park, NY
Sign up here for our daily Thrillist email, and get your fix of the best in food/drink/fun.
Lee Breslouer is a senior writer for Thrillist, and needs to get some of that Dogfish IBA in his fridge. Follow him to obvious statements: @LeeBreslouer.