IPAs Are About to Get More Expensive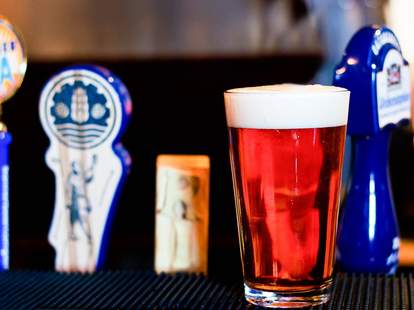 Sonya Highfield/Thrillist
IPAs -- you love 'em, or you hate 'em. And soon, you'll likely pay more for 'em.
Unseasonably hot temperatures and drought conditions are threatening this year's hops yields in Washington's Yakima Valley, one of the largest hops farming regions in the country, and that could spell bad news for the hopped-up brews, according to a report by CNBC. 
Due to the drought, water restrictions in the region could parch some crops, resulting in shortages of some hops varieties used in beer. This could mean higher prices passed down to beer drinkers, especially on IPAs, if you're into that kind of thing. Some hops growers said they're already predicting the loss of some crops and are dipping into emergency water supplies, while other farmers are leaving their hops fields unused, according to the report.
Worse yet, next year might see a bigger shortage, thanks to craft breweries thirsting for more hops without water and land to grow them.
The report goes on to quote Michael Butler, chairman and CEO of Cascadia Capital, saying, "The consumer will pay a higher price for beer. That is without question."
Hopfully -- or, uh, hopefully -- conditions will improve before that happens.
Tony Merevick is Cities News Editor at Thrillist and will just stick with paying insane amounts for wine. Send news tips to news@thrillist.com and follow him on Twitter @tonymerevick.