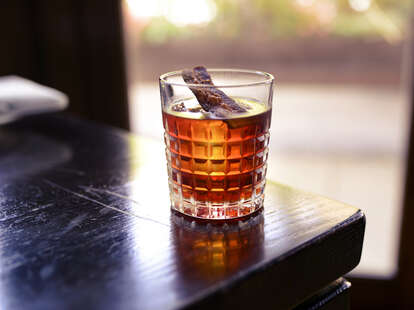 Also known as the "Irish Pancake Breakfast," the Irish Breakfast shot takes the most important meal of the day and shoves it into a 1.5-ounce glass. It joins the likes of the Pickleback as a shot made famous by its chaser―in this case, a glass of fresh orange juice and a slice of crispy, savory bacon. If done in the correct order (shot, then OJ, then bacon), the shot should leave you feeling like you just took a bite of maple syrup-drizzled pancakes.
Though it's a mystery to us why it's deemed Irish (since it doesn't include any part of a traditional Irish breakfast—not even the blood pudding), one thing is for sure: It doesn't need to be St. Patrick's Day for you to enjoy this boozy breakfast of champions.
Irish Breakfast Shot
INGREDIENTS
1 oz

Irish Whiskey

.5 oz

Butterscotch Liqueur

Glass of

Orange Juice

1 slice of

bacon
INSTRUCTIONS
Step one
Pour the Irish whiskey and the butterscotch liqueur into a shot glass.
Step two
Pour orange juice into a lowball glass and a lay a piece of bacon across the top of the glass.
Step three
Shoot the shot, chase it with OJ and take a bite of bacon.