Rosé Vodka Is the New Pink Wave -- and It's Actually Pretty Great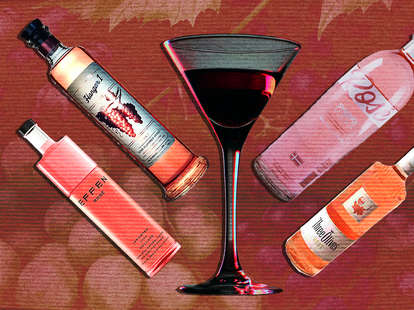 Frannie Jiranek/Thrillist
If you're wondering when the #roséallday phenomenon will run its course and drop off the liquor store shelves, just pour yourself another glass of pink elixir and get comfortable -- because it's not going anywhere anytime soon and actually, it's continuing to gain momentum.
Rosé has become so imbedded in society, the trend no longer stops at wine. Now, even non-rosé products are literally trying to become rosé: rosé candy, rosé energy drinks, rosé beer, a rosé-themed mansion, and rosé mustard (okay, too far). It's even crossed over into the spirits world with rosé-flavored liquor like gin, spiked seltzer, cider, and the newest kid on the block to receive the Millennial stamp of approval: rosé vodka.
Yeah, we could do without the rosé condiments -- but with rosé's increasingly sought-after aesthetic (it's too much of an understatement to call it a "fad"), spirit brands jumping on the drink-pink bandwagon comes as no surprise. And in some cases, it can actually be a delicious addition to the party.
The enduring appeal of pink wine
Unless you've been hiding under a very large boulder since 2014, then you're well aware that rosé wine has made a name for itself as the "it" Millennial drink and the official "summer water." True, rosé wine has been around basically forever -- from the Roman and Greek Empires, to the saccharine white zinfandel your Great Aunt Shirly glugged at tupperware parties in the 1970s (garnering the drink its former low-grade reputation). But in the past few years, rosé got its second wind and came into its own as a drink that's well-known and well-loved by virtually everyone.
Thanks to improved production methods and affordable options becoming widely available, plus celebrities glamorizing pink wine on social media, rosé became more than just the fastest growing wine category -- it became a way of life. "The allure of what rosé represents -- the European coast, summer, and sunshine -- coupled with it being easy to drink, has led to brilliant marketing campaigns, smart packaging, and this attainable 'rosé lifestyle' being sold to consumers," says Matt Landes, founder of Cocktail Academy.
Rosé has the power to make us regular folks sipping wine by an inflatable pool in the 'burbs feel like we're living the dream on a swan float in Southampton. With such industry success, of course other brands are jumping on board. "Larger companies are seeking to capitalize on rosé's existing fandom and apply the 'rosé all day' mentality to nighttime," says Landes.
Enter the perfect crossover that may sound gimmicky, but appeals to industry pros, Millennials, wine drinkers, and cocktail shakers alike: rosé vodka.
A step up from most flavored vodkas
"Rosé vodka is simply vodka that is made to taste like rosé," says Samantha Capaldi, certified sommelier and 14 Hands Wine ambassador. Landers further explains: "There is not a lot of the wine itself in the blend (typically around 5%, if any) so most of the flavor is imparted but reminiscent of what your palate picks up when typically drinking rosé -- fruit and citrus-floral flavors with a lingering green note on the finish."
So no, this is nothing like tossing back a shot of banana-turpentine-flavored vodka you subsisted on at the Kappa Gamma Whatever parties of your early adulthood. "Just how rosé production has progressed in style and experience, it's the same with vodka," says Capaldi. "Vodka brands are making it a priority to live up to the standards of the rosé wine hype so that consumers feel comfortable choosing a rosé vodka over rosé wine."
Also, think about it from a distilling POV: vodka tastes pretty neutral to begin with, and a good dry rosé doesn't assault you with its flavor profile, either. Rosé vodka is actually a very smooth meeting of the minds (and taste buds) that showcases rosé's deliciously subtle notes with vodka's extra kick and without the artificial aftertaste.
It's perfect for enjoying all day or night (though vodka's higher proof will sneak up on you faster than wine, so glug at your own risk). Plus, for any health-conscious drinkers still chasing that summer bod, "drinking rosé-flavored vodka as opposed to wine cuts your sugar and carb intake tremendously," says Capaldi. Try sipping it straight and chilled, or whipping up a refreshing cocktail: 1 part rosé vodka, 2 parts soda water, and a few squeezes of fresh lime juice.
Here's what it all comes back to: what you're really enjoying is the idea of rosé. So even if rosé popcorn is taking things a bit too far for your taste, rosé vodka is something delicious that we can all raise a glass to. Here are a few great brands to pour.
Hangar 1 Rosé Vodka
Price: $26.99
Hangar 1 was the first to introduce this unique blend of vodka and rosé wine. It's distilled right in Northern California wine country and made with real rosé from the region, creating a fresh, easy-drinking blend that begs you to branch off the vine. Enjoy it on the rocks or as a base for sangria.
Svedka Rosé Vodka
Price: $10.99
Made with fine spring water and Swedish winter wheat, this well-balanced vodka is distilled five times (and continuously) to remove any and all impurities -- it's also blended with 5% rosé wine. It clocks in at 60 proof and delivers subtly succulent flavors of strawberry, pineapple, hibiscus, and… rosé, obviously.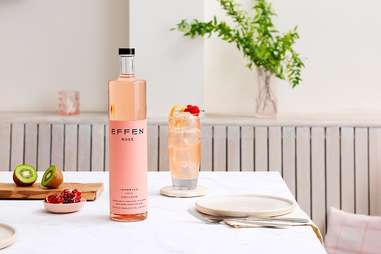 Effen Rosé Vodka
Price: $24.99: This vodka is distilled from 100% premium wheat from Northern France, filtered, then blended with purified spring water. The result is an exceptionally smooth spirit with a soft blush hue and clean, fruity finish. Plus, the chic, modern bottle will automatically upgrade your bar cart. For an easy cocktail spritzer, try topping it off with a splash of sparkling wine.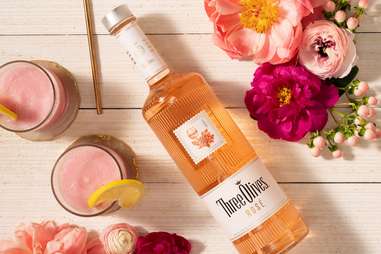 Three Olives Rosé Vodka
Price: $14.99
Hailing from England, Three Olives concocted a rosé-flavored vodka that both smells and tastes like a Provencal rosé, with notes of pomegranate, blended red fruit, and a touch of French oak. This guy really lends itself to cocktail mixing, like this aperitif recipe that's become a favorite of Capaldi's: 2 shots of rosé vodka over ice topped with sparkling water, fresh-squeezed lemon juice, and a touch of elderflower.
Sign up here for our daily Thrillist email, get Eatmail for more food coverage, and subscribe here for our YouTube channel to get your fix of the best in food/drink/fun.