The Newest Trend in Cocktails Is... Jägermeister?
To most drinkers, the words "Jägermeister" and "cocktail" conjure up long nights of ice-cold shots dumped into energy drinks, late nights at the frat house, and maybe some triple kissing.

But according to mixologists, Jäger is so much more than its dominance of shot glasses implies. The German digestif (which most of you probably didn't know is a German digestif) is made from more than 50 different herbs and botanicals, and has seen a recent resurgence in the bartending community. It's still great in shots, sure, but some of the world's top bartenders are starting to see it as so much more than your college memories let on.

"Is there more to macaroni than that blue box on the grocery store shelf?" says Sother Teague of New York's Amor y Amargo and Mother of Pearl. Of course there is. Pay attention, brah.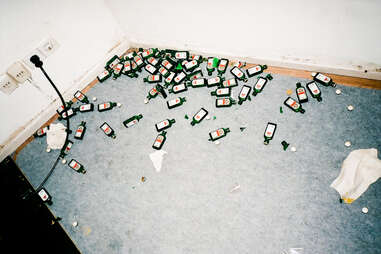 Why we're doing Jäger all wrong
Bartenders are often in the dark about Jäger's potential for the same reason drinkers are: The popularity of Jäger-bombs and frosty-cold shots have overshadowed zee liqueur's cocktail potential in the minds of those who associate it with Solo cups. Which is to say, most of us are doing Jäger all wrong.
"When wielded properly, Jägermeister has lots of sophisticated flavors that can be enjoyed more by discerning palates of adults than college-aged imbibers," says Teague. "That damned machine that chills Jäger to below freezing temperatures is the culprit in my opinion."

What's wrong with a little Jägerator action? Well, at the low temperature, you lose so much of the aroma (90% of flavor) and you literally freeze your soft palate (which helps out with the remaining 10% of flavor perception), You're getting a mouthful of cold, bitter liquid. Some call it delicious. Others call it a bravado shot. Either way, it lays the groundwork of preconceptions about a surprisingly diverse spirit.

In order to get around those preconceptions, Teague advises his guests to taste Jägermeister blind at room temperature, as if they've never had or heard of it before. Has them swirl it, examine it, smell it, and sip it… kind of like wine.

"If you approach it without preconception you will detect myriad new sensations and flavors that you never appreciated when shooting or bombing Jäger," he says
Jäger meets craft cocktails
Ivy Mix, bartender at Brooklyn's Leyenda, uses Jägermeister in cocktails because she considers it to be an unexpected blast from the past that works well as a modifier in cocktails.

"I don't generally use it to match with other ingredients, but use it to bring out different herbal notes in different spirits," she says. "Any spirit can have this profile, whether it's gin, mescal, or scotch."

Teague believes that it's a great cocktail ingredient because it's basically a cocktail in and of itself. "It has bitterness,, as well as a sweet note balanced by citrus and herbal flavors," he says, noting that the classic Old Fashioned is defined as sugar, water, spirit and bitters -- all of which are are already present in Jäger.

"In an Old Fashioned-style cocktail, I subtract both the sweetener and the bitters and add .25-.5 oz to really shake things up," he says, before revealing he also likes to sneak in a half ounce of Jäger into a standard Manhattan during the winter months for a richer mouthfeel and a warming aroma. Some people might call blasphemy, but only after they're told what made that Manhattan taste so singular.

With bars across the country putting Jäger front and center, our experts provided a couple simple recipes to help convert the nonbelievers.
Sealed Deal
1.5 oz Jägermeister
0.5 oz Del Maguey Vida
0.5 oz Fresh Orange Juice
0.25 oz Maple Syrup
0.5 oz Fresh Lemon
Dash Angostura

Shake everything together, strain into a coupe, then top with champagne. Garnish with an orange twist.
German Vacation
1 oz Jägermeister
1 oz Flor de Caña 4-year gold rum
.75 oz Ginger Syrup
.75 oz orgeat
.75 oz lemon juice
Heavy dashes of Peychaud's bitters

Whip shake with a few pebbles. Pour over fresh pebble ice in a swizzle glass. Mound more on top like a snow cone and "paint" with Peychaud's. Ahoy!
Sign up here for our daily Thrillist email, and get your fix of the best in food/drink/fun.