Cooler scooter racing (with beer helmets) is the hot new sport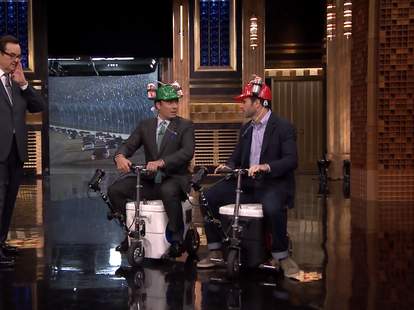 Jimmy Fallon has always supported innovation, whether it's wordless karaoke battles or the Pizza Decrustifier. So it's no surprise that the man had six-time NASCAR Sprint Cup champ Jimmie Johnson on The Tonight Show last night to demonstrate the trendy sport of cooler scooter racing.
The match was set up by a savvy fan, who wrote into the show's Suggestion Box asking Fallon to race someone on cooler scooters, "the transportation of the future". Luckily, Johnson happened to be hanging around, and joined Fallon in a lap around the studio. They obviously wore beer helmets for the ride, because safety first, and despite Johnson's flagrant cheating, Fallon emerged victorious. After this impressive display, we imagine everyone will be racing cooler scooters, but remember: you can also go on a lovely tandem ride with a friend.
 

Kristin Hunt is a food/drink staff writer for Thrillist, and thinks Jimmie Johnson should be booted from the league for those dirty plays. Follow her at @kristin_hunt.