How John Rich Went From Country Star to Whiskey Entrepreneur
John Rich is about as American as it gets. As one half of country duo Big & Rich, he's touring the nation spreading Americana party vibes every night. When he's not rocking out in front of fans, he's promoting his apparel brand Redneck Riviera (featuring Stars-and-Stripes cowboy boots, among other things) or simply giving shout-outs to the troops on Twitter.
But there was one thing he caught himself doing that wasn't exactly patriotic: drinking Canadian whiskey. For years Rich was a fan of the international spirit -- so much so that it gets a mention on the Big & Rich single "Save a Horse (Ride a Cowboy)." Looking to get back to his roots, Rich set out on a long process to create his own, real American blended whiskey that he could be proud of. We sat down with Rich for the story of how his Redneck Riviera blended whiskey came to be.
How did Redneck Riviera come about?
Well the phrase has been around since the '60s, it refers to the Gulf Coast. It's kinda the redneck version of Margaritaville -- everyone has their favorite lake, beach, whatever, that they refer to. A few years ago I found out nobody had trademarked the phrase, so I opened an apparel company and started making boots. Actually, our #1 state for boots is California [laughs]. Once I saw the success of those, I started a bar in downtown Nashville, right on the strip.
Once that was being built -- I've always been a [Canadian whiskey] drinker, that was probably the first cocktail I ever had, [whiskey] and Coke. I started to wonder, well, that's Canadian blended whiskey... So I said I'm gonna see if I can make a Redneck Riviera no bite, no burn whiskey.
Redneck Riviera
What was the process like for blending this?
Well, I had no whiskey expertise going into this. Other than that I like it [Laughs]. I worked with a woman master distiller, which, there aren't a lot of female master distillers in the whiskey business, but I felt that was important. Her name's Mel Heim in Portland, she's pretty much the opposite of me, which is good. She's a real chemist. She'd send me 15 or 20 samples of whiskey and we'd go over on Skype about what I liked and did not like.
That seems like a fun homework assignment
Hah, well the first 40 I didn't even get to taste. I just smelled them and went "nope!" We went through over 200 variations until we got the final blend. One thing I realized I don't like is sour mash whiskey, I had no idea I didn't like it until I gave her the tasting notes. There are some whiskeys in this bottle that are blended in at only 1 to 2 percent, that's how precise this is. The goal was to make something with no burn -- I call it "whiskey face" when you take a shot and  make that face, I wanted to avoid that.
"I can hype someone into buying something once, but you can't fool them into buying it twice. That's what's happening now."
And it's really taking off, huh?
That's right -- we worked on it in 2017 for about 8 months and released this year. Our goal was to have 12 states in 2018 and now we're up to 41, so that's pretty cool. Obviously it's an American blended whiskey -- the glass that it's bottled in was made in America, the cork is made in America, I give 10% of every bottle sold back to Folds of Honor, which is a group that gives college grants to military families. This week I'm writing a check to them that'll cover 31 college grants.
Even in states like California and now New England, we're seeing buyers. It's tough to get on a shelf, since you're competing with the big brands, but I've done over 70 signings to promote it. It helps to have this built-in fanbase that we've already got, but I tell everyone: I can hype someone into buying something once, but you can't fool them into buying it twice. That's what's happening now.
What's the vibe like at these bottle signings?
What I do is I go to my wheelhouse, country radio. We just had a bottle signing outside of Tampa, one in Orlando, and had a concert that night. And I'll do radio stations and call up stores, I show up and there's a line out the door and sign bottles of whiskey, which is pretty fun. It's hand-to-hand stuff -- a lot of famous people put this stuff out and sign their name on it and that's it. But I don't endorse Redneck Riviera, I own it. I own the trademarks, the recipe, everything. To me it's a family business. So human contact, that's what helps people understand it.
Speaking of family business, this stuff is Grandma approved?
That's right, Granny Rich! Did you see our video of her driving the Smokey and the Bandit car? She can really drive it. She's been drinking whiskey since before WWII -- she's 86, coming up on 87, she still works 40 hours a week in an alteration shop that she owns and operates by herself. She smokes a pack of Marlboro Reds every day, and she's the toughest lady you've ever met in your life.
So before I put the stuff out I called her up and said "Granny, I've got this stuff that is so smooth, I'm not putting it out till you try it." She goes "Bring it down to the shop!" I said "Well, it's 10 o'clock in the morning." She said, "That's never stopped me before!" So she clears off a sewing machine and poured her a shot, she throws it back and said that might be the smoothest whiskey I've ever had. So that's Granny Rich approved!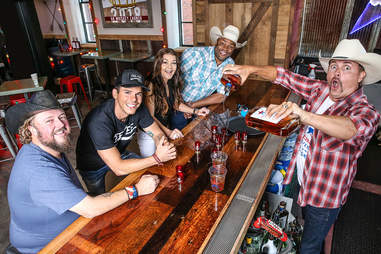 Redneck Riviera
How does the music biz compare to the whiskey biz?
Like I said, I'm applying the same logic to selling whiskey -- I'm basically on tour right now, getting places to shelf the stuff. But I'm just starting out so it's still all personal. I'll give you an example: there's a chain of grocery stores in Florida called Winn-Dixie. There's a hundred and fifty some odd stores in Florida that all take Redneck Riviera now because I called up the liquor manager of every one of these stores and spoke to them personally.
What's the best part about being a whiskey entrepreneur?
Watching someone try it for the first time is the best. You're asking about parallels between the music industry and whiskey -- when I write a song, it might be 2 or 3 years between when I write it and when I'm gonna be on stage singing those words, with the crowd singing back to me. When I watch someone try the whiskey for the first time, it's the same feeling. It's like a lightbulb going off. It's a validation that what you created is as good as you thought it was.