The 3 essential juleps you'll be needing on Derby Day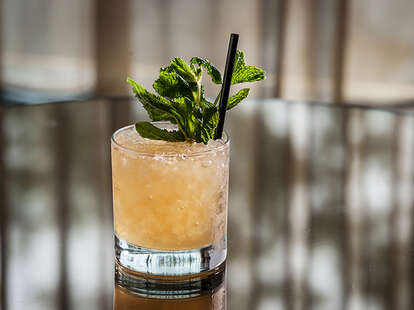 You've no doubt procured your gentlemanly seersucker suit for the Kentucky Derby and read about the magic horse named after a popular web browser, so now it's time to get to the real reason you're dressed like a Southern stereotype: drinking. That's why we enlisted the folks at New York's Stone Rose Lounge to concoct three takes on the classic julep.
Just because you can't make it to the Derby doesn't mean you can't drink every bit as much bourbon as the people who are.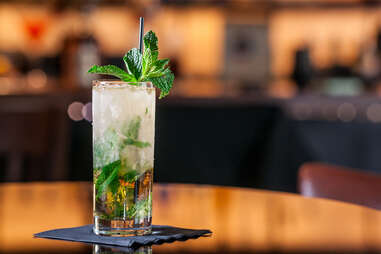 Classic Mint Julep
2oz bourbon
1oz water
1tsp sugar
4 sprigs of fresh mint
Muddle three of the mint sprigs, then add the mint, sugar, and water to the bottom of the glass. Fill it up with crushed ice. Pour in whiskey and stir. Finally, dust the last mint sprig with powdered sugar to garnish.
Watermelon Julep
1 1/4oz bourbon
1/2oz simple syrup
5 sprigs of fresh mint
6 cubes of fresh watermelon
First, muddle the simple syrup and watermelon in a mixing glass. Add your mint, and press lightly to release all the oils. Splash in the bourbon, mixing well with ice. Lastly, strain over the crushed ice, garnishing with watermelon and some smacked fresh-mint.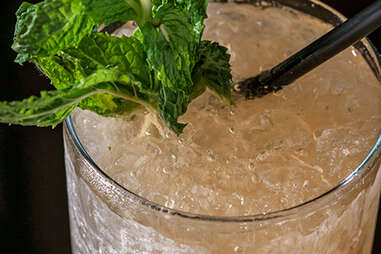 Ginger Peach Julep
1 1/2oz bourbon
1/2oz Mathilde Pêche liqueur
1 bar spoon of sweet ginger puree
10 sprigs of fresh mint
Splash of water
Lightly muddle the ginger puree, Pêche liqueur, and mint leaves in a mixing glass. Next, dump in everything else -- the ice, water, and bourbon -- and mix well with that bar spoon. Double-strain over crushed ice in a glass, garnishing with ginger and one large mint sprig.
Kristin Hunt is a food/drink staff writer for Thrillist, and always bets on the horse with the funniest name. Follow her to decadent and depraved Derby updates at @kristin_hunt.