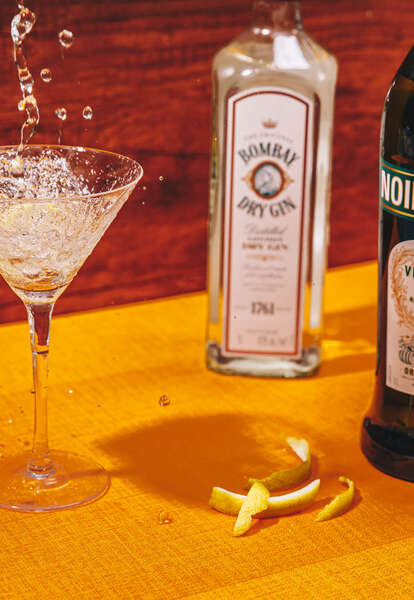 Upside-Down Martini

| Photo by Cole Saladino for Thrillist
Upside-Down Martini

| Photo by Cole Saladino for Thrillist
We've seen Julia Child depicted many times on screen—portrayed by Meryl Streep in Julie & Julia, in last year's documentary film from Sony, or simply being herself for a decade on The French Chef. And now we can add a new interpretation to the list, as Sarah Lancashire plays the famous chef in Julia, an HBO Max original that premiered on March 31.
The funny thing is, we're still not sick of her. It's endlessly fun to watch the life and times of the American-born chef who brought French cooking to the masses—whether in her kitchen preparing duck a l'orange or out on the town in Paris with devoted husband Paul Cushing Child (played by David Hyde Pierce in the new series), snacking on French cheese and sipping wine.
In fact, it's no secret that Child appreciated a good drink. She cooked with wine, drank champagne, and preferred a very specific cocktail, known as the Upside-Down Martini. While some bartenders might scoff at the idea, Child embraced a vermouth-forward martini and liked a 5-to-1 ratio of French Noilly Prat vermouth (her favorite) to gin.
"When I think of Julia Child, I think of how she loved all things French," says Shannon Evans, an Atlanta-based bartender, event producer, and brand ambassador for Noilly Prat. "This is the original French vermouth and she made it American by adding gin, in a way. Like her, this drink embodies that care-free, Parisian spirit."
Evans says she first fell in love with vermouth on a trip to Europe, in Barcelona specifically, and realized Americans had been approaching the fortified wine all wrong. "I really appreciated that it didn't have to just be a small piece of a cocktail," she says. "Realizing how many ingredients are in vermouth, there's a lot of citrus and really subtle floral notes. You can feel all the different herbs and spices dance on your tongue and it feels like a cocktail all on its own."
Not surprisingly, Child may have been ahead of her time with her love of the Upside-Down Martini, which has a lower ABV than its traditional counterpart. Today, Evans says, bartenders are seeing more requests for 50-50 martinis or even 75-25 as the low ABV trend continues to gain popularity among drinkers.
"Personally, I like drinks I can linger over for a while, where I can gather with people and really enjoy my time," Evans says. "I imagine Julia felt the same way."
So as you watch the new series (and listen to its companion Cherry Bombe podcast), drink like Julia Child with this Upside-Down Martini recipe, which works in a chilled coupe or martini glass. Evans recommends a lemon twist as garnish and advises to refrigerate the vermouth after use.
Upside-Down Martini Recipe
Ingredients:
• 3¾ ounces vermouth, Noilly Prat Dry preferred
• ¾ ounces gin, Bombay Sapphire preferred
• lemon twist, for garnish
Directions:
1. Combine the gin and vermouth in a mixing glass with ice and stir.
2. Strain into a chilled cocktail glass and garnish with the lemon twist.
Jess Mayhugh
is the editorial director of Food & Drink for Thrillist, who would give her right arm to share a martini with Julia Child. Follow her on
Twitter
and
Instagram
.