Why Korean Alcohol Is Making an Exciting Comeback
A century after liberation, Korean alcohol is finally heading in the right direction.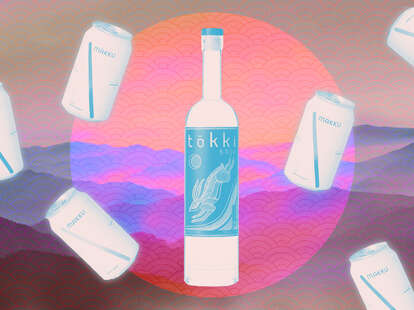 Image by Maitane Romagosa for Thrillist
Sit down for a meal at a Korean barbecue restaurant, and chances are you'll be greeted with a table littered with green-bottled soju that you mindlessly imbibe between bites of banchan and grilled meat. These mass-produced bottles, which is essentially diluted ethanol, are cheap in cost and plentiful at most Korean meals that are often characterized as "flavorless" or "watered-down vodka." Not to mention, the head-splitting, nausea-inducing hangover the next day leaves you wondering why you ever ordered that sixth bottle.
But this wasn't always the case—and especially now, many are working hard to change the negative stigma against soju.
The downfall of Korean liquor began when Imperial Japan occupied Korea in 1910. During this time, they imposed a hefty tax on alcohol and eventually outlawed home-made liquor. Conversely, during the Joseon dynasty—the period before the occupation—one in seven households were producing their own alcohol which birthed roughly 600 variations including those made with pine trees and bamboo stalks. Since only those with licenses were permitted to produce after the occupation, the once-thriving Korean alcohol industry shifted into industrialized monopolies.
The main categories of sool (Korean alcohol) include takju, yakju, cheongju, gwasil-ju, and soju (also known as jeungryu-ju which means spirit). Takju, also known as makgeolli, was once the poor man's unfiltered, sediment-filled alcohol. Yakju, often misreported as being the same as cheongju, is rice wine made with more than 1% nuruk or Korean yeast. Cheongju is rice wine made with less than 1% koji or Japanese yeast and is most similar to sake. Finally, soju, which is distilled yakju or cheongju, was and still is the most popular of the four categories.
If you're somewhat interested in Korean alcohol, you will have likely heard of Tokki Soju 토끼소주, the first American soju brand made with organic sushi-grade glutinous rice, and Makku, the innovative makgeolli in a can. However, there are so many underexposed brands you probably haven't heard of, from traditional producers that are hundreds of years old to modern day makers that have exponentially formed within the past 10 years.
To get a better sense of some Korea-based sool options, I spoke with Jinho Kim, a certified sommelier and manager at renowned Seoul-based restaurant Mingles. With a desire to showcase the variety of Korean alcohol, Mingles has a special sool pairing menu at their restaurant.
A unanimous favorite of the Mingles' crew is called Neungi Ju 능이주, a modern-day yakju made from earthy neungi mushrooms. Paired with their samgyetang-inspired Korean chicken dish which is made with ginseng and aromatic truffles, the intensity of the mushroom from the Neungi Ju is further heightened and elevated when sipped between bites of this dish.
Of course, if you're not in Korea and want some easy-to-make Korean food to eat at home with your alcohol, you can't go wrong with kimchi pancake, tteokbokki, and even bibimbap if you're looking for something a bit heartier.
Another must-try on Jinho's list includes Jook Ryuk Go 죽력고, a traditional soju first produced during the Joseon dynasty, made from bamboo stalks and other medicinal spices. Despite being a soju, it is served as a digestif at Mingles due to the strong, invigorating flavors, and is the only alcohol in Korea that is made using bamboo stalks.
Other notable traditional alcohols in South Korea include Samhae Soju 삼해소주, a distinctly Seoul-based soju formed over a hundred years ago, by Taek Sang Kim and Damsoul 담솔, a 500-year-old family-owned liquor brand, by Heung Sun Park. Both makers were named Grand Food Masters, a title only given to specialists that contribute to traditional Korean food culture. The current lack of regulations or guidance as to what can pass as soju or Korean alcohol has led to inconsistent traditional alcohols being produced, but these masters who have dedicated their lives to making sool are a good place to find guidance.
Moonbaesool, another noteworthy liquor brand first produced in North Korea during the Goryeo Dynasty, is one of the most widely consumed and known high-end soju brands. While the name translates into wild pear alcohol, there are no pears used to produce this spirit. Made with wheat, millet, and nuruk, the name is moreso a reference to the pear-like scent of this soju.
In support of traditional Korean liquor, Kooksoondang, a major producer of Korean beverages, started the Korean Alcohol Restoration Project in 2008 to recreate alcohol that existed only in past literature—an initiative that could potentially bring traditional sool the consistency it needs. Through this project they introduced Ehwaju 이화주, a makgeolli so thick, you need a spoon to enjoy it.
On an individual level, someone doing their part to educate and share sool in America is Kyungmoon Kim, former beverage director of Jungsik and founder at Korean Modern Spirits Imports, abbreviated to KMS Imports.
As a master sommelier giving beverage recommendations at a Michelin-rated Korean restaurant in 2011, he noticed that while the Korean food scene in America was quickly gaining traction, the beverage industry had stagnated. With the advancement of restaurants, there was a need for premium sool to be served, thus the formation of his business.
Kyungmoon emphasizes working with small-batch producers for his import business as this was the traditional way of producing Korean alcohol. One producer he proudly works with is Nonsan-based Yangchon Brewery. Formed in 1920, this brewery specializes in producing Uleong-issal 우렁이쌀, a cheongju made with organic rice, utilizing snails in place of pesticides or herbicides.
While working with small producers is a noble aspiration, as well as the most traditional, it is my personal belief that premium sool needs to be available on a global scale with a consistent product, made with scientific processes and methodologies, to bring larger awareness and progress. Fortunately, we're moving in the right direction.
Sign up here for our daily Thrillist email and subscribe here for our YouTube channel to get your fix of the best in food/drink/fun.
Diane Sooyeon Kang is a freelance writer, photographer, visual storyteller, and owner of MAHT Studios. She has more Instagram accounts than she can manage, but you can follow her food adventures at @akoreangirleats.