25 Things You Didn't Know About LaCroix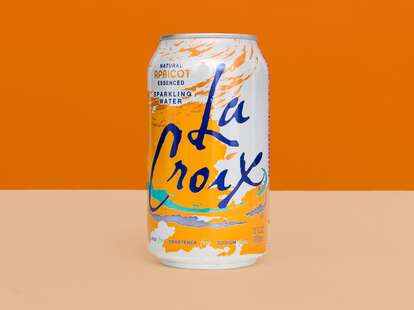 Cole Saladino/Thrillist
Cole Saladino/Thrillist
You might love the carbonation out of your pastel Pamplemousse, but did you know that LaCroix' got its start at a brewery? Or that the wildly popular soda brand keeps an actual registered dietitian on staff?
I scream, you scream, we all scream for... canned sparkling water!
1. It's pronounced "Lah-Croy"
The fake Frenchy name is actually a cross between the St. Croix, a river that runs along Wisconsin's western border, and LaCrosse, the beverage's Wisconsin hometown. But you already knew that, didn't you?
2. It's got more in common with beer than you might think
The bubbly bev got its start back in 1981 at GE Heileman, a small family-run Wisconsin brewery (though it was always alcohol-free). It was later acquired by a larger national corporation, but it never abandoned its humble mom-and-pop roots.
3. Its parent company, National Beverage Corp., is no small potatoes
According to a trade magazine called Beverage Digest, the national soda powerhouse that purchased LC in 1996 is now the fifth-largest in the country. Not bad for a company whose stock symbol is "FIZZ."
4. LaCroix is all-natural, but some of its fellow brands? Not so much
National Beverage Corp. is also the mastermind behind beloved regional sugar-bombs Shasta and Faygo (but the Corp. clearly loves LaCroix the most).
5. But wait -- is it really all-natural??
A law firm called Beaumont Costales sure doesn't think so. It's currently suing National Beverage Corp. over false labeling, claiming that LaCroix contains a number of synthetic additives, most alarmingly linalool, a chemical used in cockroach insecticide. Don't sweat it, though! Most experts agree that those ingredients are harmless and can actually be derived naturally from fruit vapor. Phew.
6. Those pretty cans sure cover a lot of ground
Twelve separate bottling plants spread throughout the country mean you can get your sparkling fix from sea to shining sea.
7. The biggest force behind America's recent LaCraze is... sugary soft drinks?
Or, really, the lack thereof. Growing disinterest in conventional soda at both a cultural and legislative level coupled with a massive upsurge in bottled water consumption set the stage for LaCroix's LaCoup (sorry/not sorry).
7B. Also, people just love them some seltzer
If the International Bottled Water Association is speaking the truth, the domestic sparkling water market grew by a whopping 27% in 2017 alone. I knew I was on to something.
8. And yes, LaCroix is seltzer -- not Club Soda and definitely not mineral water
As if the name LaCroix Sparkling Water wasn't a dead giveaway, those vivacious bubbles inside your can are, in fact, sparkling water, which is just a fancier word for seltzer (or "seltzuh" if you're my cousins from Queens). Club Soda, on the other hand, is artificially-injected with sodium while mineral water packs natural fortifiers like sodium, magnesium, potassium, and calcium. Knowledge is power.
9. As demand skyrocketed, the flavor range exploded
In 2004, LaCroix only offered six flavors. These days, however, it's up to a healthy 21. #blessed
10. Remember when I mentioned LC's ticker symbol? Yeah, that also popped its top
In 2010, old FIZZ was trading for $12 a share. Now it's upwards of $74. I wish I understood finances well enough to make a witty joke here, but I'm at a loss. Sorry, Dad.
11. An IRL angel named Rakeem wrote this tribute rap and it's amazing
You're welcome.
12. Its underground cred and sudden hipster status has been likened to PBR
Reliable product, low cost, retro design, and no annoying, mind-numbing ads? Yeah, the theory checks out.
13. Brooklyn can't get enough of that P-A-M-P
A staffer at Whole Foods' friggin' ginormous Williamsburg location recently divulged that the choosy hipsters most choose the grapefruit-tinged Pamplemousse. I mean, duh, though.
14. One of those Pamp fiends even made a meme account about it
Read it, weep, and crack open another can.
15. But when it comes to Super Pamp fans, this girl takes the cake
16. Even the Royal Family can't get enough
In January 2019, Glamour reported that Prince Harry gave up alcohol and caffeine in solidarity with pregnant wife and American hero Meghan Markle (whaddaguy). According to Glamour's insider source, the famous ginger is filling the void with none other than "a crisp LaCroix."
17. Prefer glass to aluminum? Move to Wisconsin or Illinois.
Though now primarily made and sold in 100% recyclable cans, you can still cop sixers of throwback 12-ounce glass bottles at select Midwestern outposts.
18. When it comes to health, this soda's a pro
LaCroix currently counts Registered Dietitian and Licensed Nutritionist Barbara Ruhs as one of its own, which means it's pretty much the most health-conscious beverage on the market and drinking two cases of Cran-Raspberry a day is totally amazing for you.
19. Whole30 gave LaCroix the official thumbs up
Jumping head first into a month-long elimination diet? Rest assured you won't have to deprive yourself of delicious canned sparkling water. LaCroix is one of a mere handful of beverages proudly sporting the program's stamp of approval.
20. Though it can still booze it up with the best of 'em…
Believe it or not, the official website has an entire section devoted to LaCroix-spiked cocktail recipes. It's not a regular sparkling water, it's a fun sparkling water.
21. … and we got an all-star bartender to prove it
If you thought LaCroix mixology was just a silly brand gimmick, think again. We got barkeep Maggie Eckl of the multi-award-winning Dead Rabbit Grocery & Grog in NYC to whip us up eleven originals you can easily recreate at home. Cheers.
22. There's another La Croix out there, and it's as French as it sounds
La Croix, which translates to "The Cross" in Franco-talk, is a small Parisian newspaper catering to the Roman Catholic crowd. But I'm pretty sure it's not about holy water -- not exclusively, at least.
23. Contrary to popular belief, Joe Mande is 1,000% not, and never was, LaCroix's spokesperson
The writer-comedian tweeted all sorts of hilarious nonsense at the coveted soda brand from 2012 to 2014, hoping it'd eventually take him on as an official cover boy. The dream died in early 2014, however, when National Beverage Corp. served the Parks and Rec star a cease-and-desist order. Mande no longer drinks LaCroix.
24. Love those totally tubular, ugly sweater-esque cans?
LaCroix underwent a major brand overhaul in prep for its mid-'90s relaunch, and its approachable, cheery, neon-hued, and adorably mall ratty look was meant to stand in direct opposition to the establishment's perceived snobbishness.
25. It's (pop) art
No joke. Back in 2017, beloved San Francisco street artist fnnch picked up a paintbrush and transformed that wild 'n crazy can into bonafied artwork for his gallery show "9 Cans of LaCroix." Sure beats tomato soup.
Sign up here for our daily Thrillist email, get Eatmail for more food coverage, and subscribe here for our YouTube channel to get your fix of the best in food/drink/fun.
Meredith Heil is a staff writer for Thrillist. Look baby this is simple, you can't see -- you f**king with her, you f**king with a P-A-M-P. Save a sip for @mereditto.