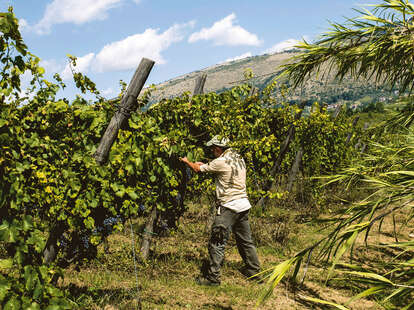 Lazio, Italy

| Photo by Oddur Thorisson
Lazio, Italy

| Photo by Oddur Thorisson
Words like "real" and "authentic" tend to be stigmatized in the food and drink world. But Joe Campanale's sprawling new book Vino revolves around the phrase "real Italian wine" and what has come to define it.
Vino is not a crash course in the basics of Italian wine. The beautifully illustrated book is an exstensive, of-the-moment journey through 20 of Italy's wine regions. Campanale immerses the reader in Italy's next generation of winemakers, a cohort that is pushing the region towards sustainable and low-intervention methods, like their natural wine movement peers around the world are.
They are also making wine that expresses Italy authentically, rather than emulating the wines of, say, France, as was done in decades past. Italy represents quality.
"Good Italian wines are great, great value, even the expensive ones, when you compare them to the other expensive wines of the world," Campanale says. Plus, Italy cultivates roughly 400 grape varieties for the purpose of winemaking—more than France, Spain, and Greece combined.
Campanale names three features of "real Italian wine," or vino vero. These wines are born from grapes native to Italy, exceptional terroir, and artisan winemakers. Out of the 20 regions he chronicled in the book, he singled out an overlooked region: Lazio.
Lazio is a central western region of Italy that is home to Rome. Tuscany, Umbria, Marche, Abruzzo, Molise, Campania, and the Tyrrhenian Sea border Lazio. It has a Mediterranean climate that is influenced by mountains, wind, rivers, and sea.
"It might not be super obvious because Rome is one of the major cities in the world, and wine has been made in these hills since the ancient Romans, if not longer," Campanale says. "But in the recent past, the wines of Rome were not well-regarded and there wasn't a lot going on. It's just recently that there's sort of a renaissance in the wines from this area."
Young winemakers have discovered that the land of Lazio is optimal for winemaking. The hills are rich with volcanic soils and limestone and have few pests. The relatively underdeveloped land is less expensive than more famous regions such as Barolo and Tuscany.
"There is a group of producers who are doing interesting things and sharing ideas with each other," Campanale says. "The winemakers there are so exciting. There's this really energetic, young new generation breaking down the conventions of the past and making wine in fresh new ways. They're often well-traveled and well-versed in the wines of the world."
He adds the caveat that innovation in Lazio does not belong exclusively to the young.
"Even the producers who have been doing it for a long time, and maybe in the past might have been stubborn to change, are doing things like pulling back on their use of new French oak or integrating more organic growing methods," he says. "So making wines that are more expressive."
Campanale highlights some of the area's winemakers of note. He describes Andrea Occhipinti, Clémentine Bouvéron of Le Coste, and Damiano Ciolli as the OGs of Lazio's high-quality natural wine movement. He also lauds Joy Kull of La Villana, Maria Ernesto Barruci, Trish Nelson, and others.

Leading natural wine writer, Alice Feiring, has also recently spotlighted Lazio. In her newsletter, The Feiring Line, she wrote about her travels to the region, its wines, its winemakers, and specifically the grape cesanese.
Campanale also cites cesanese as a must-try grape. It's a light-to-medium bodied juicy red variety. Cesanese has grown in Lazio since ancient Rome, and in the 12-century, Pope Innocent III called it the "Wine of Kings." Over the years, it was overshadowed and forgotten, but now it is making a comeback in popularity. While it tastes distinct from any others, Campanale describes it as juicier than syrah and a touch more savory than grenache.
"In Italy, it's those indigenous grapes that are so special and so exciting to me," he says. "Not only are those grapes not grown all over the world, but they're often only grown in the one little town in Italy that they're originally from. When you taste a wine made from that grape, you're tasting something that's truly unique and is an insight into the flavors of that area."
Because cesanese is very flavorful with good acidity, Campanale recommends drinking it with a red sauce.
"A red sauce can actually clobber a lot of wines, but a red sauce with some meat in it like Amatriciana, which is certainly local to Rome, would be a really good pairing with these wines," Campanale says. "If it grows together, it goes together."
If your thirst for new Italian wine to try just won't let up, Campanale named another up-and-coming region worth your time and money. The wines of Emilia-Romagna are also ones to watch.
"It was really just Lambrusco land," Campanale says about Emilia-Romagna's winemaking past. "And for a similar reason [to Lazio], the land wasn't super expensive. Producers are blending wines from different vintages and doing pet-nats. You can't really take those risks in a place where the land is super, super expensive."
To try these wines yourself, Campanale recommends visiting a good retailer. If you live in New York City, Slope Cellars in Brooklyn or Astor Wines in Manhattan, which ships nationwide, are good places to start. An increasing number of Italian wine bars and restaurants are also including them on their wine lists, including Campanale's own restaurant, Fausto. (He also owns the wine-focused Brooklyn restaurant, Lalou.)
And the best part is, as time passes, there are infinite new Italian wines to taste. Even for Campanale.
"The exciting and also challenging part of writing about Italian wine is that it is in a constant state of flux," he says. "And I've been tasting Italian wine on a weekly basis as a wine buyer since 2007. I still learn about new producers and new grapes every day."
Alex Erdekian is a writer living in Brooklyn. Her food and travel journalism has been published in Thrillist, Condé Nast Traveler, and other publications. To read more from her, visit
alexerdekian.com
.