Every bar should have a mural outside it. Here's why.
The American bar's endless list of natural predators -- liquor boards, community boards, inspectors, zoning, rent hikes -- has forced an endless string of adaptations, from Ladies Night to walls of televisions to spinning nothing but Meghan Trainor from Thursday-Saturday because whatever music the owner actually likes doesn't make the kids want to buy those vodka tonnies.
Obviously we need bars to do whatever it takes to survive. They are the foundation of democracy; without them our streets would very quickly be lined with posters of some chubby guy with a terrible haircut who'll have us shot if we question the part of his official biography that claims he invented physics, modern architecture, and caramel. But there are more honest methods of self-preservation than playing "All About That Bass" five times a night, and one tactic that goes criminally underutilized is the simple marking of territory through a mural on the sidewalk.
Anthony Humphreys
The immediate benefits are pretty obvious. The minute Angela China -- a Baltimore native now living in Manhattan -- started work on this seemingly perfect pair of legs outside Brett David and Stephen Yorsz' Lower East Side bar Leave Rochelle Out Of It (get the explanation for that name here), passersby started snapping photos. Before she'd even finished China's Instagram snagged 1000 new followers and the bar was tagged hundreds of times; more importantly, a significant number of those Instagrammers become insta-customers.
Anthony Humphreys
But it goes beyond that. As graffiti artist Faust, who was drinking at the bar the night of the official unveiling, put it, a well-chosen mural sends a signal about the kind of customer you want (in Rochelle's case that might be people who understand and maybe even revel a bit in the fact that no matter how good they look there's a part of them that will always be stuck). Putting that message right out on the sidewalk is a hell of a lot more effective than taking out an ad in the back of a weekly, where it'll only be seen by Luddite deviants who still haven't figured out Craigslist. People who aren't aligned with your desired vibe will catch the signal too, and probably keep walking; without that public-facing artwork though, you can't really blame them for peeking their head in, misunderstanding the nature of your establishment, and proceeding to vodka tonic all over your regulars until you have no regulars left.
Anthony Humphreys
That's not to say that the timeless neon sign should be abandoned, but neon doesn't glow so brightly during the day. You don't need a huge name, either. While a few celebrated joints like Miami's Winwood Kitchen and Bar fly in the world's biggest street artists (most famously Shepard Fairey) to turn their inside and outside walls into a revolving collection of hyper-contemporary art, China was until recently selling canvases out of a van in Soho; she ended up on this project through a friend of a friend.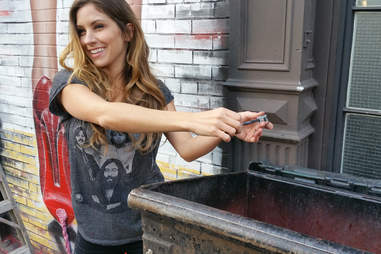 Anthony Humphreys
China does have chops, but when it comes down to it, a mural doesn't necessarily even need to be good to get the job done and maybe become beloved in the process. One of the most riveting wall canvases in New York is at the bar Double Wide. It's a depiction of a trailer parked by a river, with a guy sitting in a lawn chair drinking beer while his girlfriend floats in the water. It's riveting because you can't take your eyes off it or stop talking about how much you'd like to be that guy, but some of the technical mistakes are almost comical -- which makes it an even better mural, because for anyone more interested in Corona than criticism, the thought of an artist this enamored with the ideal of leisure obsessing over details like how deep this dude's foot would realistically sink into the grass would be a tremendous buzz kill. The only downside to the Double Wide mural is that it faces the back patio, not the front sidewalk.
Anthony Humphreys
Murals honoring local luminaries can help cement your place's status as a leading light, the path taken by Boston music venue The Middle East, who had Daniel Galvez plaster their Brookline Street wall with local musicians, staff, and "significant members of the community" back in 1992. If the significant members of the community are the best-of-the-best of your regulars, that works too -- it gives other patrons something to aspire too, a Cooperstown for the people who faithfully ride your pine every night. Putting that mural outside instead of inside gives that same hope to every poor schmuck walking down the street whose former favorite bar just got overrun by kids so young they think "We Are Young" is classic rock.
Anthony Humphreys
Painting those bricks also stakes a claim to psychological ownership of the location that extends well beyond your lease. If your mural gains enough notoriety, it won't matter who takes over the space after you're forced out. If they keep your mural up, they'll be known as coattail riders. If they take it down they'll just be the jerks that wiped out a vital piece of the community. Nice Guy Eddie's on Houston Street had one of New York's most famous bar murals, a portrait of KISS in full makeup, beckoning you to come in and drink booze. When that place went out of business, it didn't matter who came next, or even whether Nice Guy Eddie's was any good in the first place (some people liked it, some people didn't). No matter what, the dominant conversation was always going to be "I can't believe those a-holes took down the KISS mural."
In the end, as Faust pointed out, somebody's probably going to decorate your wall whether you like it or not -- and taggers are less likely to do their thing when it means desecrating someone else's work. Take control of the message, and no matter what your artist throws up there, you'll be telling people who love drinking that you'll be around for awhile.