Everyone Will Be Drinking Out of Light Bulbs Soon
When Thomas Edison invented the light bulb, he probably knew it would change the world. What he probably didn't know is that his creation would also become the trendiest new way to serve a drink. No, really. Now bars and cafes from Seoul to New York City are serving drinks in actual light bulbs.
All signs point to Southeast Asia as the place to first have the bright idea to transform a light bulb into a drinking vessel. Mark Lee, a co-owner of the popular dessert bar Spot in New York City, says his chef first saw the novelty on a trip. "Our chef travels all over the world and kept seeing the cups on the streets of Korea, Hong Kong, Taiwan, and Korea," said Lee.
The Hyundai Department Store in Seoul, Korea is one of the first places to popularize its light-bulb soda stand. Customers line up there to purchase a variety of tea-based sodas served in bulbs (because how else do you get people to line up for tea-based sodas?). Around the same time, photos from a cafe in Taiwan went viral showing its, um, busty servers holding light bulbs filled with bubble tea. And soon after, the cups began to show up in the US.  
Cole Saladino/Thrillist
It may look like the cups are just light bulbs with the filament scraped out, but there's a bit more to them than that. Jamie Boudreau, the owner of the renowned Seattle cocktail bar Canon, buys his bulb-shaped glass flower vases off of the internet. Spot gets its plastic light bulb-shaped cups -- which it fills with a Thai iced tea bubble tea -- custom-made in Taiwan. Both of those versions have flattened bottoms so that they can be set down on a table without your drink rolling over. Elsewhere, like at ROKC, a cocktail bar in Upper Manhattan, you can find a rounded version of the cup sitting in a bed of ice to keep it from rolling around.
If this makes you think, "well, this cup is about as practical as having bacon shoe laces on your sneakers," you would be correct. For one to get any sort of liquid into the drink, you have to use a funnel, Lee explains. Not exactly as easy as flipping a switch.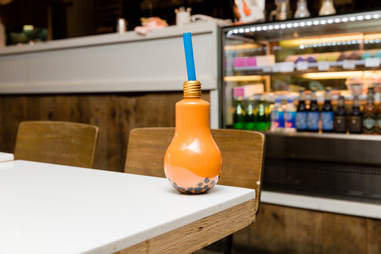 Cole Saladino/Thrillist
Boudreau uses crushed ice in the light-bulb cup cocktail he serves at Canon, which he says was a challenge to get into the vessel. The boba pearls in bubble tea, another popular beverage served in a light-bulb cup, have to be dropped in a couple at a time, Lee reveals. And the light bulbs also must be served with a straw, or it's nearly impossible to get the liquid out of the cup.
Still, the cup has proven to be incredibly successful. Boudreau says that the aptly named Bright Idea cocktail (made with tequila, watermelon, and pomegranate) is one of the most popular drinks on the menu. So much so that people try to steal the cups all the time -- a pretty dim idea.
Sign up here for our daily Thrillist email, and get your fix of the best in food/drink/fun.
Khushbu Shah is a senior Food and Drink editor at Thrillist. She doesn't recommend trying to make drinks in light bulbs at home. Follow her @khushandoj.