A soft rose-gold font on a black label wraps around a wine bottle, beckoning you to "escape to St. Tropez," where the rosé inside is produced. Indeed, Donae Burston, founder and CEO of La Fête Wine Company, is selling luxury in a bottle and he's trying to change the spirits industry, one glass of rosé at a time.
"As a minority founder and Black man, [I want] to disrupt the industry," he says. "For so long, people of color were not part of the wine industry. We were not included in the convo. I wanted to come in and kick the door down."
Burston spent the last 15 years of his career working on high-end brands such as Dom Perignon, Veuve Clicquot, and Moet & Chandon. La Fête was born of his desire to see more Black and Brown people in the space, changing the perception of rosé itself. To him, it's more than the pink neon "Rosé All Day" signs, summer months, and sorority girl vibe.
"We're going to change when you drink it and who drinks it," Burston says. "We're going to bring in a new audience. We're going to bring in people of color, men, younger drinkers and remove formalities and BS around how you drink wine and how you should talk about it. La Fête is a party and everyone's invited."
Burston met Jean-Christophe Sibelya, owner of Domaine Bertaud Belieu, the oldest vineyard in St. Tropez, and pitched him on a rosé brand targeting a largely ignored audience in the luxury spirit space—Black and Brown people. La Fête Wine Company first began as La Fête du Rosé in May 2019.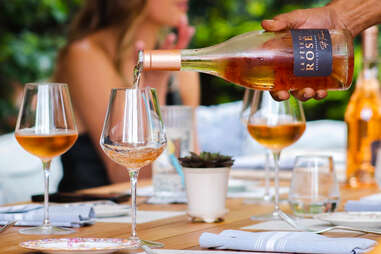 The company recently rebranded to reflect an expansion in products with the introduction of La Fête du Blanc. The white wine went to market as a limited-release. When it rapidly sold out, Burson made it a permanent part of the company's collection this year. La Fête Wine Company is currently available in more than 1,500 retailers across the U.S., and it can be ordered online and will soon be available in France and the U.K.
"Last year was a great year getting people to commit to doing certain things in order to diversify the industry," says Burston. "We haven't let people forget. We're not interested in being shelved in a minority-founder or Black wine section. The equity really comes from giving minority-owned brands the same shot and the same presence given to other brands."
The company started 2022 with a bang by welcoming NBA great Chris Paul as an equity partner. La Fête made history in spring 2021 by becoming the first Black and minority-owned business that Constellation Brands (the parent company to Corona, Svedka, and Modelo) ever invested in.
"We certainly have gotten our foot in the door because of these initiatives which we're so thankful for, but we also don't want to be the only ones," he muses. "We are working hard to ensure we're successful so opportunities exist for other brands behind us and that's a heavy burden."
Burston is serious about creating a pipeline of diverse talent in the industry. He advocates for the inclusion and recruitment of talent from HBCUs and, since its inception, La Fête has supported organizations that provide travel experiences for marginalized youth, advance racial justice causes, and promote career opportunities for people of color in the beverage industry. Simply put: "My approach is activism from within," he says.
La Fête du Rosé has grown exponentially since its creation. And while Burston admits he knows he's had a great career, there is one thing he wishes he knew at a younger age.
"I didn't get into the wine and spirits industry until I was 26," Burston says. "The association with [well-known] brands prevented me from really taking leaps of faith on things earlier. If you want to do something, trust your gut and don't be afraid to walk away from a great job at a great company."
But he's not sweating the past. He's focused on the future and enjoying how far he's come.
Ximena N. Larkin is a Thrillist contributor and communications specialist based in Chicago.