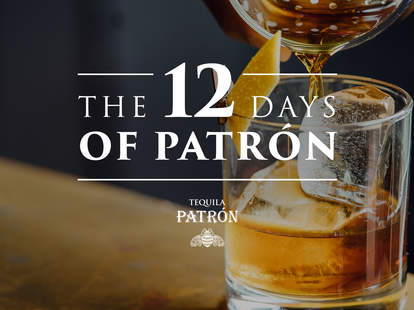 Make the Holidays Wonderful with the 12 Days of Patrón
Everyone deserves something special on the holidays. But you're not just anyone, so for you, we got together with Patrón tequila to present you with an even dozen... presents. You can "open" them all at once, or if you like suspense, open one a day. Just remember that even though they're your gifts, it's still important to share.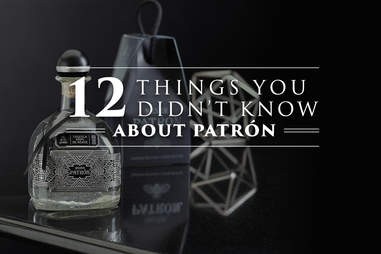 Courtesy of Patrón
DAY 1: Unwrap Patrón's Secrets
Think you know Patrón? Think again. Unless you're a member of its Secret Dining Club, you have a lot to learn. Get started with the 12 Facts You Didn't Know About Patrón. 
Courtesy of Patrón
DAY 2: Ring Around the Rosemary
Fresh rosemary gives this sparkling concoction a floral note to round out the citrus and sweet symphony. Can you hang one on a door? Sadly, that is inadvisable. Can you carry one around your party as you spread holiday cheer and cheers? You absolutely should.
If scaling up this recipe for the punch bowl, ease up on the simple syrup so it's not overly sweet. Take it to the next level: freeze rosemary sprigs and lemon wheels in an ice mold to keep the punch cold but flavorful. Fancy holidays are the most fun holidays.
INGREDIENTS:
1.5 oz Roca Patrón Añejo
.5 oz Fresh apple cider
.5 oz Apricot liqueur
.5 oz Fresh lemon juice
.5 oz Simple syrup
.5 oz Amontillado sherry
Rosemary sprig for garnish
Lemon wheels for garnish
DIRECTIONS:
1.5 oz Roca Patrón Añejo
.5 oz Fresh apple cider
.5 oz Apricot liqueur
.5 oz Fresh lemon juice
.5 oz Simple syrup
.5 oz Amontillado sherry
Rosemary sprig for garnish
Lemon wheels for garnish
Jeremy Nguyen/Thrillist
DAY 3: Variety Is the Holiday Spice of Life
It's a special time of year, so go ahead make a special version of that margarita. Expand your tastes a little with Cocktail Lab, Patrón's recommendation engine that will tailor a cocktail to your tastes. Or take a chance by selecting a recipe yourself from the full list of cocktails. Want a little direction? Start with the holiday collection. And who knows? You just might start a new holiday tradition.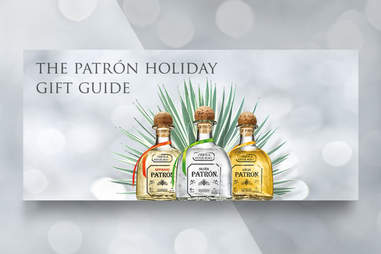 DAY 4: Gift-Giving Made Simple
When you celebrate the 12 Days of Patrón, you get a headstart on the holidays. That means there's time to buy gifts for everyone from the parents to the great-grandparents. And lucky you, there's a type of Patrón for everyone, which means you can one-stop shop for every Mom & Pop. Or aunt & uncle. They deserve love, too, no matter how much they spam your Facebook feed with good luck chain letters. Show it to them with Patrón's Perfect Gift Guide.
OllyLo/Shutterstock/Daniel Restrepo/Thrillist
DAY 5: These Are Good Tears
WARNING: emotionally advanced article; experienced feelers only.
You might think yourself a jaded cynic, too cool for the optimism of the winter holidays, but if you try to hide your feelings reading these miraculous stories of do-gooders bestowing random acts of kindness on strangers, you're just setting yourself up for a good, public cry. And that's okay, you should do that! It's good for you! Then you can share this article with a concerned stranger and cry together. You're welcome for helping you make a new friend. Happy holidays!
Courtesy of Patrón
DAY 6: A Deliciously Dark Drink
No, there's no egg in this alcoholic upgrade of a New York City classic but most places around NYC make an egg cream without cream, and all of them make it without alcohol, so you're already two laps ahead in your enjoyment of this gorgeous update to a city-living staple. 
INGREDIENTS:
1.5 oz Patrón XO Cafe Dark Cocoa
2 oz Heavy cream
6 oz Club soda
DIRECTIONS:
In a Collins glass, stir XO Cafe Dark Cocoa and heavy cream together
While stirring, pour club soda into the glass, stirring continuously to achieve a frothy texture
Serve with a straw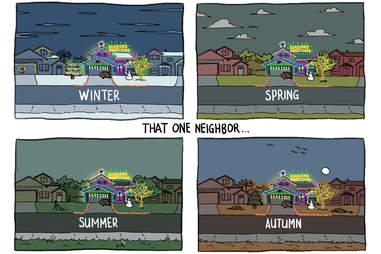 Jeremy Nguyen/Thrillist
DAY 7: If You Don't Have This Neighbor, You're This Neighbor
On the other hand, thanks for luring the summer bugs away from all the other houses in the neighborhood?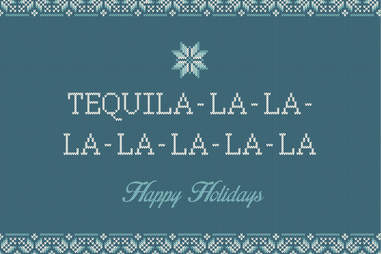 Shutterstock/Thrillist
DAY 8: Printable Holiday Card
Did you forget to buy cards again this year? Save a trip to the drugstore, and use this handy-dandy holiday card.
Mammut Vision/Shutterstock/Daniel Restrepo/Thrillist
DAY 9: The Most Insane Presents in the History of Gift Giving
There are times when you just have to go for the gusto. These gift-givers got that gusto good. They used their money, position, or plain old hard work to reward people they cared about with the gift of a lifetime... and in some cases taught us all the true meaning of the season.
Courtesy of Patrón
DAY 10: The Holidays Are a Time for the Classics
This zesty twist on a classic cocktail will a-peel to everyone at your gathering. There, now that we've gotten every pun out of the way, build your menu around the orange flavor in this tequila take on an old-fashioned, and take guests on a trip via their tastebuds. It might be cold outside, but in here you're picturing yourselves somewhere tropical where oranges grow a'plenty… and grow a party. A toast to our citrusy friend!
INGREDIENTS:
2 oz Patrón Añejo
.25 oz Simple syrup
1 Dash bitters
Orange peel for garnish
DIRECTIONS:
Over a double old fashioned glass, use a vegetable peeler to take off two strips of orange zest, making sure to express the oil into the glass
Add Patrón Añejo, simple syrup, and bitters
Add ice -- the biggest cubes you can find -- and stir
Adjust sweetness to taste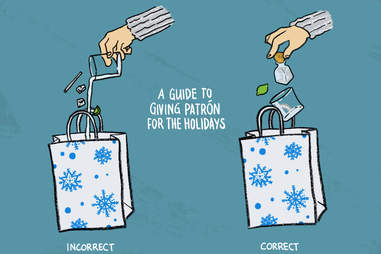 Jeremy Nguyen/Thrillist
Day 11: Stock It to 'Em
Even if they've been naughty, there's no reason to go deconstructing their cocktail. 
Courtesy of Patrón
DAY 12: Put on a Little Weight for the Holidays
Is this a special holiday release of Patrón's most popular tequila or several works of art? Why not both? Form follows function to flavor in this limited edition liter with a handcrafted pewter label inspired by Mexico's contributions to the art deco movement. So: bottle, label, and tequila all handcrafted with care and attention for the best possible product come together into one seductive package. It's a confluence of craft, and you've got your chance to admire it on your liquor shelf. Happy holidays indeed!