Bartenders Share Their Most Delicious Rum Highball Recipes
Bridget Shevlin/Matthew Zach
The highball: so simple it's almost the definition of the cocktail, and yet host to endless variations where spirits can show off their complexities. As basic as a soft drink nesting the liquor of your choosing, it can nevertheless pull from a small garnish or rim to exhibit the best qualities. To keep summer cool, we asked bartenders around Miami and Chicago for their thoughts on what makes the highball great… as well as a few recipes featuring Brugal rum.
Michael Albuerne, head bartender at The Local Craft Food and Drink in Coral Gables praises the rum highball as, "complex simplicity at its finest. The most common rum highball from my experience has to be the good ol' rum and [cola]. Two simple ingredients, a carbonate, and a rum of choice. However, when poured over ice, the two pair famously. A rum highball in my eyes is the businessman's cocktail. Fast, efficient, and most importantly: enjoyable."
But it's not only businessmen enjoying the highball. In a scene full of beautiful architecture housing beautiful people dancing to hot music, the cocktails in Miami still dominate. And it's thanks in great part to the work of Cocktail Cartel Co., the trio of bartenders whose work "embodies laidback Miami swag and big-city sophistication." Manuel Picon, Eddie Fuentes, and Hector Acevedo create outrageously exciting drinks that ought to be considered sippable fine dining for Miami's biggest hotels, restaurants, and bars.
Cocktail Cartel says highballs should be "tall, dark & delicious." Their recipe achieves this by combining an earthy fruit to a surprisingly bright mixer: "an ingredient that we incorporate daily in different expressions, Grapefruit. It's used/grown in large quantities in/around the Caribbean and Florida. We highlighted it in our soda component, then paired it with cucumber, which dance very well together."
When made this way, the Cartel says, "The cucumber garnish starts inside the glass and rolls out where you clip, to achieve the aromatic on the nose."
Bridget Shevlin/Matthew Zach
Cocktail Cartel Co.'s Brugal Highball
INGREDIENTS:
Long, cylindrical ice cube
Fresh long cucumber slice
1.5 ounces Brugal 1888
Grapefruit soda (Cocktail Cartel Co. recommends Cold Q Grapefruit)
DIRECTIONS:
1. Chill a 10 to 12-ounce highball glass in the freezer a few hours before mixing.
2. Remove glass from freezer and add ice.
3. Clip cucumber to glass with a mini clothespin.
4. Pour Brugal 1888 over ice.
5. Add grapefruit soda to top.
"A rum highball is elegant in simplicity and versatility, whether an Extra Dry or Añejo rum," says Vidal Contreras, general manager at Ariete (also in Coconut Grove). "Enjoyed amongst the knowledgeable, sophisticated, and someone who just wants something good to drink, it's a staple for everyone who knows the word 'spirit'!"
For Pablo Madrigal, head bartender at The Bristol in Chicago, the highball's simplicity evokes personal memories.
"Learning how to drink in Mexico meant essentially drinking everything and anything in highball form," he says, "from Cuba Libre and whiskey soda all the way to 'Charanda" (an oftentimes questionable sugarcane distillate) mixed with whatever bubbly companion was available. However, the absolute constant iteration was the rum highball. Rum, [cola], and sometimes soda, called 'Campechano,' is to this day the drink of choice among the younger crowd in Mexico's bar scene.
These days, says Madrigal, "The rum highball is high on my list of favorites for its versatility, ranging from the crisp, sometimes funky flavors found in white rum to the rich caramel and ripe tropical fruits of aged rums and everything in between. That same versatility applies to the variety of mixers that can be used to result in a multitude of different outcomes to please all palates. I enjoy mine with Brugal Extra Dry or Añejo depending on the mood and time of day. Whatever the case may be, the rum highball is an unpretentious drink for all walks of life meant to pair with warm weather and a slice of lime."
Azrhiel Frost, bar manager at The Gage overlooking Millennium Park, takes that lime note a step further, pinning it to exotic floral and nut flavors.
Bridget Shevlin/Matthew Zach
Azrhiel Frost's Brugal Highball
INGREDIENTS:
¼ ounce Lavender Kola Syrup
2 ounces Brugal Extra Dry rum infused with Butterfly blue pea flower tea
Soda water to taste
¼ ounce lime juice
DIRECTIONS:
1. Infuse Brugal rum with Butterfly blue pea flower tea in advance of preparation.
2. Mix lavender and kola simple syrups (or infuse your own in advance) in equal parts.
3. Combine infused rum and syrup over ice in a shaker, then stir.
4. Pour over ice into a collins glass.
5. Add soda water almost to top.
6. Present to drinker, and add lime juice; the acidity of the lime will change the blue of the tea to purple in a creative serving flourish.
7. After a moment, stir the drink to mix in the lime juice and serve.
Of course, when making a traditionally quick cocktail, you don't always go for the gusto of infusions and wardrobe changes. That's when you can still enjoy delicious, layered flavors of sweet and sour in a fast fashion, like this beachy version from Katie Renshaw, bartender at Drumbar in Chicago, and winner of last year's Speed Rack competition.
"I wanted to play with the rich flavor of the Brugal Añejo while giving the highball a tiki vibe," says Renshaw. "The pineapple gomme brings out the exotic fruit notes in the rum, while the sherry and absinthe bring some nuttiness and spice that play off Brugal's vanilla notes. The drink remains light and refreshing while still emphasizing the complexity of the base spirit, which is the nature of a highball!"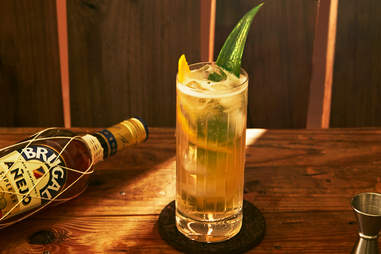 Bridget Shevlin/Matthew Zach
Katie Renshaw's Brugal Highball
INGREDIENTS:
1½ ounces Brugal Añejo
½ ounce pineapple gomme syrup
½ ounce Fino sherry
1 bar spoon of verjus blanc
1 dash absinthe
Soda water to taste
Orange peel for garnish
Pineapple leaf for garnish
DIRECTIONS:
1. Build in glass and top with ice and soda water
2. Garnish with orange peel and pineapple leaf