This Map Shows the Ridiculous Amount of Bars In France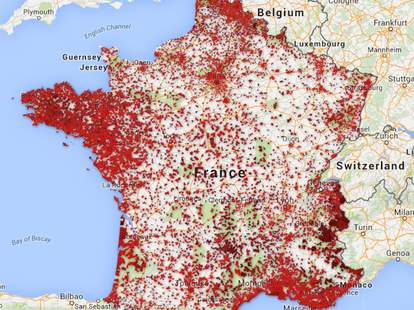 Taking a trip to France soon? Forget everything you had planned -- your itinerary should be solely based around this map plotting all of the country's bars.
Intrepid Redditor T9C-gars mapped all 3,209 bars that serve alcohol in France, using data from the French National Institute of Statistics and Economic Studies. This does not include restaurants or clubs or other "mixed establishments" -- we're strictly talking bars with booze.
While it's clear that on the whole, the country is a big, big fan of bars, there are a few outstanding points to note. For instance, Bretons (people from the region of Brittany) REALLY, REALLY like them. The region has the highest concentration of bars on the entire map. It is entirely possible that Brittany is actually just one large bar.
You'll also find no shortage of bars in the Alps (particularly in the Provence-Alpes-Côte d'Azur region) and along France's border with Belgium. While most of France's borders with other countries are loaded with bars, the French-Spanish border is notably light on them.
It's also worth noting that while it may look like Paris has fewer bars than expected, that's because it's a small region. There are still plenty of places in Paris to drink. 
Sign up here for our daily Thrillist email, and get your fix of the best in food/drink/fun.
Lucy Meilus is a staff writer for Thrillist and feels badly for people in Dijon. Follow her on Twitter at @Lucymeilus and send news tips to news@thrillist.com.