Could Marijuana Lounges Be the New Beer Gardens?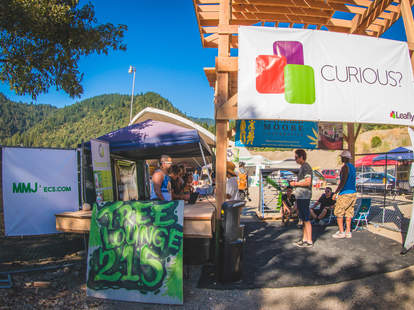 This article is cont­ributed by Leafly, the world's largest cannabis information resource. For more information please visit Leafly.
If you're familiar with festival culture, you know cannabis lounges are a long time coming. Cannabis has been intertwined with festivals since Woodstock and well before -- and that's not to mention the pivotal role that it has played in the development of every genre from jazz to rock 'n' roll.
Yet it's far more typical to see plumes of smoke and vapor emanating from a packed main stage crowd in the minutes before a show than it is to see enthusiasts relaxing and consuming together at the same place and time; there has never been a dedicated space for patients to take a breather and medicate compliantly.
The Leafly Tree Lounge, which opened at Northern Nights Music Festival in Piercy, CA on July 15th, 2016, was the first-ever official designated area for on-site consumption of medical marijuana at a fest. "The idea of joining forces with a community-driven arts and music festival in the heart of a cannabis mecca to showcase the first ever legal cannabis lounge was an opportunity not to pass up," said Kristin Kofmehl, event coordinator for the Tree Lounge. "If you can have a beer garden, why not a cannabis lounge? Pioneering is never easy, but the Leafly Tree Lounge was a hit."
Thanks to this first event's success, Kofmehl says her team plans to use the experience as a template to bring cannabis lounges to every existing cannabis market in the foreseeable future. The following are seven reasons why this historic phenomenon could become the beer garden of our generation.
1. Things happen here that couldn't happen anywhere else
On the third day of Northern Nights, with the Mendocino County redwoods as my backdrop, I found myself lining up to smash a Donald Trump piñata full of cannabis samples. Where else could this have happened but at a cannabis lounge? Nowhere, that's where.
Courtesy of Northern Nights Festival
2. Cannabis consumers are the best audience for comedy, music, and art
At 4:20pm at the Tree Lounge, comedy acts took the stage; in between, DJs spun chill electronic beats and throwback jams as the crowd grooved along. A young female rap artist hopped onstage for an impromptu verse. Near the lounge's towering archway entrance, an artist painted a surrealist sculpture in vivid neons. The crowd, kept elevated and smiling by sponsors offering free dabs, was receptive to every act that went onstage. Playing to such a blissed-out group is every artist's dream come true.
In the future, expect the incorporation of larger art installations, elaborate interactive décor, supplementary musical programming, art installations, refreshments, meet-and-greets with cannabis-friendly headliners, and more.
3. They're a fresh way to meet people
Shaded by the über-tall Tree Lounge tent, a central lounge area was dominated by comfy seating and wide swathes of carpet, where cannabis enthusiasts of all stripes – from new patients to OG activists -- kicked back in beanbag armchairs, made new friends, and struck up conversations.
Meanwhile, growers, trimmers, and other professionals also jumped on the opportunity to network and share feedback; they walked back and forth from each other's tables all weekend, toting jars of faultlessly cured flower, offering whiffs, and trading nugs.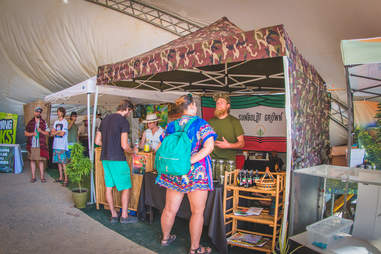 Courtesy of Northern Nights Festival
4. It makes for a better experience for everyone, even non-consumers
For those who don't consume cannabis themselves, standing in a cloud of joint smoke while attempting to enjoy a show isn't ideal; furthermore, some families attend music festivals with children in tow, and may not appreciate open consumption around their kids. Twenty-one-and-up cannabis lounges, which require a valid medical card where applicable, solve both problems.
Cannabis consumers, for their part, are not only happy to medicate in a responsible and compliant way, they appreciate the chance to do so. The most frequent remark we heard over the course of the weekend? "Thank you for being here."
5. Beer gardens were born of strict regulations, too
In 16th-century Germany, a decree of brewing regulations known as the Brauordnung stipulated that no brewing could take place in Bavaria between April and September. In response, brewers dug cellars to store their beer at lower temperatures over the hot summer, and planted shade trees above the cellars to aid in cooling. It wasn't long before thirsty Germans decided to put tables and chairs beneath the shade trees, where they spent their summers drinking instead of brewing. The modern American beer garden evolved from these original German iterations.
Alcohol, though, has earned a reputation for breeding aggression, and some festivals – like Shambhala in British Columbia – have banned it entirely. Other, such as What the Festival in Oregon, ban glass containers, a provision which prohibits a good portion of alcoholic beverages. What better to take its place than cannabis? We may be biased, but we can't think of anything.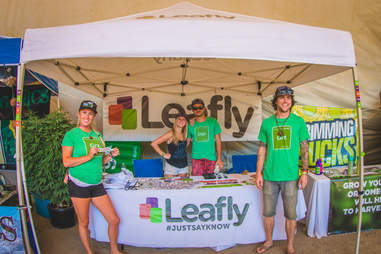 Courtesy of the Northern Nights Festival
6. People love them
"[A cannabis lounge is] a chill society," said Taylor,* who visited the Leafly Tree Lounge several times over the course of the weekend. "You can come back and unwind and just relax, get your med on, you don't have to worry about anything – [it's] carefree, you know?"
Jeremy,* who visited the Tree Lounge with two friends, agreed. "The whole 215 tent in general has been a great experience," he said. "More music festivals should have a space like this – it brings super-positive vibe and a lot of unity." Carson,* a lighting designer from Los Angeles, added that he one day hoped to see cannabis lounges at more places than beer gardens.
7. Their evolution is inevitable
Proposition 215 legalized medical marijuana in California twenty years ago. Today, medical marijuana is legal in over half the United States. The natural next step is for states to accommodate patients' needs with spaces for legal consumption.
"Everybody's [been] doing it behind the curtains and kind of hiding because of the laws," said one attendee, Joe,* of cannabis consumption at festivals. "A lot of it is backstage, you know? You can't fully be out there." But as cannabis ubiquity and acceptance have evolved, phenomena like cannabis lounges will continue to help sew cannabis ever more tightly into the fabric of American life, and vice versa. In short, if you'd expect to see beer gardens a certain event, expect to see cannabis lounges cropping up alongside them more and more over the next few years.
*Full names withheld to protect patient privacy.
This article was originally published as Are Cannabis Lounges the New Beer Gardens? Here Are 7 Reasons Why They Might Be. For this and more articles on cannabis news and culture, visit Leafly News.
Sign up here for our daily Thrillist email, and get your fix of the best in food/drink/fun.