This Is the Meaning of Life, According to Bartenders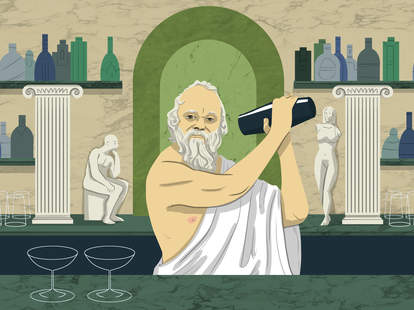 The best bartenders are modern-day philosophers, lecturing nightly to a wide swath of humanity that probably doesn't remember the lessons the next day. Also, many bartenders have philosophy degrees. And because they talk to people all about their struggles, dreams, and triumphs, they've likely had time to think about whether there's a purpose to this life.
In order to gather all this sage wisdom in one spot, we asked bartenders from across the nation, "What's the meaning of life?" Exalt Socrates all you want, but could dude make a Negroni while dropping this kind of knowledge?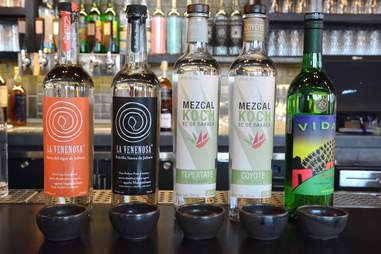 Laura Hayes/Thrillist
Mezcal is the answer
"Stop worrying about the meaning of life and just enjoy a mezcal. Much simpler." -- Megan Barnes, Espita Mezcaleria (Washington, DC)
 
The Tao of Gump
"Life is like good booze. The better ingredients, the more time you put into it, and the longer you age it, the better it is and the more you'll enjoy it." -- Sean Fiori, Buddy V's Ristorante (Las Vegas, NV)
 
Quality beats quantity
"Through lots of lessons learned, the one thing that always has remained true in every instance is that what's important can never be measured in quantity, but solely in quality. In work and relationships with lovers, friends, and family. It doesn't matter how many people you know, it only matters that the right people are there in your corner and you'll grow more, do more, work and love harder. With my drink, the same principle holds true. The better the quality of spirit in my glass, the more inclined I am to have another." -- Andra (AJ) Johnson, Macon Bistro & Larder (Washington, DC)
This one is 100% easier to do in a place like Aspen
"To live every day in awe and appreciation of the beauty we are surrounded by, no matter what the situation may be." -- Noora Alobaidi, Nello Alpine (Aspen, CO)
 
Madness loves company
"The meaning of life is to learn, grow, share, and laugh as much as you can at the madness of it all, and if you can do it with good company on different barstools around the world, then all the better." -- Chad Solomon, Midnight Rambler (Dallas, TX)
 
Happiness is contagious
"I would have to say happiness is the meaning of life. Life is hard and I've had my ups and downs in my 27 years of life. I own my own home, have an 11-year-old stepdaughter, an 8-month-old son, and I'm getting married this summer too! There is never a dull moment in my life and I couldn't be happier.
"As a bartender, you must be happy all the time, find the good in something (even when it's bad), and take it day by day! You only get one life, so enjoy it and all of the moments. Smile more and laugh often. I guarantee you'll feel better at the end of the day.  Happiness is contagious, so spread the love!" -- Dominick Demartino, Rx Boiler Room (Las Vegas, NV)
It's a Negroni
"Years behind the bar have taught me to stop looking for a meaning. Attempting to find a grand thread that unifies the human experience into a cohesive idea is a fool's errand that blinds us to the beauty that often exists right in front of us. So sit back, relax, and let's all have a Negroni." -- Tyler Ott, Ox & Son (Santa Monica, CA)
 
The pursuit of happiness
"Make as many people happy as you can." -- Jeremy Allen, MiniBar Hollywood (Los Angeles, CA)
 
Leave a legacy
"It's up to the individual: how would you like to be remembered? What is your legacy? And who will miss you?" -- Michael Avakian, Jasper's Corner Tap & Kitchen (San Francisco, CA)
Live like that tiny illustrated monkey
"To be constantly curious. To challenge oneself to look outside the box for solutions, and to grow by trying. A great wine offers a surprise every time, but a brand is built to be never surprising. Try something new." -- Steve Morgan, Formento's (Chicago, IL)
 
Spoiler alert!
"First, you find the things that make you happy and give you purpose. Then you try to maximize the amount of time you spend doing those things. Then you die." -- Rob Fick, Craigie on Main (Cambridge, MA)
 
That narrows it down
"Only absorb everything." -- David Greteman, Taste Bar (St. Louis, MO)
 
It's on you, dude
"In my mind, trying to answer 'what's the meaning of life?' is equal parts subjective and impossible. The real question, and only one you can event attempt to answer, is 'what's the meaning of your life?'  Ask and answer that for yourself and you will find a sense of purpose in an otherwise mundane existence." -- Mike Henderson, Edible Beats (Denver, CO)
This bartender is apparently an actual scientist, too
"Scientifically speaking, all the studies that I've ever seen, read, or heard of point to the conclusion that the meaning of life is to pass on our genes. But, as a bartender, I would add that the meaning of life (for me, at least) is to create happiness for yourself and others, but not at the expense of other people, the environment, and future generations." -- Domi Robert, Sujeo (Madison, WI)
 
Knowledge and blood pressure medicine are key
"We have been given the gift of knowledge and the capacity to learn (versus adapt). Life is about growth and self-discovery through exposure and vulnerability to new people, cultures, and places on this planet. Do whatever or go wherever makes you smile, or whatever keeps your blood pressure down!" -- Kayla Oteri, Jimmy's Bodega (Aspen, CO)
 
More shots usually take care of that last part
"The meaning of life is a well-made daiquiri, a shot and a beer (mezcal and a lager), and good friends. Sometimes followed by an existential crisis." -- Evan Charest, Patina Restaurant Group (Los Angeles, CA)
 
Wait... then what?
"Work hard, play harder, get the occasional phone number." -- Tony Bisciglia, Bar Toma (Chicago, IL)
Sign up here for our daily Thrillist email, and get your fix of the best in food/drink/fun.
Lee Breslouer is a senior writer for Thrillist, and refuses to put meaning on anything. Follow him to beautiful meaninglessness: @LeeBreslouer.