Meet the Mexican Corn Whiskey Distillers Honoring an Ancient Ingredient
Maíz Nation and Abasolo are utilizing ancestral corn for a flavorful new take on the whiskey category.
Planting native corn in Oaxaca.

| Maiz Nation Whiskey
Planting native corn in Oaxaca.

| Maiz Nation Whiskey
There's a popular Mayan creation myth about the inextricable link between the ancient Mesoamerican culture and a sacred plant. "When the gods were creating humans, they first built them out of mud, but they fell apart. Then, they built them out of wood, but they had no heart, no soul," explains Cesar Sandoval, brand ambassador for Abasolo Corn Whisky. "And then, when they built them out of masa, they were just perfect—that's why we call ourselves children of the corn." It tracks, then, that thoughtfully crafted corn whiskey is coming out of Mexico right now.
Abasolo and Maíz Nation are highlighting Mexico's most celebrated crop in hopes corn whiskey (or whisky, as Abasolo prefers to spell it) will ascend alongside globally appreciated spirits like mezcal and tequila.
For Maíz Nation master distiller Jonathan Barbieri, who came to corn whiskey from the world of mezcal, it was important to produce an economic niche for the farmers who've been cultivating the colorful corn that was first created by their ancestors over 300 generations ago. Corn is a daily staple across Mexico. It appears in myriad drinks and dishes—atole, tortillas, pozole, tamales, sopes, just to name a fraction. But the commercial production of specific corn varieties, like yellow dent, is often grown for the purpose of producing ethanol or cooking oils, threatening heirloom strains and making it harder for Mexican farmers to make a living.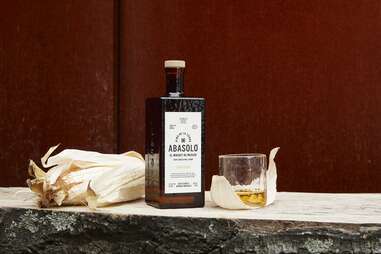 Seeking to boost domestic production, President Andrés Manuel López Obrador issued a 2020 ban on genetically modified corn production that's set to go into effect in 2024.
Though the state of Oaxaca is home to Guila Naquitz, the white caves where the earliest traces of corn cultivation were discovered, many of these modern agriculturists still struggle to maintain food sovereignty in the face of genetically modified seed proliferation. For the last 12 years, Guila Naquitz has been the site of an ongoing, regional seed exchange—part of an effort to further the lineage of ancestral corn varieties.
"The seeds are intimately linked to the communities that have been nurturing them and shepherding them through time," says Barbieri. "We're talking about community, preserving cultures, and preserving ways of life."
Today, Maíz Nation sources its native corn and other grains like wheat and rye directly from small-holding Indigenous farmers in the Chinantla, Sierra Mixteca, Sierra Juárez, and Costa regions of Oaxaca, placing an emphasis on traditional cultivation methods, soil conservation, seed autonomy, and community seed banks.
All this attention to detail translates to a flavorful and unique product that, especially for those who grew up with corn and tortillas as household mainstays, tastes familiar. As Barbieri insists, "When it comes out on the second distillation, it tastes like corn. I've had people say, 'Wow, it tastes like my grandmother's.'"
Meanwhile, Abasolo sources its corn from the Carmona family in Nevado de Toluca, a stratovolcano located about an hour west of Mexico City. The distillery is in the high-elevation city of Jilotepec de Molina Enríquez, where corn is so revered that Jilotepec literally translates to "Hill of the Corn Flowers" in the Nahuátl language. Originally called Jilotepec de Abasolo after Mariano Abasolo, a Mexican general who fought for the country's independence, the city changed its name to honor a different political figure in 1986.
Abasolo utilizes heirloom cacahuazintle, a flowery corn with a low oil content that's commonly used in pozole recipes. The tender white corn is also a prized variety for nixtamalization—a 4,000-year-old Mesoamerican cooking method that involves soaking the grain in an alkaline solution (usually lime or wood ash) to enhance its flavors and nutritional value. This process creates fresh hominy, which can then be dried or ground into a masa flour.
Abasolo master distiller Iván Saldaña wanted to find the utmost expression of Mexican identity in every sip. To achieve this, as Sandoval explains, they turned to nixtamalization, the traditional process in which corn is prepared for tortillas, masa, and tamales. "This is who we are… Once we nixtamalized it and compared the nixtamalized corn to the regular cacahuazintle corn, it was just a world of difference. We could taste flavors and aromatics that we hadn't before."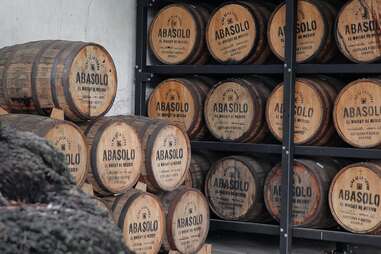 After nixtamalizing for 12 to 15 hours, Abasolo then roasts its corn as you would coffee to release even more aromatics. The result is a light-bodied product with notes of honey and paprika and hints of chamomile or black tea. "Some people say it reminds them a bit of tequila, and that's because you're tasting the same Mexican terroir—but it is whisky," says Sandoval
Despite these differences in taste, Abasolo is aged in American oak and new toasted oak barrels, while Maíz Nation uses new American oak barrels, which puts both brands firmly in the whiskey category.
"It lends itself nicely to the mezcal mentality of sipping it neat after a long day," says Sandoval. "Especially paired with Mexican cuisine, it just works. We've seen chefs cook with it and even reduce it down into mole sauce."
For a simple drink, Sandoval recommends a Mexican Highball, which pairs Abasolo Whisky with a mineral water like Agua de Tierra or Topo Chico and a squeeze of lime. He's also got a fun take on the classic Gold Rush cocktail that he's dubbed the Corn Rush—featuring Abasolo, honey syrup, and lemon juice. Abasolo's parent company, Casa Lumbre, also offers a tender corn liqueur called Nixta, which Sandoval likes to mix with Abasolo, Mr. Black coffee liqueur, and a couple dashes of orange bitters for a concoction he calls a Cold Fashioned.
"This is a new category, so we basically have to write our own rules—because we're not trying to make an Irish whiskey or a bourbon or a Tennessee whiskey," says Barbieri. "We've got different corn and we've got different conditions. It's not like we want to be exclusive or eliminate possible competition or anything like that. It's just that if you're going to make it, make sure it's good."