Deep-fried booze is now a reality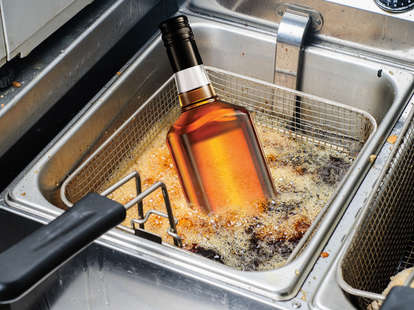 Shutterstock (edited)
Shutterstock (edited)
Dreamers have been testing the limits of the deep fryer for ages -- for quick evidence, see "Doritos pizza, deep-fried". But a British couple might've finally taken these things as far as they can go. John and Corinne Clarkson are currently selling deep-fried liquor in their fish and chips shop in the English city of Preston.
To make these potent potables (calm down, Trebek), the Clarksons soak bits of sponge cake in liquors ranging from Baileys to Jägermeister before dunking them in the deep fryer. The treats proved such a hit that they sold out the first afternoon they were on sale at Mister Eaters Eating Emporium, because nothing goes better with battered cod than crunchy Jäger. Customers looking to try the "Hot Shots" will need to BYOB, though. Since the shop technically doesn't have a license to sell liquor, John has offered to fry whatever patrons bring in for £3, or about $5. Deep-fried coffee wine, here we come.
Kristin Hunt is a food/drink staff writer for Thrillist, and has never feared anything the way she fears deep-fried Jägermeister. Follow her to hiding spots at @kristin_hunt.