Here are 5 of the best-looking Starbucks in the world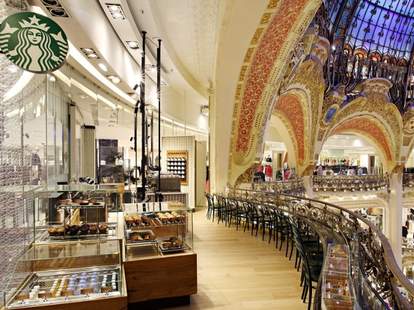 Your Starbucks might've scored a sweet new painting by the neo-surrealist Deco artist in town, but it's not even close to the prettiest Starbucks stores from around the world. Hop overseas, and you'll find outposts located inside 100-year-old French buildings, former Dutch banks, and traditional Chinese gardens -- all of which are much lovelier than the old Kinko's housing yours. Get ready to see that mermaid in a whole new light via these incredible shops below.
The building in the Kitano Ijinkan neighborhood in Kobe, Japan was originally constructed in 1907 for American expats before it was destroyed by the Great Hanshin earthquake in 1995. The city of Kobe apparently liked the Western-style building enough to reconstruct it, only it was resurrected as a Starbucks. As far as reincarnations go, not a bad choice.
Lots of people have dubbed the Starbucks in the Ibn Battuta Mall of Dubai the best in the world, and it's hard to argue with them. Just look at that chandelier! We bet at least one blissed-out, over-caffeinated customer attempts to swing from it daily. Probably an American.
Starbucks
Often referred to as "The Bank" (guess why!), this 430sqft concept store in Amsterdam is located in the vault of a historic bank on the Rembrandtplein. The big draw is the mural on the ceiling, made up of 1,876 individually sawed wood blocks, but we suppose drinking coffee in an old bank vault is also pretty fun. (Though not as fun as drinking booze in one.)
This Starbucks in Fuzhou, China doesn't have quite the same cred as the others -- it merely mimics classical Chinese architecture and the country's historic gardens. But it's a pretty great replica, boasting lots of natural light from the floor-to-ceiling windows and sunroof, plus a back garden where you can pretend to work on your novel.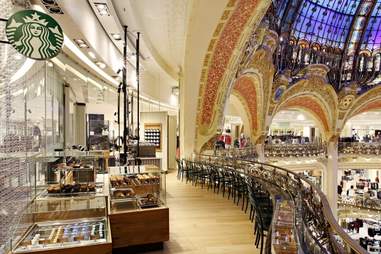 Starbucks
And finally, the Galeries Lafayette in Paris. This century-old department store features a cathedral-esque dome that you can spy from your front-row seats at the winding Starbucks counter. There's even some stained glass involved, so if the line at Notre Dame is too long, grab a grande here and call it a day.
Kristin Hunt is a food/drink staff writer for Thrillist, and is now pretty mad she skipped over the Galeries Lafayette for "the Louvre". Follow her at @kristin_hunt.