Dan Gentile
Dan Gentile
If you're the type of coffee drinker (29 of them here) who wants to spend the equivalent of more than eleventy million or so Dunkin' Donuts coffees just to get a lot of bragging rights/people talking about what a dumbass you are behind your back, we've got just the set-up for you. So drink in all the ludicrous elements making up this $54562 cup of coffee, not counting whatever denomination bill you use as a stirring rod.
Pure Unroasted Green Bali Arabica Kopi Luwak Civet Coffee Beans (1/2kg)
Price:$129
Why you need it: You're the type that truly appreciates the flavor of rare beans that have been pooped out after fermenteing inside the digestive system of an abused Asian palm civet, which is a cute cross between a cat and fox that Kanye is probably getting Kim for Christmas next year. You also want to roast these beans yourself.
Why you don't: Well, there's the fact that someone else could roast these for you and then sell them to you for a fifth of the price, which would still be ridiculously expensive. Oh, and it's fermented inside the stomach of a cat/fox-thing and pooped out. So there's that.
Hottop KN-8828P-2 Programmable Digital Drum Roaster
Price:$1000
Why you need it: Because the average coffee bean takes six months to reach the consumer after going through 17 supply chain steps, instead of it just going through one cat/fox-thing's digestive tract and into this roasting machine, and you demand freshness. Also, you need to be able to program eight different segments to a roasting cycle with custom temperature/time for each. Because you are maybe crazy.
Why you don't need it: Most artisan roasters have gotten pretty good at bringing that time period down. Oh, and they know what they're doing.
Compak R-140 Coffee Grinder
Price:$2388
Why you need it: This sucker can grind through 5lbs per minute, has overload motor protection in case you actually try to do that, and has a micro-metric regulator to measure the fineness of the coffee to adapt it perfectly to your crazy-expensive espresso machine.
Why you don't need it: Because calibrating the damn thing will take more cups of coffee than you'd drink in a month. And costs over two grand.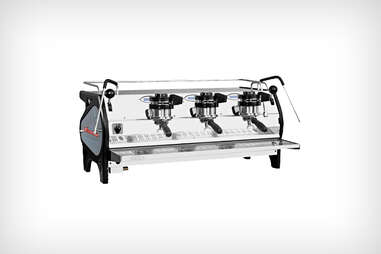 La Marzocco Strada, Electronic Paddle, 3 Groupespresso machine
Price:$22500
Why you need it: La Marzocco is like the Alfa Romeo of espresso machines, and you, dear millionaire, are far too classy for a Lambo. The pumps have the same design as helicopter hydraulics, the controls are akin to deep-sea mining technology, and it looks way sexier than either of those things. Also, you need to serve three of your friends at once.
Why you don't: You could go with La Marz's slightly more affordable home-grade version (the GS/3, which is only about $7000), or you could just go to a coffee shop.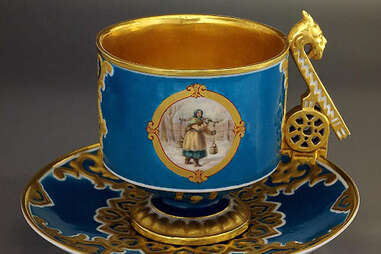 Exceedingly Rare Antique Procelain Cup and Saucer in Neo-Russian Style, by the Imperial Porcelain Factory, Saint Petersburg, Russia, circa 1862
Price:$27500
Why you need it: Made for the 250th anniversary of the Romanov dynasty (which lasted until WWI), it is actually a one-off variation so it's even rarer. And, the woman carrying a pail of water reminds you of your roots.
Why you don't: You've got that mug you took from the office that only cost you suspicious looks from your co-workers.
Custom Coffee Shop Sign with a splash of color
Price: $1045
Why you need it: A nice contrast to all the Monets you've got lying around, and since you apparently can afford it, why not splurge?
Why you don't: Your house is not a premium quality coffee company. And that's a little excessive, don't you think?
Dan Gentile is a staff writer on Thrillist's national food/drink team who recently purchased a very nice toaster oven and is excited about exploring the world of crispy reheated food. He also enjoys hating mustard. Follow him to pots of gold/Twitter at @Dannosphere.