The Most Iconic Beer From Every State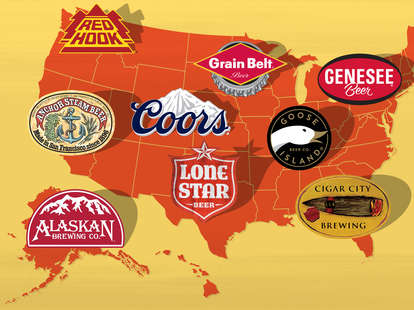 Jason Hoffman/ Thrillist
Jason Hoffman/ Thrillist
What makes a beer an icon? Longevity? Sure, that's a factor. Impact? Absolutely. Being digitized and placed on the desktop of a Macbook? Yes, but that's not what we're talking about here.
We set out to identify the most iconic beer brewed in each of the 50 states -- yes, the beer must be at least partially brewed within the state it represents, which meant passing over some beloved brands that were gobbled up and saw their production moved elsewhere. Because of the varied nature of the brewing scene state-to-state, some of these are recognizable, generations-old standbys, while other are more of the "instant classic" variety, but regardless, each of these beers is more than just a beer.
Luckily, they're also still beers. You should drink them all, but not before appreciating their significance. Let's get rolling.
Alabama
Back Forty Paw Paw's Peach Wheat
Fruit beer, 4.5%
Gadsden
When Back Forty's Jason Wilson got into the brewing game in 2009, Alabama was a pretty lonely place. The fifth-generation Roll Tider discovered that, thanks to some antiquated liquor laws, his baby business venture was, in fact, super-duper illegal. So he marched down to the capital, argued to overturn the Prohibition-era legislation, was elected President of the Alabama Brewers Guild, and soon after Paw Paw's Peach Wheat was born. The peach-packed sessionable wheat beer is basically the definition of a porch beer, and there's nothing more Alabaman than idly passing a sticky summer afternoon with plenty of cold, light beer and a rickety porch swing. Well, nothing except for calling your gramps Paw Paw, I guess.
Alaska
Alaskan Amber
Altbier, 5.3%
Juneau
Alaska's oldest currently operating brewery dug even deeper into the past when it came to developing its flagship beer, unearthing a 1907 recipe from a long-gone brewery that used to quench the thirst of hard-working gold miners. It's crisp, malty, and unfussy. It's made with glacier water. It's got a boat and trees and mountains and snow on the label. It's as Alaska as Alaska gets.
Arizona
Four Peaks Hop Knot
IPA, 6.7%
Tempe
Four Peaks has been brewing since 1996, which is ancient in Arizona craft brewing years. It was winning awards and blowing Arizonans' minds with Hop Knot since before the IPA craze even popped off. In 2006, Hop Knot captured a GABF and World Beer Cup award on the backs of American hop varieties like Magnum and Glacier. Despite its relatively tame 47 IBUs compared to some more recent hop bombs, it continues to be plenty sought after in both bottles and cans.
Arkansas
Diamond Bear Pale Ale
Pale Ale, 6.2%
North Little Rock
New-school Arkansan brewers like Core, with its five pubs and huge selection of bottled/canned beers, and Ozark, which we've shouted out previously are worthy mentions when it comes to Natural State beers. But if you're talking icons in the state's brewing scene, you must mention Diamond Bear and its English-style Pale Ale, which was making waves way back in '07 when it won GABF gold (and has since won twice more). The brewers say it took two years to perfect its recipe, but luckily it doesn't take that long to drink.
California
Anchor Steam
California Common, 4.9%
San Francisco
Sierra Nevada certainly has a strong case here, but the story of California brewing begins with Anchor. That's an impressive feat, considering the Bear Republic has more breweries than any other state (including Bear Republic, actually). The brewery got its start in 1906, an era where San Franciscans dressed much like the hipsters of today, and when Anchor became America's proto craft beer before that was even a term. That steam beer – or Cali common – has been around for 110 years. And while there have been starts and stops over the years, Anchor's been steamin' since Fritz Maytag saved the brewery way back in '65. It laid the groundwork for the entire craft revolution nearly a century before the movement started. Oh, and the amber-hued beer's still freakin' fantastic.
Colorado
Coors Banquet
Pale Lager, 5%
Golden
Clearly it's gotta be Coors, and should you think it ought to be another brew from its portfolio, you should know that the Coors family plays its beer pong with Banquet. That ought to settle it. While Colorado may have been one of the original craft beer epicenters, Coors blazed a trail for that beer scene long, long ago. And Banquet is its original beer, first brewed with Rocky Mountain water in Golden, Colorado, way back in the late 1800s. Guess what? It's still there.
Connecticut
New England Brewing Co. Sea Hag
American IPA, 6.2%
Woodbridge
Long before Lorelai and Rory took over, Connecticut's southern shore was dominated by Portuguese fishermen. The economy from Stamford to New London revolved around the ocean, and New England Brewing's beloved Sea Hag IPA is a throwback to the days of burly dock workers, shellfishing expeditions, and the Long Island Sound's mighty wrath. Specifically, Sea Hag gets its peculiar name from an old New Haven legend involving the fed up wife of a no-good scoundrel, a bunch of angry creditors, and her mysterious seaside disappearance. But, lucky for us, New England's earthy, amber-hued IPA shows no sign of disappearing anytime soon.
Delaware
Dogfish Head 90 Minute IPA
IPA, 9%
Milton
90 Minute IPA isn't just one of Delaware's most iconic beers, it's likely also one of the most iconic beers in the whole damn world. But back in 2001, it was an anomaly. According to Dogfish founder Sam Calagione, his pal Greg Koch observed that it was the first beer to actually be labeled an Imperial IPA. With 9%, 90 IBUs, and a surprisingly well-balanced profile, the continuously-hopped 90 Minute was a beer considered too hoppy for a lot of people at the time. For Delawareans in 2001, Dogfish was already the craft beer of choice in their fridge next to a Yuengling or two (from nearby PA), but it became clear that nothing would be the same after 90 Minute's release. It wasn't just Delaware that cared about this beer -- the eyes of the country's beer nerds were all on a little brewery from Rehoboth.
Florida
Cigar City Jai Alai
American IPA, 7.5%
Tampa
Ever play jai alai? It's crazy. Ever drink a Jai Alai? It's crazy good. Cigar City's much-beloved IPA takes its name from the super-dangerous game where balls sometimes fly at speeds of close to 200mph, which once flourished in Florida before all but vanishing. Luckily the namesake beer continues to flourish, bringing relaxation to hop-minded Floridians who've grown weary of the most recent face-eating headline.
Georgia
SweetWater 420 Extra Pale Ale
Pale Ale, 5.7%
Atlanta
It's not often that the name of a beer is so ubiquitous that a damn music festival is named after it, but not every beer is SweetWater's 420. Granted, 420 has some other connotations you can learn about by asking your friends who like Phish, and yet beginning in 1997, SweetWater and 420 together meant one thing: a West Coast-style extra pale ale. Nowadays, everyone and their beer-loving mom drools over Athens-based Creature Comforts Tropicália (and for good reason), but it's important to keep in mind that nearly 20 years ago, beer fans weren't exactly clamoring for a hoppy pale ale. This is the beer that made Georgians realize how delicious craft beer could be, all the while racking up serious national acclaim with World Beer Cup and GABF awards.
Hawaii
Maui Bikini Blonde
Helles, 5.2%
Kihei
You might assume that because Hawaii's all islands, that much of what's consumed on it is made right there. But not all Hawaiian beer is produced there. Primo, HI's "original beer since 1897," is brewed in Southern California. But then there's Maui Brewing Bikini Blonde, a sessionable Helles and island favorite that also imparts its chill, summertime vibes on the mainland in very un-island-like places like Illinois and Massachusetts.
Idaho
Grand Teton Sweetgrass
American Pale Ale, 6%
Victor
Despite its proximity to the hops center of the universe, Idaho beer has long gotten the short end of the stick in regard to, well, regard. And while brewers like Payette and Crooked Fence are making big moves in raising the profile of a tallboy-favoring state, Grand Teton's been chilling near the Wyoming border since 1988. Being in the middle of nowhere, Teton figured out an ingenious way to let people take beer with them after making the trek to the taproom: the growler, which Teton is largely credited with revolutionizing. That doesn't just earn the brewery icon status for its great beers -- of which the GABF gold-winning Sweetgrass is the best -- it means the rustic brewery at the foothills of the big mountains is in the annals of craft beer history.
Illinois
Goose Island Bourbon County Stout
Imperial Stout, 13.8%
Chicago
The extent to which the beer nerd community lost its collective mind over the infections that triggered a recall of the 2015 BCS release speaks to just how indispensable it's become in the beer ecosystem. The much-hyped sale to AB/InBev didn't quench demand, and you may have noticed the excitement around the annual Black Friday release this year is as robust as ever. Through everything that's happened, it remains the OG barrel-aged stout against which any upstart has to measure itself.
Indiana
Three Floyds Alpha King
American Pale Ale, 6.66%
Munster
Dark Lord has its holiday-like release and Zombie Dust may be the current object of obsession among hop lovers, but Alpha King is the beer that started it all for the game-changing Northwest Indiana brewery, and continues to enjoy plenty of well-deserved devotion in its own right. Plenty of hop-obsessed Midwesterners, some of whom went on to start breweries of their own, recall Alpha King as the brew that turned the proverbial craft beer light on for them. Should you doubt its iconic status (though you shouldn't -- note that foreboding ABV), maybe the fact that it has its own damn comic book will change your mind.
Iowa
Toppling Goliath PseudoSue
American Pale Ale, 5.8%
Decorah
From the rapidly rising Iowa brewery whose name proved to be quite prophetic, PseudoSue is its most recognizable offering. That's partly because it's a near flawless showcase for citra hops that seems to pack an unprecedented amount of flavor for such a modest ABV, and partly because of the big damn T-Rex on the label art (the beer takes its name from the largest near-complete T-Rex fossil ever found). Forget the Field of Dreams -- THIS is why you go to Iowa.
Kansas
Tallgrass Buffalo Sweat
Milk Stout, 5%
Manhattan
Free State may've been in the game longer, but no Kansas beer has achieved quite the widespread love that this smooth, sweet stout has. If you've ever sipped sweat straight from a buffalo that's been hustling its way across the American prairie … you're a crazy person and it almost certainly tasted nothing like this beer, but it's still a fitting tribute to the wide-open spaces of the state that produced it.
Kentucky
Alltech Kentucky Bourbon Barrel Ale
English Strong Ale, 8.2%
Lexington
Though craft breweries seem to be popping up all over the Bluegrass State these days, none of these new kids could ever come close to brewing something so quintessentially Kentucky as the original Kentucky Bourbon Ale -- bold, big, and nearly as boozy as the Bourbon Trail itself. And considering it comes from Lexington's oldest brewery, it's doubtful anybody would disagree. Aged for up to six weeks in locally sourced (obviously) bourbon barrels, this robust, slow-sipping English Strong Ale has all the vanilla, oak, and sweet molasses of a fine whiskey minus the signature bite.
Louisiana
Abita Pecan Harvest Ale
American Brown Ale, 5.2%
Abita Springs
OK, OK, I know what you're thinking -- how in Emeril's name is it not Dixie beer? Well, turns out Louisiana's most iconic frontrunner moved its operations up to Wisconsin after Katrina's devastating blow. And if you're bummed, you should probably just grab an Abita Pecan Harvest and shut your dern trap. The Abita Springs-based brewery has been brewing up the bayou's best since 1986, and though it might not have Turbodog's widespread popularity, the Pecan Harvest is definitely the most Louisianan of the brewery's sizable fleet. While the majority of nut-flavored beers are dosed with extracts or synthetics, this gumbo-friendly American Brown gets its delicious burnt caramel aroma and layered complexity from real, locally grown roasted pecans. And those crunchy bits do more than just create flavor, they also emit oils that make the beer lighter and silkier on the palate. So, apologies Dixie fans, these lil' whippersnappers simply have you beat.
Maine
Shipyard Sea Dog Wild Blueberry
Fruit beer, 4.7%
Portland
As one of New England's longest-running and largest craft breweries, Shipyard might not be the hippest kid in class but it's definitely the most iconic. Brewed as a part of Shipyard's sub-brand Sea Dog, the fruity, slightly tart amber wheat beer drinks like a stroll through a Maine blueberry patch and smells just as sweet. The malty backbone offsets the berry's intensity like a pro, so much so that the whole thing comes together tasting not unlike a stack of fresh blueberry pancakes. And who wants beer for breakfast? Mainers. It's f-ing freezing up there.
Maryland
Heavy Seas Loose Cannon
IPA, 7.25%
Baltimore
There is no beer more Maryland than Natty Boh. Except for the fact that it's not brewed in the state anymore -- it's currently made in North Carolina and Georgia. And you'd think that any of Flying Dog's beers could serve as another option, except for that brewery was started near Aspen, Colorado. C'mon Maryland! Luckily there's still Heavy Seas' flagship beer, the Baltimore-brewed Loose Cannon, a beloved triple-hopped citrusy can of goodness. One of the guys behind Heavy Seas, Hugh Sisson, had to help change the laws in the state in the late '80s to enable him to brew beer in his restaurant, so really all Maryland beer fans should crack one of these open in appreciation.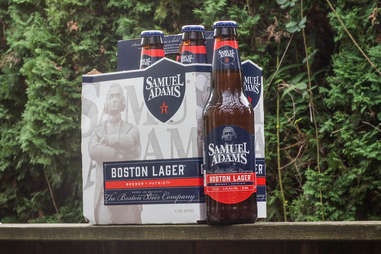 Massachusetts
Samuel Adams Boston Lager
Vienna Lager, 4.9%
Boston
Despite all the amazing beer coming out of Mass these days, what with your Trilliums and your Tree Houses and what have you, this was a pretty easy choice. It may be a little corny to shower praise upon the role Sam Adams played as a craft beer trailblazer but, well, it's kind of true. It may be even cornier to draw parallels between the establishment-challenging ethos of the American Revolution and the craft beer revolution, but, well, those hold up too, dammit! C'mon, don't act like you don't feel a little patriotic staring back at Sammy and his frosty pewter mug when you crack one open. You know you do.
Michigan
Bell's Oberon
Pale Wheat Ale; 5.8%
Comstock
How beloved is Oberon to Michiganders? So much that, in a state where the Founders KBS release means a weeklong celebration for beer nerds flocking to Grand Rapids, it still manages to not just garner love, but define summer. That'll happen when an annual release is basically summer in a bottle (or can, or mini-keg), with its spicy citrus notes and light wheat notes tasting equally good on a pontoon on a landlocked lake, a sailboat heading to Mackinac, or just in a backyard chock full of mosquitos. The entire state goes nuts upon its release, and doesn't stop until fall hits and the state is virtually depleted of orange slices.
Minnesota
Grain Belt Premium
American Adjunct Lager, 4.6%
New Ulm
The Minnesota lawnmower beer of choice has changed hands several times during its long history (Premium debuted in 1947 but the brewery's origins stretch back to 1893), but through it all it has remained a part of the state's identity. If that wasn't true, would The Hold Steady casually name drop it in song lyrics? No, they would not. In a nod to its cultural significance, current owner August Schell is spending some serious cash to restore the lighting on the city's historic Grain Belt sign that previously fell into disrepair. That's respect. And probably good marketing, too.
Mississippi
Lazy Magnolia Brewing Co. Jefferson Stout
Milk Stout, 4.65%
Kiln
Mississippi is not exactly swimming in home-grown beer. Arguably the deepest Deep South state, it was the last to legalize homebrewing and still has a handful of anti-booze laws on the books, making Lazy Magnolia's hard-fought rise to nationally respected prominence all the more impressive. The Gulf Coast mom and pop shop -- it's run by husband-wife team Mark and Leslie Henderson -- introduced the world to this impeccably creamy milk stout in 2005, immediately convincing light beer aficionados across the South to cross over to the dark side. Drink one of these Southern-brewed belly-warmers down in Dixie and you'll almost wish you were up North again, huddled under a blanket in 10 degree weather. Almost.
Missouri
Budweiser
American Adjunct Lager, 5%
St. Louis
The beer that put the Midwest on the map, the genuine article, the king of kings (er, beer). Seriously, though, how could we possibly go with anything else? This guy's so indisputably iconic that it temporarily renamed itself "America," and the reaction was basically "yeah that sounds about right." Even if you're not a Bud fan, you have to hand it to them -- they literally defined the taste of American beer by figuring out how to manufacture a lager so perfect, so flawlessly engineered that it could be replicated millions of times over without a single deviation. Go ahead and ask your local craft outlet how incredibly hard that is, they'll tell you.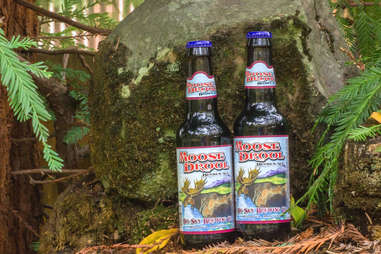 Montana
Big Sky Moose Drool
Brown Ale, 5.1%
Missoula
Sure, Missoula's got tons of cred as one of the most consistently overlooked and best beer cities in the country. But when you're going with a Montana icon, you really have no choice than to go with the biggest (and one of the best) craft brewery's most famous offering. Hell, the name alone is classic. And the image of a big-ass moose bathing in a pristine mountain riverbed couldn't be more Montana unless the label contained a recipe for moose jerky on the back. Oh, and it's also a pretty fantastic beer that you can get virtually everywhere, though it tastes extra great when consumed fireside.
Nebraska
Nebraska Cardinal Pale Ale
American Pale Ale, 5.75%
Papillion
Named for the South Omaha bar once run by the founder's grandparents, Cardinal Pale Ale was the beer with which longtime homebrewer Paul Kavulak and his wife Kim launched what has become Nebraska's most recognized brewery. It didn't come easy -- there was quite a bit of tinkering to get just the right balance of Cascade hops, which Paul eventually arrived at after just dumping in a whole damn bag out of frustration. It seems to have worked out for everyone.
Nevada
Joseph James Hop Box
IPA, 8.2%
Henderson
Nevada's fun-times destination Las Vegas has been built on sin and boozing since the 1940s, but the city hasn't had much of a craft beer scene since the mid-2000s. Enter Joseph James, based in nearby Henderson, which stormed onto the scene 8+ years ago, and released the big, 85 IBU'd bottle known as Hop Box soon after it opened. As you might guess from the name, it's an imperial IPA that features an inviting grapefruit nose and a glorious hop bite. Nowadays, JJ has transitioned into an all-can lineup, and Hop Box remains the sought-after standout.
New Hampshire
Smuttynose Finestkind IPA
IPA, 6.9%
Hampton
When you think New Hampshire craft beer, you probably think Smuttynose. Mostly because it's such a weird name, and it's practically impossible to forget. But also because the brewery makes damn good beer. Back in 2003, Finestkind IPA was released as Smuttynose IPA. The name's changed, but it's still the brewery's best-selling beer, and has been since it first came out. Nowadays, cloudy, hoppy New England-style IPAs are all the rage (shoutout to fellow NH brewery Stoneface), and the unapologetically bitter, 73.5 IBU Finestkind can certainly lay claim to helping kick off the delicious trend.
New Jersey
Flying Fish Brewing Co. Exit 16
Imperial IPA, 8.2%
Somerdale
While the lovable armpit of America doesn't have a ton of breweries to pick from, Cherry Hill's Flying Fish undoubtedly tops the list as the Garden State's most iconic. When the craft company opened in 1996, founder Gene Muller decided to crowdsource the names of his fleet using a brand spankin' new technology: the internet. Today, the legacy lives on with FF's Exit series, a lineup that pays tribute to the highway every Northeasterner loves to hate, the New Jersey Turnpike. Exit 16, one of the brewery's most treasured, is brewed with wild rice in honor of the landfill-strewn Hackensack Meadowlands and its, um, diverse ecological makeup.
New Mexico
Santa Fe Happy Camper IPA
IPA, 6.6%
Santa Fe
Not only was Santa Fe's Happy Camper IPA the first beer ever canned in New Mexico (in 2010), it's likely also the first IPA ever released from a NM brewery -- if there's an older one, we haven't heard of it. That's because the beer came out in '95, easily a decade before the IPA craze, and the brewery itself has been around since '88, which qualifies it for an AARP card in the craft beer world. Happy Camper and its New Mexico flag-emblazoned can paved the way for a beer like Albuquerque's La Cumbre fantastic Elevated IPA. Even Elevated's can looks a tad familiar, doesn't it? But before every beer nerd swooned over that beer, New Mexicans embraced the bold, spicy hops of the 82 IBU Happy Camper. And they still do.
New York
Genesee Cream Ale
Cream Ale, 5.1%
Rochester
Believe it or not, New York actually led the country in beer production back in the 19th Century, and Genesee, a brewery that's been cranking out the cold ones since 1876, has been a major player ever since. Although every dad's favorite brew is now owned by South America's Cerveceria Costa Rica S.A., it continues to rep its home state with the quiet gravitas -- and the green hue -- of the Statue of Liberty herself. The cream ale, often lovingly referred to as "Genny," leads the pack in drinkability, iconic design, and bang for your buck (most bodegas still sell a 24-ouncer for less than a dollar). This is baseball beer, ideal for washing down peanuts and hot dogs under a mid-summer sun. Now if only 'dem Mets would give us something to watch...
North Carolina
Duck-Rabbit Milk Stout
American Porter, 5.7%
Farmville
Asheville, North Carolina, might be one of the country's absolute best beer cities, but a great deal of the Southern hippie town's best brews are esoteric and tough to find elsewhere and, beautiful as they may be, rare and obscure does not an iconic beer make. Enter Duck-Rabbit, a low-profile 12-year-old Farmville craft outfit that has managed to sneak its way into beer-lovers' hearts throughout the Southeast. D-R's top-selling Milk Stout sports an unforgettable black and red "duck rabbit" on its label, an optical illusion shadow puppet that has nothing to do with beer, but is super fun to make. The brew inside is also super fun, with a silky-smooth full body cradling layers of semi-sweet milk chocolate and sharp, nutty coffee, supported by an impossibly rich roasted malt backbone. Pack a sixer of these toasty brews the next time you hit the Appalachian Trail and thank us later.
North Dakota
Fargo Brewing Company Wood Chipper IPA
IPA, 6.7%
Fargo
North Dakota has an unsurprisingly low number of homegrown brewers, so it only took this brewery half a decade to get to iconic status. It helps that its best and most well-known beer -- a hoppy, blend of hops (Horizon, Chinook, Cascade, Centennial, and Simcoe) that is somehow less bitter than most of the folks currently visiting NoDak -- is labeled a punchline that makes it must-grab for those just discovering it. For folks in the state, though, it's just a real good beer. Real good.
Ohio
Great Lakes Eliot Ness
Vienna Lager, 6.1%
Cleveland
Emblazoned with the image of the legendary Prohibition crusader/beer lover – the definition of juxtaposition -- who drank in what is now Great Lakes' basement after Capone went down, Eliot Ness isn't just a great lager. It's the cornerstone of a brewery that sits in the epicenter of the Midwest's next great beer city, a brewery that's a symbol of what beer can do to help the city that surrounds it and a point of pride for Cleveland since LeBron was still dunking in Pull-Ups.
Oklahoma
Prairie BOMB!
Imperial Stout, 13%
Tulsa
At just a few years old, Prairie Artisan Ales is relatively young to have attained iconic status, but the virtually instant excitement around BOMB! when it debuted suggested the beer world might have an instant classic on its hands, and nothing that's happened since (including multiple fantastic variants) has suggested otherwise. It's a parade of the flavors stout lovers go nuts over -- vanilla, coffee, cocoa, chile -- all of them flawlessly balanced. Look, if you're gonna throw all caps and an exclamation point on your beer, you know you've got something good. And they do.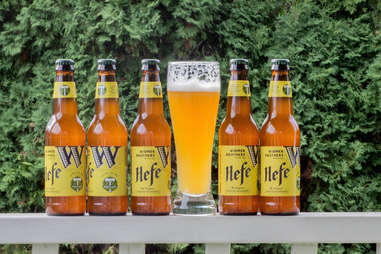 Oregon
Widmer Brothers Hefeweizen
Hefeweizen, 4.9%
Portland
Widmers' initial contribution wasn't so much about what they did as it was what they didn't do: filter their Hef. It was cloudy, citric, perfect for summer, and people had no idea what the hell to do with Hef when the brothers started delivering it by hand to local pubs. Widmer's now a national name with national backing, but they've remained in North Portland (where the Hef was born in 1986). In a city now known for its wealth of inventive and experimental beers, the Widmers remain trailblazers, mentors, and Beervana's biggest success story.
Pennsylvania
Yuengling Lager
Lager, 4.5%
Pottsville
It's not just Pennsylvania's oldest brewery, it's America's. And Yuengling Lager is not just Pennsylvania's best-selling craft beer -- it's likely America's, too. The brewery has been No. 1 on this esteemed list ranking the most popular craft breweries since 2014. In an era where brands are swallowed up by larger brands at a rapid clip, Yuengling still produces the lager in two Pottsville brewing facilities (and one in Tampa, Florida, too, but PA is inarguably home). It's impossible to overstate what the brewery and its flagship lager means to Pennsylvania. Case in point: order a lager in PA, and you'll be handed a Yuengling. Every time.
Rhode Island
Grey Sail Captain's Daughter
Double IPA, 8.5%
Westerly
Let's just get this painful bit of news out of the way: even though Narragansett is in the process of opening a new brewery in Pawtucket, its flagship beer is brewed in Rochester, New York. Ineligible! While there are great breweries in Rhode Island, like Grey Sail and Proclamation, calling any of their tasty brews Rhode Island's iconic beer feels… wrong. But we're going to do it anyway. Grey Sail's Captain's Daughter is a hazy, huge DIPA perfectly suited to please fans of the New England IPA style. It's not RI's oldest beer, but it's certainly an icon in the Ocean State's small but mighty craft scene.
South Carolina
Westbrook One Claw Rye Pale Ale
American Pale Ale, 6%
Mount Pleasant
South Carolina isn't exactly known for top-notch beer, but they sure as heck know their food. That's why Westbrook's One Claw takes the cake as SC's most iconic. First off, the adorable little can features an even more adorable little crab, paying homage to the coastal state's world-class seafood (one can only imagine what became of the poor guy's other claw…). And, of course, the peppery, citrusy rye-spiked IPA is perfectly engineered to make just about any cuisine in Charleston sing louder than Hootie and the Godfather of Soul himself combined. So if you're considering making a trip down to the South's culinary mecca -- and you definitely, definitely should -- make sure to save some room for a case or two of Westbrook's finest. You won't be sorry.
South Dakota
Crow Peak 11th Hour IPA
IPA, 6.5%
Spearfish
In a state where the beer of choice is often "whatever's cold," relative newcomer Crow Peak -- stationed in the scenic hamlet/college town Spearfish at the base of the Black Hills – gets a nod simply by canning and bottling an IPA that you can get in pretty much any bar in the state. That it happens to be an IPA with enough bite and nuance to roll with the folks on the West Coast is what makes it outstanding. Crow Peak is basically changing the perception of beer in South Dakota, one convert at a time.
Tennessee
Yazoo Gerst Amber
Altbier, 5.1%
Nashville
While the GABF gold medal-winning Hefeweizen is arguably the best-known offering from Tennessee's best-known brewery, it's the old-school, palate-pleasing Gerst Amber that nails the most iconic category. Its retro design and classic stubby brown bottle instantly evoke a sense of turn of the century industrial charm -- and that's no accident. Gerst was the name of Nashville's very first brewery, and though it sadly didn't survive Prohibition's wrath, Yazoo decided to resurrect the celebrated Amber with the help of a local, Gerst-related restaurant. This is no knock-your-socks-off IPA, just a good, old-fashioned, and even-keel lazy summer Tennessee original.
Texas
Lone Star
American Adjunct Lager, 4.65%
Fort Worth
Cool your britches. Texas has enough room for two different iconic lagers, and we hemmed, hawed, and pondered for a while here. Then we drank several Lone Stars and, well, that just gave it the edge over Shiner. San Antonio's second most famous institution (right behind some basement-less fort we're not allowed to forget) is now brewed in Fort Worth. But it's still the same ol' lager: great on a hot day. Pairs well with chicken fried steak and BBQ. You can drink a half-dozen unfazed, and it tastes pretty much like what every blue-blooded American would think a beer out of a can should taste like. And, crucially, the cans are much, much better for making weird little voodoo dolls. Alright alright alright.
Utah
Uinta Cutthroat Pale Ale
Pale Ale, 4%
Salt Lake City
Brewing in SLC is generally shrouded in mystery and myth, as if the entire city's got a Zion Curtain in place to convince everybody that there are no beers over 3.2%, and those ones must be consumed while wearing special underpants. Since 1993, Uinta has been breaking down misconceptions. It all started with the flagship Cutthroat, a malty, copper-hued beauty that sneaks up to IPA-level bitterness, but keeps things mellow with a 4% ABV. That's way more than 3.2%, though nothing compared to the boozy bombs made by Utah's best damned brewery, but it all started with Cutthroat.
Vermont
Magic Hat Brewing Co. #9
Fruit beer, 5.1%
South Burlington
Sure, it's no Alchemist Heady Topper or Hill Farmstead Abner, but Burlington's good old Magic Hat #9 is hands down the most recognizable Green Mountain State beer on the market. It's basically the Ben & Jerry's of the beer world, and it's 100% here to stay. The 22-year-old mega-craft brewery's "not quite pale ale's" exact recipe remains closely guarded but we do know that it's one of the first to incorporate fruit essence into its makeup, and the experiment obviously paid off in full. The apricot's juicy stone fruit flavor mingles nicely with the lemony, pine-tinged hops and solid, if surprisingly light caramel-fueled malt bill. It's as easy-drinking as they come and at 5.1%, chiller than a Vermont winter. Sheesh, can somebody buy this beer a pair of Tevas and a Life is Good ball cap already?
Virginia
Devils Backbone Vienna Lager
Vienna Lager, 5.2%
Roseland
RIP, Virginia Beach's Chesbay. So long, Ashburn's Old Dominion. VA has had some solid old-school breweries shut down and relocate, but there's still good old Roseland's Devils Backbone. Since 2008, DB's produced a version of its popular Vienna Lager -- one the brewery is open about saying has changed over time. It seems to be on the right track. The sessionable flagship beer is not only the brewery's most popular, it's made an impact on the national scene, winning GABF gold in '12, '15, and '16. It wasn't the first VA brewery to popularize and brew the style (that would be Starr Hill's Jomo, which came out in '01), but it was the beer that helped propel Devils Backbone into the position it's in today, both statewide and nationally.
Washington
Redhook ESB
Extra Special Bitter, 5.8%
Woodinville
Long before Seattle was known as one of the Pacific Northwest's finest beer cities – before grunge popped and even before Frasier Crane first snobbed up Cheers – Redhook was making small batches of its now nationally ubiquitous ESB. With its relatively light bitterness in spite of its name, Redhook ESB has since left its home in Seattle and joined the likes of Kona and Widmer in the Craft Beer Alliance. Purists – and hipsters who swear by Olympia and Rainier (neither still brewed in Washington) – balk now that it's on shelves across America. But Redhook remains a pioneer. Now that it can be had everywhere (and for about $2 a bomber in most markets), it wears its status as an elder-statesman and a failsafe in less-blessed convenience stores quite well.
Washington, DC
DC Brau On the Wings of Armageddon
Imperial IPA, 9.2 %
Washington, DC
This selection is purely based on the stunning hop-backed power of this knockout Double IPA. It has nothing to do with any commentary on the political climate in its home city. Any perceived parallels are coincidental. We swear.
West Virginia
Morgantown Alpha Blonde
Blonde Ale, 5.1%
Morgantown
Like the state it calls home, Morgantown is a tough, tenacious brewery, having opened in '91, closed, and then re-opened with new ownership months after the brewing laws changed in 2009 to allow for beers brewed above 6%. Alpha Blonde is… not one of those beers, but it's a sessionable offering that the brewery bills it as one perfect for the "timid domestic drinker looking for an introductory craft beer," which makes sense considering that less than a decade ago, the laws made it tough to drink any craft beer whatsoever. Way to open up some palates and minds, Morgantown.
Wisconsin
Miller High Life
American Adjunct Lager, 4.6%
Milwaukee
Its bustling craft scene notwithstanding, it's impossible to ignore the numerous beloved brands birthed in Milwaukee. Schlitz may be the beer that made Milwaukee famous, and Old Milwaukee may have Will Ferrell, but Miller's the brewery that would eventually define beer in Wisconsin, and High Life is its oldest beer, dating back to 1903. Whether you're peeling the label off the fetching clear bottle, cracking a can, or tearing through a forty, you don't mess with the Champagne of Beers.
Wyoming
Snake River Pale Ale
Pale Ale, 5.2%
Jackson
Yeah, Jackson's also got a Thai restaurant/brewery that makes a hell of a great big-ass IPA (that'd be Melvin's 2x4), but the icon in Wyoming's unsurprisingly sparse brewing scene is Snake River's pale, a mellow-malted, citric, highly drinkable take on the classic that won gold at GABF waaaay back in 1995 and has been a staple in Wyoming fridges since the dawn of the craft movement. Hell, Snake River uses its spent grain as cattle feed, too. Which is to say, even the cows of Wyoming love this stuff. And that place has a lot of delicious cows.
Sign up here for our daily Thrillist email, and get your fix of the best in food/drink/fun.
Lee Breslouer is a senior writer for Thrillist, and would like to have a beer in any of these states. Follow him to happiness: @LeeBreslouer.

Meredith Heil is a staff writer for Thrillist. She's beyond a legend, she's iconic. Fall off, re-brew, your beer's bionic. Follow her at @mereditto.