Lush in more ways than one, Georgia's first city is hiding a legendary nightlife under its demure tree canopy. According to local lore, Savannah quenched General Sherman's destructive fire by plying his army with grog, and thumbed its nose at Prohibition via a network of stills and speakeasies. So it's no wonder drink continues to dominate food as the city's purest form of hospitality.
As with any cocktail, the secret to a successful night out is balance. A true Savannah evening should be equal parts highbrow and down-home. The National Landmark Historic District is blessed with more mixologists than you can shake a swizzle stick at -- and a host of legendary dive bars that'll put some hair on your chest.  But you'll most likely end up moving between the two, thanks to a liberal open container law that lets you carouse with cup in hand from historic Jones Street to the Savannah River.
 
Savannah's deepest dive is not long for this world, so be sure to raise a glass at the corner of Drayton and Harris streets while you still can. The iconic Pinkie Master's Lounge, where Jimmy Carter announced his run for president -- and where Savannahians have been ending the night for 65 years -- will be looking for a new place to pour come January 2016.
 
With that in mind, here is a meticulous mix of mainstays to tide you over.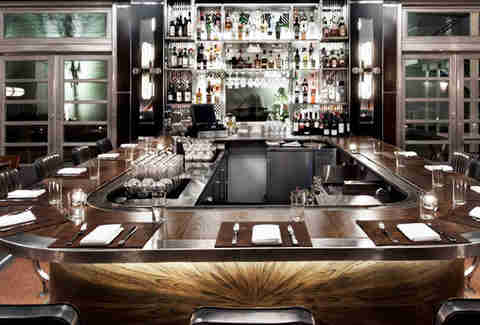 Historic Downtown, MLK Corridor
Vintage cocktails such as the savory Gibson and the Mexican Firing Squad get a fair shake in this richly restored 1930's bus station, but your to-go cup will beg for the Pimm's-and-cachaca twist of the Grey's own concoction, the Euclid 20 Ton. It's great with the Savannah red rice cakes and a side of pimento cheese.
Historic Downtown, near City Market
Locals plan their nights around what's playing at the Jinx, Savannah's hardest-gigging music venue. Strong, simple pours and loud bass make this cavernous dive the de facto king of rowdy Congress Street -- and dub resident "fun director" Gil Cruz the master of the city's rock scene.
Historic Downtown, Bona Bella
For a rum with a view (yep, we went there), drive east until you reach the gravelly end of Livingston Street. It doesn't get much better than fresh air and fresher Hemingway daiquiris, overlooking a bright panorama of water and marsh. Plan to stay a while; as it lays outside to-go cup range.
 
Historic Downtown, MLK Corridor
Universes collide at Savannah's gaming pub, a darkly cheerful tavern where "potions" like Health, Mana and Logan's Rum fuel intense battles on-screen and offworld. Request a table or lounge area with a video game console, or accept your waiter's offer of a board or role-playing game. And yes, appetizers like Lord of the Wings and Sizzlers of Catan live up to their names.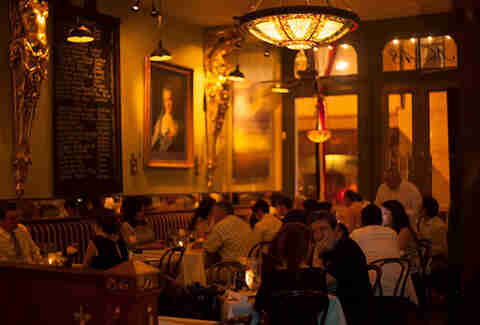 Historic Downtown, near Broughton Street
Eat a hamburger au poivre and truffle fries at the warm wood bar, then soak up the atmosphere and a crisp Cote du Rhone, poured by the man with the best 'stache in town: co-owner Jeffrey Downey. If you find yourself staring up in admiration at the stamped tin ceiling, you might have been over-served -- but you definitely have good taste.
 
Historic Downtown, near City Market, Congress Street
Townies flock to this friendly Congress Street dive, a historic former brothel where peanut shells litter the floor. The "menu" ranges from pig's feet to pickled eggs, and the struggle for jukebox supremacy is real. Sure, they'll mix you any drink you like, but the $5 forties come in a complimentary paper bag.
Historic Downtown, Washington Square
Aperitivo hour at this rustic-modern bistro means $5 Manhattans, Negronis and small plates. Stay for Chef Roberto Leoci's sumptuous Italian fare, or make this your first stop on a sipping, strolling tour of the historic district.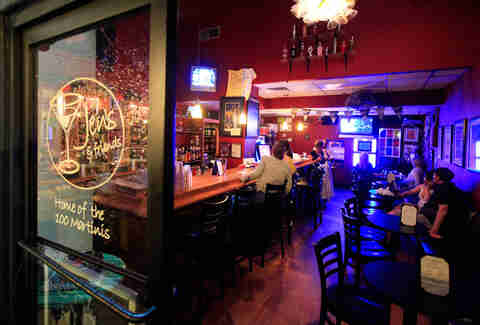 Historic Downtown, near Johnson Square
This neighborhood-style bar in the heart of downtown keeps regulars guessing with more than 100 off-the-wall martinis on the menu. Approachable owner Jen McEvoy has a lot of friends -- Savannah magazine readers keep voting her the city's best bartender.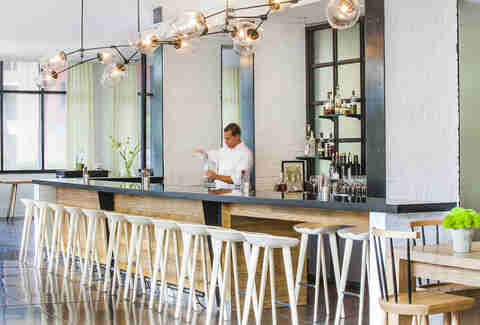 Historic Downtown, Ellis Square
The glamorous Jane Fishel made a name for herself as the inventive barkeep at the much-missed Sparetime.  Now she keeps a team of veteran mixologists on-point at this sleek lobby lounge, where the mixers are house-made, the pours are impeccable, and the garnishes are as fresh as they are original.
Victorian District, Forsyth Park
There are Legion bars, and then there's Post 135. This former armory is the place to go for cheap drinks, an artsy assortment of townies, and sharp talk from sassy barmaid Sarah Cuda. Stay for the mouthwatering late-night burger at the in-house diner, Betty Bomber's.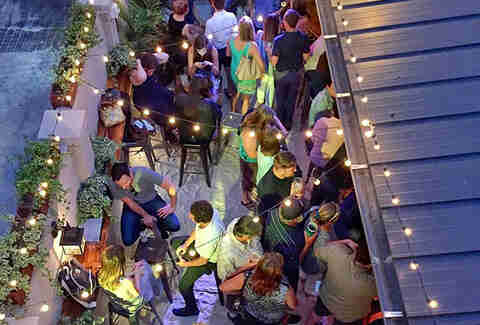 Historic Downtown, Bay Street
In case you were wondering, a fella named Trey created this Bay Street tribute to all things Southern. Sip a summery Tire Swing or a Miller-High-Life-based "Manmosa." Snack on black-eyed pea hummus and fried Oreos. Kick back and make friends. The affable atmosphere is infectious.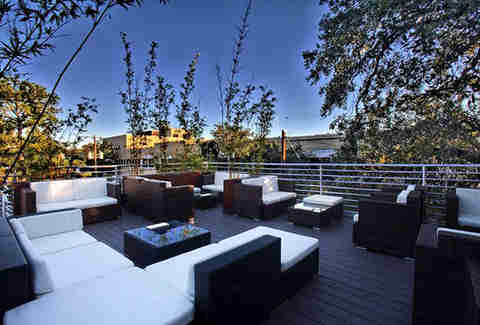 Victorian District, Forsyth Park
With a canopy of live oaks rustling overhead, this rooftop craft bar is as close as you should ever get to drinking in a treehouse. If the blood orange Old Fashioned doesn't shake your branches, then the crisp grapefruit-and-gin Dream Reader will.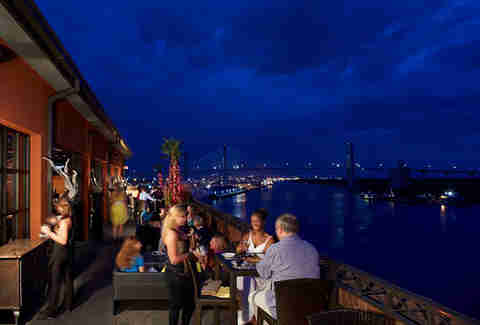 Historic Downtown, Savannah River
A sea of single locals and a terrific view of the river make this open-air waterfront lounge a popular departure from sea level. It's even better on a cool evening under the stars, with a little live music, some top-shelf Bourbon and the glow of the fire pit.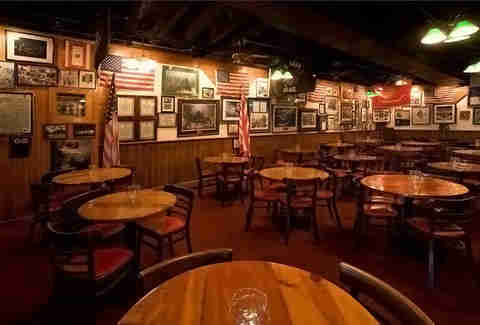 Historic Downtown, Savannah River
If you have to check out the unapologetic tourist trap that is River Street -- and you really must -- pay a visit to Kevin Barry's, where there's an extensive whisky menu and live Irish music nightly.
Historic Downtown, near Chippewa Square
After a beer or two, nightly karaoke becomes an irresistible temptation at this St. Patrick's Day staple, where the atmosphere is an indescribable mix of dank and homey. Plus, you're in for a long night once you settle here. The place closes for a few hours before dawn, but reopens for eggs and pancakes. A strong shot with a bacon chaser (aka the Breakfast of Champions) ought to see you through until then.
 
Historic Downtown, MLK Corridor
"No crap; just craft" is the motto at this former speakeasy, now a vast taproom where you'll never find the same brew list twice. Share a custom flight for a great date night, and you're likely to walk away with a new favorite.
Historic Downtown, Jefferson Street
It doesn't get more essentially Savannah (read: knowingly naughty) than this beloved gay bar and drag cabaret, home of the famous Lady Chablis of Midnight fame. Everyone in town -- old and young, pansexual and arrow-straight -- comes here to dance and to pay their respects to "The Lady." Reserve a seat for her next show and you'll see why.