The 7 Most Infamous Drinking Establishments in LA
Los Angeles is home to film's rich and famous. As such, it's also home to some infamous drinking establishments, where said R&F get boozy, get rowdy, and sometimes get arrested. Read on and find out where the ruckus happens in Tinsel Town.
5153 Hollywood Blvd Los Angeles, CA 90027
Why it's infamous: Anthony Bourdain friggin' sipped tequila and beer here for his Travel Channel show, but it's the lady dancers most people will care about. While it's now a non-nude spot, it used to feature certifiable strippers, including one Courtney Love -- so chalk Jumbo's to the list of things that everyone loves, and that Courtney Love sort of sours for a moment when you remember her existence.
864 N Virgil Ave Los Angeles, CA 90004
Why it's infamous: Rumored to have once been a Thai brothel, this is a no-frills dive bar where burly bartenders regularly chuck out rowdy patrons. Director Bill Ross IV said of the Smog Cutter: "it's an amazing establishment...run by these three women who will be the drunkest people there and they'll get into fights, and it's just a beautiful thing." Not surprisingly, Charles Bukowski (supposedly) used to drink hard and write here.
Any bar with Ray Donovan in it
If he wasn't so skilled at staying behind the scenes, we'd call him infamous. So, who's Ray? Here's the gist: if you like when things get rowdy in Los Angeles, then you'll really like Showtime's Ray Donovan, a series about a fixer tasked with making the problems of Hollywood's power elite disappear, while also navigating the inner-workings of LA's rough-and-tumble underground.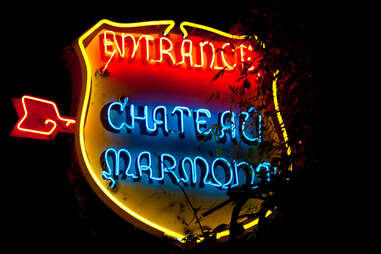 8221 Sunset Blvd, West Hollywood, CA 90046
Why it's infamous: So many celebrities party here that getting kicked out is nearly a Hollywood right of passage. James Dean once jumped out of a window for his Rebel Without a Cause audition, Britney Spears was banned for smearing food on her face, Clark Gable and Jean Harlow had an affair (during Harlow's Honeymoon, to another man), Johnny Depp and Kate Moss claim to have banged in every room (there are 63), and Led Zeppelin's John Bonham once barreled into the lobby, riding his motorcycle.
131 E 5th St, Los Angeles, CA 90013
Why it's infamous: This bar has been around for 100 years and sits directly across from Skid Row. Eddy opened the saloon here in 1906, until Prohibition, after which it was a speakeasy, fronted by a piano store. In 1933, it became an above-the-books establishment, before it all decayed into a decadent den of sin in following decades, with fixtures like junkie bartenders and Kiefer Sutherland. Now, the redone place retains a sharp edge, but the bathroom's cold steel doors no longer need buzzers to regulate entry.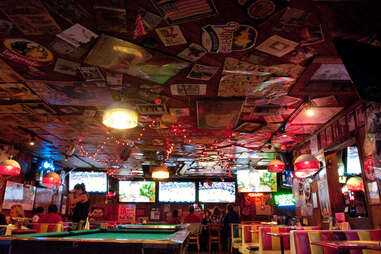 8447 Santa Monica Blvd West Hollywood, CA 90069
Why it's infamous: This bar inspires all sorts of mayhem, from Janice Joplin belting Jim Morrison to Quentin Tarantino scrawling Pulp Fiction in one of its sticky-seated booths. And Drew Carey participated in something of a protest against California's smoking ban in 1999, inviting news crews to join him and his pals at Barney's as they took defiant drags on their cigarettes.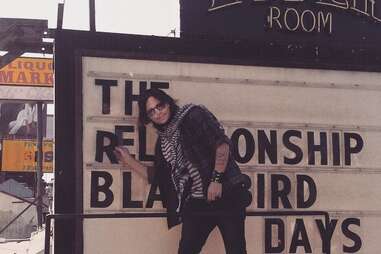 8852 West Sunset Boulevard, West Hollywood, CA 90069
Why it's infamous: The space the Viper Room inhabits used to be the Melody Room, a jazz club and the choice watering hole for mobsters, including Bugsy Siegel and Mickey Cohen. In 1993, under a new name, and with Johnny Depp as a part owner, this Sunset Strip spot was reimagined as a plush club, catering to the glitziest of guests. Just outside of the Viper Room, River Phoenix died of an overdose that same year. In 1997, John Frusciante of the Chili Peppers played there often, rail thin and strung out, during the heady climax of his worst drug days. And in 2004, the band the Brian Jonestown Massacre brawled on stage, a stunt that was later featured in the documentary DiG!
7000 Hollywood Blvd, Los Angeles, CA 90028
Why it's infamous: Said to be haunted by some of its famous former guests, including one lobby-creeping ghost of Marilyn Monroe, the Roosevelt has had plenty of scary stuff happen this side of the grave. Darby Crash performed a Halloween gig in 1978 that began eerie, and wound up vicious, as the band and the crowd began to tear apart the hotel, and Kickboy & Darby egged 'em on, saying: do damage.