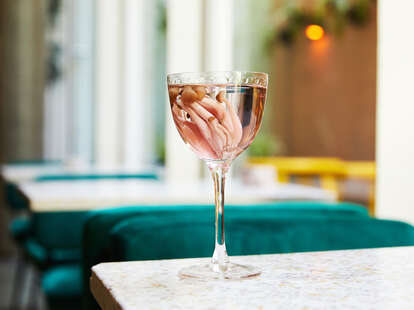 Martin el Sucio cocktail at HOWM

| Photo by Justin Bridges
Martin el Sucio cocktail at HOWM

| Photo by Justin Bridges
Welcome to Thrillist 50, your guide to fun and adventure in 2023. Think of it as your comprehensive roadmap for checking out exciting events and new attractions coming over the next 12 months, going on bucket-list trips, reconnecting with yourself and your community, expanding your mind, and of course, experiencing the flavors we're most excited about this year. There are so many reasons to live like there's no tomorrow. Start here.
Neither plant nor animal, mushrooms are a type of fungi with an array of possibilities. In addition to the suite of healing and calming properties found in reishi, chaga, lion's mane, and other mushrooms used in centuries-old practices like ayurvedic medicine, mushrooms are culinary powerhouses. You may already cook with baby bellas or cremini caps to add a hit of umami, earthy flavors, and rich mouthfeel to your stir-fries and stews.
Recently, bartenders and drink professionals across the U.S. have started using mushrooms to add rich, savory flavors to cocktails made with and without alcohol. Some highlight the sweet taste of candy cap mushrooms in their drinks. Others prefer the smooth, deep flavor of creminis. With more than 10,000 varieties to choose from, mushrooms' drinks potential is vast.
"As cocktail culture continues to progress I think that more and more people are looking for something creative and unexpected. Something they haven't seen before or tasted in a cocktail," says Nathan McCullough, the bar director at The Wolves DTLA.
Six years ago, the first time McCullough created a mushroom cocktail, "it definitely didn't go over as well as it does today," he says. "People are at that point now where they are ready for something different, and bartenders are realizing this and beginning to incorporate interesting ingredients, like mushrooms, to showcase their creativity and give people what they want—something out of the ordinary."
The Let Them Talk cocktail at The Wolves combines mushrooms with lavender, celery, and the Bolivian brandy Singani 63. To create it, McCullough thought a lot about balance, which he believes to be the hardest aspect of adding savory components to a craft cocktail.
"I did a lot of research into flavors that compliment mushrooms, and from that list pieced together the ingredients that would compliment a cocktail format best," says McCullough. "The celery helps with a refreshing touch, the lavender compliments the mushrooms, the honey balances the citrus and umami, and the cream sherry rounds out all the flavors. The result is a rollercoaster of flavors that all complement and support each other in various ways."
Mushroom-infused cocktails can also provide an excellent way for bartenders to flex their gastronomic knowledge and techniques.
At Apothecary Bar in Dallas, Texas, luxe white truffles star in a cocktail named The Truffle Shuffle, which utilizes a wash. To wash liquor, you infuse it with an ingredient to impart flavors and mouthfeel, and then separate the oil or fat from the spirit. In The Truffle Shuffle, Aberfeldy 12-year-old Scotch is washed with white truffle before it's shaken with lemon, sweetener, and frothy egg whites.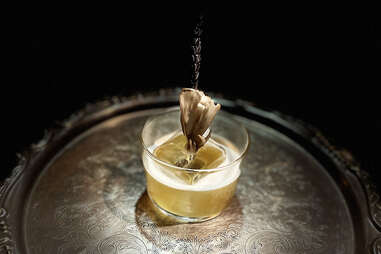 In New York City, the Martin el Sucio cocktail at HOWM, a bar in the Selina Hotel, uses infusions and pickling in its take on the classic martini.
"A play on a mix of classic martinis with a very unique Latin twist, the cocktail involves a mixture of blanco tequila, mezcal, Lillet Blanc, orange bitters and a spray of house-made olive oil roasted garlic mezcal. This is finished with a house-made pickled beech mushroom," says Jonathan Knudsen, president of Gilded Group, which operates HOWM. The drink has a similarly briny profile to a classic dirty martini, Knudsen says, plus smoke from the mezcal and savory notes from the infused oil and pickled beech mushroom.
At Ester's Fair Prospect on Maui, maitakes are the mushroom of choice for a Japanese-inspired take on a Bee's Knees called the Murder Hornet.
Maitakes, also known as hen-of-the-woods, are a flavorful variety that grows in cluster-like bouquets at the base of trees. As with many types of mushrooms, maitakes have benefits far beyond taste and texture, too. Packed with vitamin D and heart-healthy beta-glucan, hen-of-the-woods have been used for centuries in Eastern medicines due to their immunity-boosting qualities.
Mezcal brand Madre uses two adaptogenic mushrooms, reishi and chaga, in its range of canned cocktails, Desert Water.
"Ayurvedic mushrooms have been used in traditional medicine for centuries," says Chris Stephenson, CEO of Madre Mezcal, who notes that the Madre team strongly believes in the powers of plant medicine. "Beyond providing health benefits for some, adaptogenic mushrooms can also add a pleasant earthiness and bitterness to foods and beverages, which makes them appealing from an ingredient standpoint as well as a functional one."
While crafting the Desert Water line, Madre's team aimed to create unexpected flavor combinations without using sugary additives or artificial flavors. In the Mushroom, Sage, and Honey cocktail, for instance, Stephenson believes the "lovely earthiness" of reishi and chaga compliment the "herbaceous sage and slight sweetness from the honey," all without overpowering the mezcal. It's "a unique flavor that leaves a lasting impression," he says.
For those who aren't consuming alcohol, there are also booze-free mushroom drinks like Kin Euphorics' Lightwave and the Little Saints line.
"Our 'plant magic stack' is a one-of-a-kind blend of reishi, CBD and uplifting terpenes," says Megan Klein, Little Saints' founder. "We combine these three sacred plants with special curative and spiritual properties to inspire a mood-lifting and delightfully sensory experience."
Klein views these drinks on a long continuum of mushroom-based beverages.
"Traditional healers have used reishi, an adaptogenic mushroom, for centuries to boost resilience and promote a feeling of calm, which is why it's a key component in our plant magic stack—and one of the main reasons you might feel a 'take the edge off' moment with every sip of Little Saints."
That "magic stack" is part of each of Little Saints' drinks, including the non-alcoholic spicy margarita and brunch-friendly mimosa and paloma. The brand worked with a food scientist who specialized in adaptogens to create a reishi extract that wouldn't overwhelm the palate, Klein says.
"Reishi and many other ayurvedic mushrooms are special because they are an effective and natural means of achieving a balanced and calm emotional state… We believe that people are increasingly reaching for reishi and other ayurvedic mushrooms because it has a measurable impact on their overall anxiety levels and emotional well-being," she says.
Austa Somvichian-Clausen is a freelance food and travel writer, who lives in Brooklyn with her girlfriend and two fur babies.