Holy Shit, Did Natty Light Just Make A Perfect Summer Beer?
Before May 2019, Joe Kelly had only tried Natural Light twice. Neither experience ended well.
His first run-in with with extremely light, incredibly cheap, and universally derided beer concluded with him violently ill and hanging limply out his buddy's 1984 Toyota Corolla on the side of a rural Kentucky road. His second encounter -- at a 2004 football game for his alma mater, the University of Louisville -- included arguing with his friend about that year's American League Championship Series. It intensified when his pal spiked an empty can, which then struck a cop sitting on a horse. It ended when his friend was summarily charged with assaulting the officer.
"So at that point I'm like, 'y'all, bad shit happens when you drink [Natural Light],'" Kelly said.
It wouldn't be farfetched to think that the 36-year-old Kelly, who's now part-owner of FDKY BBQ in Louisville and hosts a radio show for ESPN Louisville, would never touch the watery lager again. Hell, most Natty Light drinkers quit it upon finishing college, when they graduate from their days of plowing their way through a "dirty 30," then returning the cans to buy more.
Yet life's funny sometimes. This year, 15 years after his last run in with Natty/the law, Kelly found himself enthusiastically shotgunning a Naturdays -- Natural Light's recently released strawberry-lemonade beer -- in front of a bouncy castle at his friend Biscuit's barbecue in the spring of 2019. Not only that, he was loving it.
But the revelatory moment almost didn't happen: he passed up purchasing a case at a gas station on his way to the party.
"I mention to Biscuit, 'Dude, I almost got a rack of Naturdays,'" Kelly said. "'Those things got to taste like horse piss, right?' Biscuit says, 'I dunno, brother, but we're going to find out. There's a 30-pack in that fridge over there.' And I was like, 'Oh, you snagged some?' I crack one and I took the first sip. It was fucking amazing."
Thus, the shotgunning. But Kelly was so moved by his first Naturdays that he took to Twitter to let his 5,500-plus followers know about the glory he'd just tasted. But what surprised him more than the unexpected deliciousness of Naturdays itself was the response: In the ensuing days, his mentions began to flood with people who were also -- without any hint of irony -- extremely into the beverage.
"The age range is hysterical, man," Kelly said. "I've got college kids who will hit me up, and then I get hit up by another guy who's a recent retiree from Titleist, he was big up in their sales, Tweeting me daily with pictures of him chugging Naturdays at the golf course."
The unspoken truth that Kelly stumbled upon was that Natural Light, in the form of Naturdays, had somehow created the beer of summer 2019. And not just for Kentuckians named Biscuit, either. The beer, released this spring, even won the people's choice award at the Missouri Beer Fest in March, besting a bevy of meticulously brewed craft beers. Through a mix of savvy branding, grassroots energy bore out on social media, and the fact that it made a honest-to-god good strawberry-lemonade beer, the brand might've elevated itself with the demographic that seems most averse to it: adults.
"You don't start out drinking with an IPA. That's not how it works," Cleveland-based freelance journalist Jordan Zirm said. "You're at some party and somebody has Natty and you're like, 'OK, I guess this is what I'm drinking.' You just sort of assume that it's decent beer."
Natural Light's corporate overlords, Anheuser-Busch, probably didn't initially intend for Natural Light (colloquially called Natty Light) to join the college-kid Mt. Rushmore of suds alongside other beers like Milwaukee's Best and Keystone. According to its site, Natural Light debuted in 1977 as Anheuser-Busch's first reduced-calorie light beer, capitalizing on the prevailing beer trend of the mid- to late-1970s that prioritized "less is more" light lagers. It's still down-jacket light, clocking in at 95 calories and 3.2 grams of carbs, which in addition to its price (a 12-pack of cans at my Target in Brooklyn is $7.99) makes it catnip for typically frugal college kids.
The brand's marketing doesn't hide its targeting of this demographic, either. From 77-packs of Natty that can only be found in College Park, Maryland -- home to the University of Maryland Terrapins and their thirsty student body -- to a benevolent campaign to help pay off Natty drinkers' student loan debt, Natural Light understands which segment of the population fueled its rise to being the eighth most-sold beer in the country. And it owns it.
However, omnipresence doesn't equal quality. Natural Light, objectively speaking, is bad. Beer Advocate users rate it a 1.72 out of 5 score, which qualifies it as "awful." It's one of those beers that has become shorthand for crappy beer. But it's cheap, and it gets the job done. Especially during a time in life when people don't really care about the quality. That's kind of its charm. Then, like lanyards and midterms, Natty Light is something that most people leave at college. Some switch to craft ales. And some just upgrade their lite beer.
"I don't know anybody my age since probably turning 21 who actually drinks it," 26-year-old Julianne Mobilian, a Cleveland-based associate editor for a healthcare trade publication, said. "Even if we're out at a concert or like a baseball game, the cheap beer that people drink now is Bud Light, probably."
"I think we're in a slightly more laid-back time of drinking nowadays."
Such is the environment that Naturdays was born into. At least from the perspective of Natural Light's parent company, AB InBev, Naturdays wasn't specifically developed to bring old Natty Light drinkers back into the fold. It was created to keep up with trends.
"In 2018, we noticed an opportunity in the beer category: 21+ drinkers were developing taste preferences for sweeter and fruit-forward flavors," Daniel Blake, senior director of value brands at Anheuser-Busch, said in an email. "Knowing this, and looking at the current beer landscape, we thought there was an opportunity to create a great-tasting, fruit-flavored beer, affordably priced, that would appeal to a lot of people. This ultimately became Naturdays."
Vox's Rebecca Jennings notes that this move to create the beer tracks with a greater industry-wide trend to target non-beer drinkers to help reverse stagnating or slumping sales among macro-brewers like AB InBev. It also coincides with a rising appreciation in the craft-beer community for shandies and radlers, low-alcohol beers that are typically mixed with lemonade or another refreshing beverage.
"Shandies weren't seen as a very artful style of beer," beer and spirits journalist Aaron Goldfarb said. "They were seen as beer for people who didn't like beer. I think we're in a slightly more laid-back time of drinking nowadays. If people are going to be a hardasses about beer, then they're probably more angry at spiked seltzer than shandies."
Naturdays' peoples' choice award win at the Missouri Beer Fest in March signaled the beer's ascension. According to Forbes, Naturdays' win was unprecedented in comparison to previous victors: The beer took home 10% of the vote while past winners only grabbed 2-3%. Attending craft brewers and distributors were incensed, but Missouri Beer Fest organizer Tom Bradley commented on Naturdays to the publication by saying, "dang this one is really special" (Bradley nor a representative from the Missouri Beer Fest responded to Thrillist's request for comment).
All of these things allowed for Naturdays to flourish. However, creating a beer that capitalizes on drinking trends doesn't quite knock the product out the park if it isn't actually good -- and unlike its old Uncle Natty, Naturdays objectively is.
Both Zirm and Mobilian remember their first Naturdays.
Zirm first found the beer at his local grocery store and, similar to Kelly, dismissed it outright. He saw the gaudy, fluorescent-pink display and laughed. The set-up made him remember the times when he was in college at the University of Missouri that he'd swing by the local Walmart to drop $12.99 on a 30-rack -- which he and his friends used to fill up cups for beer pong -- so he figured this iteration couldn't be much better. He also isn't a fan of shandies or fruit-forward beers, making Naturdays even easier for him to bypass. Days later, his girlfriend came over with a surprise: a bunch of Naturdays.
"So I opened one and I drank it and I was like, 'Hey, you know what? This isn't that bad," he recalled with a laugh. "I feel like the only way to be exposed to it is by having it forcefully brought into your home."
Mobilian's inaugural experience was at a downtown Cleveland bar called Liquid in the midst of a friend's bar crawl. She rarely drank Natty Light while attending Ohio University. She first became aware of Naturdays via her friends' Instagram Stories, noting how the brightly colored cans looked framed by the sunlight that accompanies day drinking and in settings that frequently included patios. The most interesting aspect of those social media posts was that she saw a lot of her guy friends advocating for the beer, which she said surprised her considering she thought Naturdays was going to be overly sweet like Four Loko. Eventually, her interest was piqued enough to give Naturdays a go.
"Holy shit, this is amazing," she said, remarking about her first sip at Liquid. "I was just floored at how good it was because, again, I thought it would taste like shit, but it didn't."
It's the genuine surprise -- typically qualified with some sort of expletive ("holy shit!") -- that Natural Light made a decent beer that seems to be the most notable first impression about Naturdays. Granted, being surprised that a brand cleared the exceptionally low bar of creating a product that people want to consume isn't the deepest of critiques, but it's notable nonetheless, especially for a brand that is so often a post-collegiate punchline.
"We used to call St. Germaine a bartender's ketchup because you can put it in anything and it tasted good. Naturdays is similar."
Adding to the shock, the beer seems to have been trepidatiously accepted by the beer community. In contrast to Natty Light, Beer Advocate users give Naturdays a respectable 3.39 out of 5 score (i.e. it's "okay"), and the comments from the site's highly discerning and discriminating beer-geek community indicate that Naturdays is totally fine. To contextualize that rating, Naturdays is in the same ballpark as macro-brewer favorites like Blue Moon (3.41) and craft-brew darlings like Abita's Purple Haze (3.29). And it higher than the standard-bearer of shandies, Leinenkugel's Summer Shandy, which ranks at 3.18.
It's been described as juicebox for lushes. The first time you drink a Naturdays, it'll probably go something like this: The Capri Sun-like strawberry flavoring invades the nose once the can's tab pops, but the scent betrays the taste. It's fruity, extremely light, not overly sweet like a Leinenkugel, and goes down smoother than a regular Natty. Chalk that up to the fact that Natty Light is simply beer-flavored water, which makes it hard to swallow once the body realizes it's being deceived of an actual beer. With Naturdays, however, the flavoring provides a mask, and it's easy to understand how it's imminently crushable.
But it's also surprisingly versatile. From a more technical perspective, bar owner/operator Beau Sturm -- who's placed Naturdays on the beer list at his Newburyport, Massachusetts, bar, The Paddle Inn -- explained that Naturdays has a surprisingly deep utility, specifically as a mixer for beer cocktails.
"Naturdays has balance," Sturm said. "You got the citrusy-acidic component to it, it's super-light, and it's not as sweet as you'd expect it to be. When you're thinking about the building blocks of a cocktail, you want all these things to come in congruence with each other, and it's kind of already there. A long time ago we used to call St. Germaine a bartender's ketchup because you can put it in anything and it tasted good. Naturdays is similar."
Sturm mentions that since they added Naturdays to their menu, it's enjoyed relative popularity. That makes a certain amount of sense: given its coastal location, The Paddle Inn is known for its eclectic beverage menu, which emphasizes beers and drinks that patrons would want to drink on a beach. Sturm estimates that among the bar's most-sold drinks, Naturdays currently ranks in the middle of the pack -- a respectable position that puts it higher than revered light beers Victoria and Bohemia.
The popularity has been completely unexpected. Based off his barside observations, Sturm credits a lot of people's curiosity for getting them to try Naturdays.
"It's like when Zima came back last year," he said. "It's a weird fascination."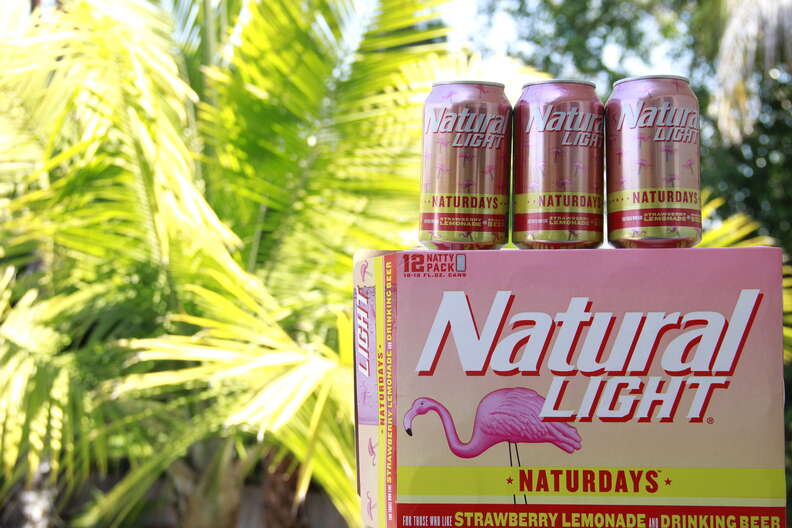 Of course, social media has played a role in stoking the fires of that collective curiosity. And how couldn't it: The can is an Instagramer's dream, a hallucinogenic, campy barrage of yellow and pink… plus flamingos. Even the name itself is social media-ready, as Blake admits fans first coined it on Internet platforms.
On Instagram, the hashtag #Naturdays had 8,400 posts featuring users posing with the eye-catching beer in plenty of different outdoor scenarios: like fishing, hanging near the pool or beach, and boozing outside. As it relates specifically to The Paddle Inn, a post from early June that advertises a limited-time cocktail-for-two drink still gets brought up in-person from inquiring patrons, even though it's no longer offered.
"That doesn't happen with our other Instagram posts," Sturm said. He added that one of their bartenders will make a margarita spin with the drink and they're in the process of adding a full-time beer cocktail that features Naturdays.
Kelly, who Tweets from his handle @ThatBoysGood, is partially responsible for marshaling the groundswell around Naturdays on Twitter. Befitting the nature of the platform and (fortunately or unfortunately) the make-up of its users, the Twitter conversation that Kelly and another Twitter user, @actioncookbook, have created is lively.
He conservatively estimates that his Naturday-related Tweets have generated 5,000 impressions -- but he feels even that figure is low-balling the impact of the conversation he's had in discussing the beer.
"For about a week straight, I couldn't Tweet about the things that I really wanted to talk about, which are sports, music, barbecue," he said. "I couldn't do that because all people wanted to talk about was, 'yo fam, Naturdays. Just got Nat-tized, cuz.' It's wild. It's become its own thing. I'm so happy that I got on the train at the beginning of it because I can just sit back and watch everyone else have fun with it."
I ask Kelly why he thinks that Naturdays plays so well on Twitter. I offer my theory -- that the platform rewards seemingly hot takes that support the beer by generating a polarity of responses from other users once partisans on either side share or interact with the take -- but Kelly says it's simpler than that.
"I think Naturday might be the best representation of what Twitter is," he said. "It's gotten people talking and not arguing, which is rare on Twitter. When was the last time on any subject you saw people on that fucking website say, 'It ain't for me but I'm really excited for you'? They don't do that. It's a throwback to when the Internet was fun. It's this stupid goddamn topic that no one should give a shit about, but it's so fun."
According to Goldfarb, that's kind of all that needs to be said about Naturdays. Best not to overthink things. Especially strawberry beer in a flamingo can.
"Once you start intellectualizing Naturdays I'm not sure that it's going to keep sounding good in your head," he said. "It's not a complex lambic with 50 different flavors going on. It's strawberry-lemonade beer. A Mountain Dew tastes good and a Naturday tastes good. We don't think too hard about why we enjoy it."
Sign up here for our daily Thrillist email, get Eatmail for more food coverage, and subscribe here for our YouTube channel to get your fix of the best in food/drink/fun.
Ryan Joseph is a freelance writer and Ohio native who thinks your Cincinnati chili hot take is trash.