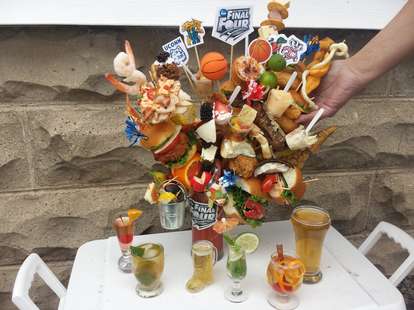 When we asked Sarah Jayne Pickart, the mastermind behind Wild & Crazy Gourmet Bloody Marys, to make our dream come true – a dream fueled by March Madness and the desire to see if she could make a Bloody bigger than the last one she made us – we were rewarded for our boozy aspirations with way more than we expected.
The Wisconsin native created four extravagant, beautiful dranks, each inspired by a Final Four team. And then she somehow combined them all into one glass, which should be impossible. Behold her creations:
THE BADGERS' BLOODY (WISCONSIN)
The Badger starts with a whole brat (obviously) – specifically, a "Green Bay Packers"-inspired jalapeño and cheddar wurst boiled in beer and grilled, then served on a bun with kraut, onions, and mustard. The other Racing Sausages (chorizo, polish sausage, Italian sausage, and a hot dog) were also placed on properly-sized buns and inserted. The tube meats were then joined by corn on the cob; a beer-battered perch sandwich (freshly caught on Lake Winnebago!) with tartar sauce, cheddar, and lettuce; deep-fried white cheddar cheese curds; a tiny bread bowl filled with venison chili; and bacon. That's it!… for the hot food.
Non-hot garnishments include fresh cheese curds; a mozzarella cheese whip; a meat-and-cheese skewer featuring pepper jack, cranberry white cheddar, super-aged sharp cheddar and crackers; a slew of pickled vegetables; a radish, a cucumber slice and other supper-club-esque fresh veggies; a Johnsonville garlic Summer sausage slice; a spicy venison stick; teriyaki beef jerky; a cup of German potato salad; a cup of coleslaw; and for dessert, a miniature ice cream cone featuring Lou's Butter Pecan Pie from Kelly's Country Creamery in Eden, WI.
To round everything out, there's an Old Fashioned shooter and a glass of New Glarus Spotted Cow (available only in Wisconsin), served on the side. This Bloody certainly wins its division.
THE GATORS' BLOODY (FLORIDA)
Open your mouth wide – this Bloody starts with a Cuban sandwich slider of pulled pork, ham, pepper jack cheese, pickles, and chipotle mayo on a toasty bun, which is not to be outdone by the other slider of pan-fried grouper, lettuce, capers, and tartar on a bun, or the other other slider featuring a crab cake, lettuce, tomato, pepper jack, bacon, avocado, red onion, and spicy remoulade sauce. Also on a bun. Fritters made of conch meat, peppers, onions, and celery were lovingly hand-rolled into small balls and deep-fried – a gator tail was also deep-fried, skewered, and stuck in. Fatty crab legs and a claw dangle properly on the side of the glass.
There is obviously more food in there, like a mini-slice of key lime pie with whipped cream, a skewer of key limes for aesthetic and state-pride reasons, hearts of palm (also known as swamp cabbage), and a tiny cup of mango salsa with some tortilla chip bits. Rounding things out are a spoonful of seafood ceviche, a hunk of fresh coconut on the shell, and jumbo shrimp. There's also a mojito, you know, if you get thirsty.
THE WILDCATS' BLOODY (KENTUCKY)
This concoction starts with the official-enough sandwich of the Kentucky Derby, a Hot Brown Slider -- an open-faced bun topped with turkey, bacon, Mornay sauce, pimentos, and tomato. Saddled up next to it is Kentucky Fried Chicken, a mini bread-bowl of Burgoo (a stew of beef, pork, mutton, and veggies), tea sandwiches slathered with Benedictine spread, a cup of cheese grits, and some miniature sweet potato pies dressed up with marshmallow-sauced sour cream and toasted maple pecans. Breathe, there is another paragraph of ingredients.
Cold fare includes a miniature "Derby Pie" slice with whipped cream and a fresh blackberry; a skewer of blackberries, sheep cheese, garlic-and-chive goat cheese; pickled okra and other preserved veggies; some strawberry rhubarb bread pudding; and likely more vegetables (we're sure they're in there somewhere).
A mint julep shooter of Kentucky bourbon, sugar, muddled mint, and cherry will help wash down the edibles, because it will take a while to find the Bloody Mary underneath them.
THE HUSKIES' BLOODY (CONNECTICUT)
This one starts with a tiny bread bowl of New England clam chowder, a pint-sized lobster roll featuring a gorgeous claw nestled on a bed of lettuce and drizzled in butter, and a classic hamburger slider. Then there is an Apizza -- a thin crust, flatbread-style pizza with white garlic sauce, cheese, and clams… and more clams, steamed on the shell. There's also a tiny bucket of clam bake, made of clams, other seafood, veggies, broth, corn on the cob, bacon, and toasted bread.
Don't forget about the piece of Election Cake – a fruitcake topped with whipped cream and nutmeg, a Subway sub (because they started there, fools), and to wash it all down, a tiny Manhattan.
And when you put these four together, you get this:
THE BLOODY STANDARD
Every Bloody Mary above, in addition to the ingredients noted, included the following: fresh celery, a cucumber slice, a carrot stick, lemon and lime wheels, a green onion, a cherry tomato, and a pickled goodness skewer. What's that you ask? It's a dill pickle, a black olive, a garlic-stuffed olive, a blue cheese-stuffed olive, an almond-stuffed olive, pickled garlic/brussels sprouts/peperoncini/cauliflower/ carrot/onion/celery/mushroom/corn/dilly bean/asparagus/green tomato. And a cherry pepper.
No one's walking away with a billion of Buffett's money, but any of these Bloodies are a damn good consolation prize for all us losers.