New Belgium's Tour de Fat Will Destroy Your Notions About Precious Beer Snobs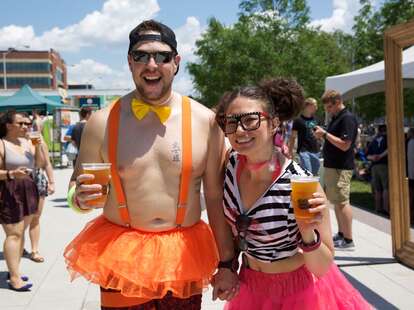 If you've ever attended a Tour de Fat -- New Belgium Brewing's touring carnival of beer, bikes, and wonderfully bizarre costumes -- you'll know that absolutely no one fits the much-maligned image of the craft beer lover as snooty fetishist with nothing going on in his life outside of his glass and his smug opinions about its contents. Granted, many of the people you meet at other beer festivals will soften that stereotype, but the Tour does more than that -- it takes preconceptions and drops them in a microwave with burritos and unicorns and disturbingly short man-shorts, then sets the timer to "All Day" until everything blows up into a big, beautiful, somehow compellingly coherent mess.
Covering 10 cities every summer, including this stop in Washington, DC, the Tour is more than just an opportunity to sip 4oz samplers and swap impressions of mouth feel. It's a celebration of a lifestyle that sees beer as a jumping off point to both uninhibited self-expression and planetary responsibility. It also has serious charitable chops: each host city's 200 to 400 local volunteers support also-local bike advocacy groups by pouring beer, pitching tents, hauling water, etc. Groups such as Black Women on Bikes, Fairfax Advocates for Better Cycling, Phoenix Bikes and Mid-Atlantic Off-Road Enthusiasts show up for for a myriad of reasons, from urban renewal, environmental concerns, and the need for safe routes and helmets, to the simple love of biking, teamwork, and... fun.
The money left behind after the trucks drive off is serious, however. DC's attendees raised $65,000 -- up 20% from last year -- taking New Belgium closer to its national target of $750,000, on top of $3.7 million raised since its inception 15 years ago.
Just because you are serious doesn't mean you have to look it, as evidenced by the crowd's insane get-ups, a "no wrong answers" assemblage including Mega Man, a geographically appropriate Barack Obama (complete with a full Secret Service detail), and some of New Belgium's own employees dressed alike as interstellar Tin Men (the brewery started canning in 2008, and this probably has… nothing to do with that).
The Tour's only means of conveyance, the bicycle, takes center stage during the opening event -- an hour-long ride through the city that's surprisingly convivial despite the course being packed with hundreds of crazy people. This all aligns with the brewery's origin story -- born in the mind of cofounder Jeff Lebesch back in 1989 as the then-electrical engineer cruised through Belgium on a fat-tired bike. But the reason it's as much a bike-fest as a beer-fest is less self-referential: New Belgium earnestly believes two wheels will save the world. Lebesch first committed this vision to paper while on a hike into Rocky Mountain National Park, and enshrined it into the company's ethos by giving away "man's greatest invention" to every employee after a year spent at the brewery.
The perfect embodiment of the bikes-and-beer philosophy is the day's main event, the Slow Ride. Named for the 8-hop session IPA, the "anti-race" flips the whole winners/losers paradigm by crowning the rider who makes it to the finish line last. Slow down, enjoy the moment, and quit being in such a damn rush all the time -- it's actually harder than you'd expect, what with a near-total lack of momentum's tendency to topple you over. (Lest you think New Belgium are the sort of new agers who frown on trying hard at sports, think again: they hold a weekly charity BMX Short Track and Cyclocross series behind the brewery's methane bubbles.)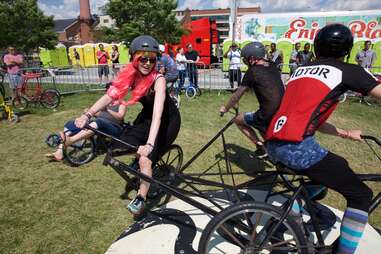 Over at the bicycle pit, serious self-propelling gearheads have engineered their contraptions beyond recognition. All are technically rideable, if you can figure out how. There's a handlebar-free, side-by-side tandem, a bike with shoes in place of tires (the guy currently riding it has "this is really happening!" written all over his totally stoked face), three bikes joined together in a carousel-like wonder, and some other alleged bikes about the riding of which you can only say hell no. Still, the vehicles' wild inventiveness reinforces the mantra of the costumes: just because we're all working towards a better world, doesn't mean we can't all remain unique, and possibly even a bit terrifying.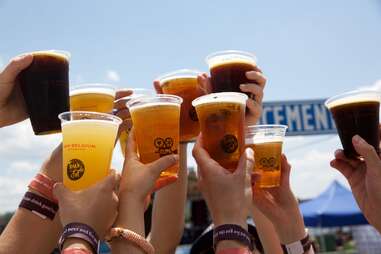 Of course, there's also beer. Eleven different styles, freshly and ceremoniously tapped. They're as inclusive as the event itself, from the foundational Fat Tire, to Transatlantique Kriek (a lambic collab with Belgium's Old Beersel), to Cocoa Mole spiced chocolate porter, to Skinny Dip -- a "full-bodied, figure-friendly tribute to the lightly attired summer months." Like many New Belgium projects, this one also has a charitable angle: to celebrate its release, they're donating $1 to Waterkeeper Alliance for every tweet hashtagged #WaterkeeperDip (up to $10,000 -- so get to tweeting).
Later in the day, at the main circus tent AKA Le Tigre, there's a fashion show where oddness is rightfully paraded as hotness. Then there's a 1,000-person dance contest, with participation non-negotiable unless you hate fun and can listen to "Push It" while remaining still. While New Belgium's MCs considered everyone beautiful and talented, they selected just three for an on-stage dance-off. The clear winner -- who moved like Usher on some substance that won't be invented until 200 years in the future -- is determined by applause that is only slightly-more-deafening than what the others received. Naturally he goes home with a free bike, and most likely a lot of phone numbers.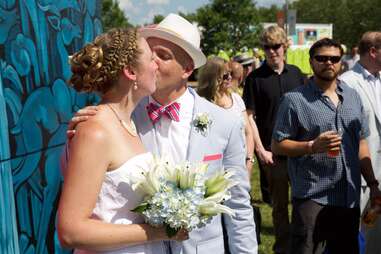 For those willing to make more than a weekend commitment, the Car for Bike Trade ceremony provided a very public forum. Many pledge to abandon their car for an entire year (and most of them extend past a year, privately and of their own accord), but only one is selected to take the stage for a very public swearing off in return for, you guessed it, a bike. The lucky woman in this case wasn't merely prepared for a green commitment; she showed up wearing white -- that is, a wedding dress -- and emerged from the tent married to a man who'll have to get used to riding around on two wheels.
The day's nuptials were followed by a puppet show, which opened with a tiny Tina Turner's impassioned performance of "What's Love Got to Do With It." Whether it's beer, bikes, or other human beings, today's answer was clearly "a lot."