15 Reasons to Hit Tour de Fat, New Belgium's Insane Traveling Carnival
Courtesy of New Belgium Brewing Co.
Tour de Fat, New Belgium Brewing Company's celebration of bikes, beer, and bemusement, kicked off in DC on May 21st. The beloved, heavily bearded Colorado brewery's roving carnival of crazy outfits and bon vivants will roll through the nation until October 1st in a coming together of hardcore cyclists, occasional dabblers, and… costuming magnificence. Here's why should you join them.
Courtesy of New Belgium Brewing Co.
1. It's a celebration of one of the greatest inventions of all time. No, not beer (though that features heavily)… THE BIKE
Tour de Fat began in Fort Collins, Colorado with the stated aim of increasing awareness and participation in cycling as a sustainable form of transportation. Each Tour de Fat weekend raises money for bicycle advocacy, so there's no better reason to don clown pants and ride a bike -- short of being an actual clown. And if so, you should totally come!
Courtesy of New Belgium Brewing Co.
2. Back to that other great invention, BEER
New Belgium will serve up Fat Tire, Ranger, Citradelic, Heavy Melon, and Blue Paddle on tap at main beer stations; Fat Tire, Citradelic, Shift, and Slow Ride at can stations and mobile carts; and La Folie, Hof Ten Doormal, Botanical Imperial IPA, and Carnie Blood on tap at the Lips Lounge. After all, cycling is thirsty work.

3. What goes with beer? Food
Cycling is also hungry work, but fear not, as local food will be on hand to power your pedals.
Courtesy of New Belgium Brewing Co.
4. You can dress up as the real you
Dig deep and find your alter ego -- you know it's more fun at parties than you are. And why limit your costume inspiration to one when riders have included Boy George Washington, Dumbledora the Explora, and Kenny G Gordon Liddy? If you can somehow combine all of those in one getup… we salute you.

5. There's one near you
This year's Tour de Fat treads more ground than ever. If you missed DC, join in the madness at Durham, Chicago, Boise, Fort Collins, Denver, San Francisco, San Diego, or Tempe. Really, it couldn't be easier if New Belgium pedaled for you.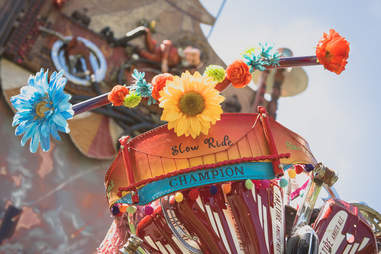 Courtesy of New Belgium Brewing Co.
6. The Slow Ride
The inspiration and namesake of the Slow Ride IPA, this Tour de Fat tradition challenges attendees to be the slowest rider by elimination. What's more ridiculous than actively trying to lose a bike race? Doing so to slow-themed musical covers played by a live band. Slow down and smell the roses/beer.
Courtesy of New Belgium Brewing Co.
7. You could trade your gas-guzzler for a bike
Pre-apply to the car-for-bike swapper series and join the hardy souls who have pledged to downsize from four wheels to two for a year. Parking tickets are so 2015. Plus if you got in a car in a Tour de Fat-worthy outfit, you'd get pulled over stat, for driving while insane.
Courtesy of New Belgium Brewing Co.
8. There's music
Among Tour de Fat's musical alumni are comedian and musician Reggie Watts, funk and soul outfit Black Joe Lewis, indie folksters Blind Pilot, and every genre in between.
Courtesy of New Belgium Brewing Co.
9. And carnies!
Ease that saddle soreness with some off-bike entertainment, in the form of Tour de Fat's touring cast of comedians, performers, and musicians, like Las Vegas-meets-Paris comedy troupe Honeymoon Cabaret, not-scary clowns The?Unicorn?Hour?, and world Yo-Yo champion John Higby.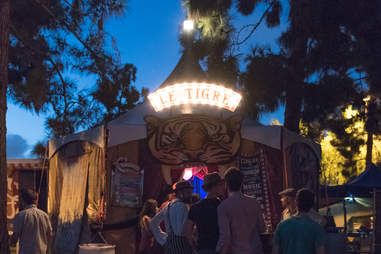 Courtesy of New Belgium Brewing Co.
10. There's a tiny tent of awesomeness
No Tour de Fat experience is complete without a peek inside the Le Tigre Tent, a 52-seat vaudeville circus packed cloth wall-to-cloth wall with cabaret, comedy, burlesque, and magic. Past years have featured Missy Elliott-style ventriloquism and a drunk, but-not-real-so-calm-down elephant, so expect… some combination of the aforementioned? It's always possible.
Courtesy of New Belgium Brewing Co. 
11. And games
Sure, you've played Jenga and Connect 4, but have you played gigantic versions? Also check out the Bike Rodeo Corral, featuring bikes that go backwards, swivel, run on shoes, and other "Whaaat?" designs.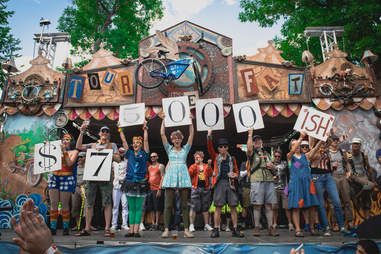 Courtesy of New Belgium Brewing Co.
12. The hilarity's for charity
Together with local partners, Tour de Fat has raised $4,369,237.00 to advance cycling, with proceeds remaining in the host city where they were raised. Last year, that meant $65,234 for DC, bringing the city's four year total to $175,000. Check the website for your local list of non-profit partners and ride with pride.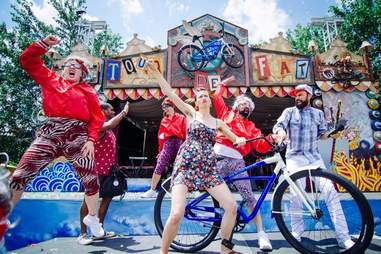 Courtesy of New Belgium Brewing Co.
13. Come home with a new bike
Enter The Bike Is Right! Game Show and you may just win yourself a shiny new 2016 New Belgium bike. As for how you're going to get it home, plus the one you rode in on... if you can't make new friends at Tour De Fat, the rest of the year must be really lonely.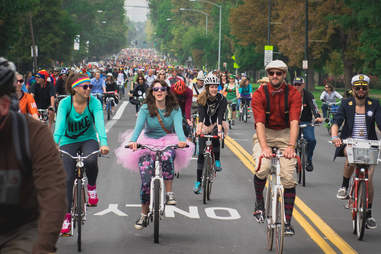 Courtesy of New Belgium Brewing Co.
14. The cost of parade admission? Nada.
While the morning bike parade is free, there is a suggested $15 donation (come on, that's almost free), to benefit local cycling advocates. Also, registering online prior can you get sweet swag like license plates and bells… lest your costume/wig/fake nose combo appear too minimalist.
Courtesy of New Belgium Brewing Co.
15. Everybody's going (almost)
Last year, Tour de Fat attendance was 9,000 in DC and 112,000 event-wide -- and we're sure those people told at least a couple of others, Don't be the guy who missed out on all of the above.
Enjoy New Belgium responsibly.