7 Drinks That Will Change the Way You Consume Coffee Forever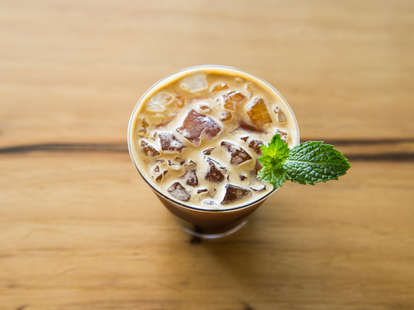 When Starbucks rolled out the Flat White earlier this year, it proved that a simple tilt of milk ratios can send the coffee-drinking public spiraling into a highly caffeinated fervor. The successful experiment shows that coffee consumers are ready for new options, a fresh breed of which are popping up at independent coffee shops everywhere. Here are the drinks that could change the way you start your morning.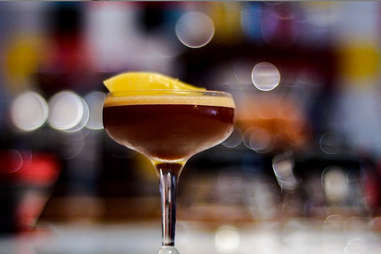 Espresso Old Fashioned
Everyman Espresso (address and info)
New York City
Everyman takes pride in pushing the envelope with its menu, from trailblazing a cascara coffee bean soda to a new summer addition of an espresso Old Fashioned using simple syrup and pimento bitters. It's not hard to imagine this taking off thanks to the rising tide of craft-cocktail culture and lack of evening caffeine options that don't taste like liquid Sweet Tarts.
Coffee Julep
Houndstooth Coffee (address and info)
Austin, TX
Houndstooth has blessed Texas with its roasting imprint Tweed, but also with this summer concoction that tops off a shot of espresso with sparkling water, ice, and a sprig of fresh mint garnish. The mint serves as a refreshing element, but also keeps you from chugging this in one gulp. Given the popularity of peppermint drinks during the winter months, a summer mint option seems like a sure shot.
Draft lattes
La Colombe (address and info)
Philadelphia, PA
La Colombe's incredibly potent bottled cold brew is the stuff of legend, but the Philly-based roaster with outposts in New York, DC, and Chicago is breaking new ground with a nitro draft latte that sips like a milkshake, but kicks like a coffee. The innovation would require big chains like Starbucks to install a tap system, so it might not be in the immediate future, but with the trend of integrated coffee and beer establishments, it's not too far-fetched to see it sneaking into one of the siren's secret stealth stores.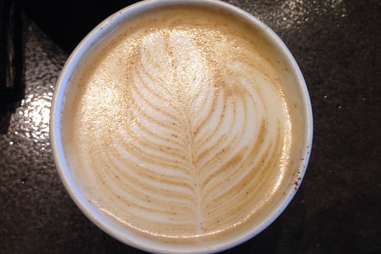 Cafe miel
Madcap Coffee (address and info)
Grand Rapids, MI
Seldom seen on American menus, the cafe miel is an espresso drink similar to a latte, but with added cinnamon and honey, which Madcap procures from the local Michigan Bee Company. Going hyper-local with honey sourcing might trip up chains, but it could also give the shops an opportunity to earn more much-needed local cred.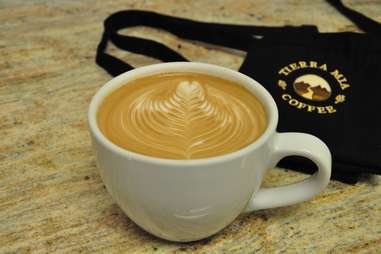 Horchata Latte
Tierra Mia Coffee (address and info)
Los Angeles, CA
Tierra Mia's reach has expanded to 10 stores in the LA and Bay areas thanks to meticulous roasting of Latin-American beans, but also cross-cultural takes on traditional coffee drinks. If you dig around for secret Starbucks orders online you'll already find a hack for this, so it's only a matter of time before this makes it onto the official menu.
Canned nitro cold brew
Cuvee Coffee (address and info)
Austin, TX
Cuvee's been supercharging kegs of cold brew for years now, but the newest innovation preserves that foamy head via nitro cans. It's an innovation taken straight from the pages of the craft beer world, and one that could easily be adapted by bigger coffee companies to take their cold drinks to the next level.
Kaffe Tonic
Saint Frank Coffee (address and info)
San Francisco, CA
Although they don't seem like a natural fit, the acidity and bitterness of tonic water pairs beautifully with espresso in the Kaffe Tonic, which features Fever Tree topped off with a fresh shot that has a foamy head thanks to the marriage of crema and carbonation. It's not the most complicated of drinks, but sometimes innovation and simplicity go together like coffee and cream.
Dan Gentile is a staff writer on Thrillist's national food and drink team. He will not hesitate to turn almost any beverage into a julep. Follow him to minty tweets at @Dannosphere.