6 new holiday cocktails you need to drink right now
Jonathan Boncek/Thrillist
Anyone who thinks winter is pumpkin-spiced latte season is probably reading this on their way to an outlet mall. For the rest of us, winter is the season for soul-warming holiday cocktails -- glasses of nutty cheerfulness to be enjoyed with friends, family, and yourself once friends and family leave and you finally get to put on your footies. Because we know you're super-into delighting party guests with tasty beverages they've never tried before, Thrillist and Disaronno tapped six bartenders from all across our great land and asked them to come up with fresh takes on seasonal drinks. From New York to Portland, here's what they came back with.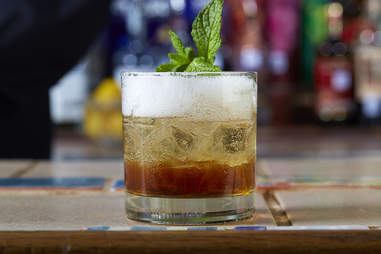 <a href="http://www.kevinmarple.com/" rel="nofollow" target="_blank">Kevin Marple</a>/Thrillist
Southern Exposure
Mike Scheel, The Amsterdam Bar (Dallas)
Because juleps are legally only permitted to be consumed on front porches, Scheel devised a winter companion that'd feel right at home in front of a fireplace, though the champagne suggests you're not just sitting in an easy chair, but rather mingling at a holiday party filled with southern belles and dudes in whatever kinds of suits they wear when seersucker goes out of season.
Kevin Marple/Thrillist
Ingredients
1.5 oz Disaronno
2 oz simple syrup
2 leaves of mint
3 oz champagne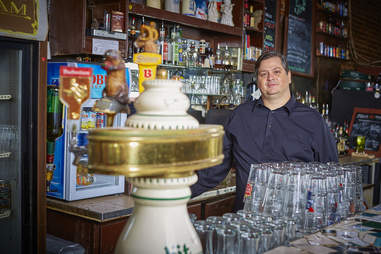 Kevin Marple/Thrillist
Instructions
"Muddle the first three, ice it up and pour the bubbly."
Anthony Humphreys/Thrillist
Slow Your Roll
Pamela Wiznitzer, President, United States Bartenders' Guild New York Chapter
When winter hits nobody ever tells you to "fast your roll", partly because it's a silly thing to say, but also because this really is the season for kicking back. "The nuttiness of the Disaronno is perfect this time of year," says Wiznitzer. "Using that as the base, I added the bourbon because of its wheatiness and vanilla tones, honey and orgeat to amplify the Disaronno, and Amaro Montenegro to enhance and round out the cocktail with some caramel and bitterness." The citrus was added to make the drink pop, because while you want your roll to slow, you don't want it to come to a complete stop.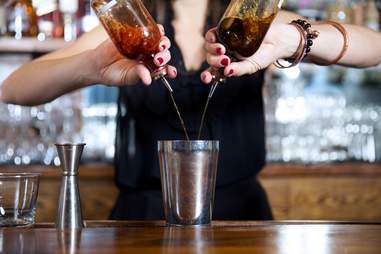 Anthony Humphreys/Thrillist
Ingredients
.75 oz Disaronno
1.25 oz bourbon
.5 oz Amaro Montenegro
.75 oz lemon juice
.5 oz honey/orgeat syrup
3 dashes pimento bitters
3 dashes Angostura
Anthony Humphreys/Thrillist
Instructions
Shake and strain into a lowball filled with ice. Garnish with a lemon wheel.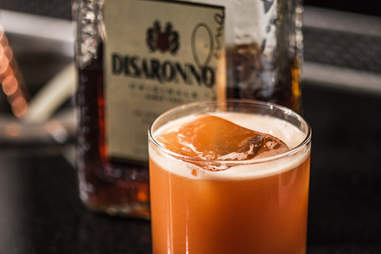 <a href="http://www.anthonytahlier.com/" rel="nofollow" target="_blank">Anthony Tahlier</a>/Thrillist
The Gracious Widow
Benjamin Schiller, The Berkshire Room (Chicago)
Schiller named the drink after Disaronno's origin story: in the early 1500s, a painter became enchanted with a young widow in the village of Saronno. She graciously allowed him to paint her, then graciously created the liqueur to thank him for doing the very thing she graciously allowed. As for the recipe: "To increase the alcohol, while maintaining  the rich caramel flavor, I used a Guyanan rum that is a universal crowd pleaser. Demerara syrup was used to preserve the viscosity, and fresh lemon juice is used to balance the cocktail with bright acidity. Grapefruit swathes, orange bitters, and potable bitters (either Aperol, Amer Picon, Amer Bigallet, or Luxardo Aperitivo) are used to both mirror the stone fruit notes with other fruit notes, as well as to provide a small touch of bitterness that will give this sour format cocktail some body."
Anthony Tahlier/Thrillist
Ingredients
1.5 oz Disaronno
.5 oz Dark Rum
1 oz Lemon Juice
.25 oz Demerara Sugar
.25 oz Potable Bitters
2 Grapefruit swathes
1 dash Orange Bitters
Anthony Tahlier/Thrillist
Instructions
Add all except grapefruit swath garnish to a cocktail shaker filled with ice. Shake for 10 to 15 seconds and strain into rocks glass with a large piece of carving ice.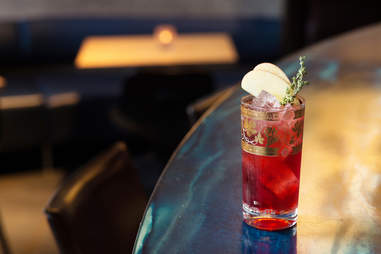 <a href="http://www.dinaavila.com/" rel="nofollow" target="_blank">Dina Avila</a>/Thrillist
Linus and Lucy
Tyler Stevens, Teardrop Cocktail Lounge (Portland)
"When I was a kid, my Mom always made the most delicious apple cider during the holidays," explains Stevens of his Charlie Brown Christmas-evoking cocktail. "She would add a little amaretto, cinnamon, and cranberries for some extra holiday flavor -- I suppose this would be my grown-up version. Also, I think thyme has such an awesome flavor affinity with apple. I threw just a few sprigs on top to lend a distinguished, spicy, floral aroma to the drink." [Editor's Note: as regards the drink name, let us also not forget that nothing says "'tis the seaon" like jaunty jazz piano.]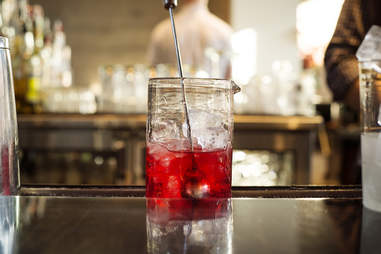 Dina Avila/Thrillist
Ingredients
1 oz Disaronno Amaretto
1 oz bonded apple brandy
.5 oz cranberry juice
.25 oz cinnamon syrup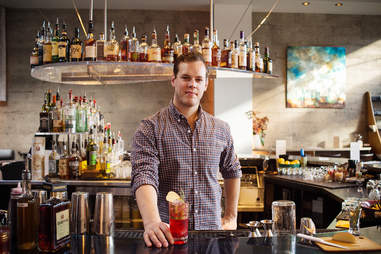 Dina Avila/Thrillist
Instructions
Stir all ingredients with ice and strain over fresh ice into a Collins glass. Top it off with with 2 oz hard apple cider (sparkling). Garnish with a few sprigs of fresh thyme.
<a href="http://chrisgranger.com" rel="nofollow" target="_blank">Chris Granger</a>/Thrillist
Belle de Jour
Kimberly Patton-Bragg, The Three Muses (New Orleans)
Okay, you're about to learn something: "I decided to do this cocktail for Réveillon on the Rocks, due to its rich, red, holiday color and decadent ingredients," says KPB. And what exactly is Réveillon? "Réveillon was a Christmas Eve feast held after a day of fasting. In New Orleans we've continued the European tradition (however, we're not too good at the fasting part). What can be more celebratory than cognac, amaro, champagne and Disaronno, all sealed with a kiss?"
Chris Granger/Thrillist
Ingredients
.5oz Disaronno
1.5 oz Cognac
.75 oz Hum Liqueur
2 dashes orange bitters
champagne!
Chris Granger/Thrillist
Instructions
Stir all ingredients sans champagne and strain into coupe glass. Top with champagne and a lemon twist carved into a pair of lips. (That part is essential -- this is New Orleans.)
<a href="http://www.boncekimages.com/" rel="nofollow" target="_blank">Jonathan Boncek</a>/Thrillist
The Tipple Dog Dare
Michael Fitzgerald, Crave Kitchen and Cocktails (Charleston)
Fitzgerald "culled the memory banks" for a solid Christmas Story reference to name a drink that "brings together the flavors of a classic (well, my mom's) cranberry relish recipe in the form of a shrub, and also introduces a few other flavors that come to mind when I think about the holidays: fruits and herbs that thankfully play very nicely with the almond and apricot flavors of Amaretto." This one's pretty complicated, but if you've got the inclination, go for it -- even if you botch it, you probably won't shoot your eye out.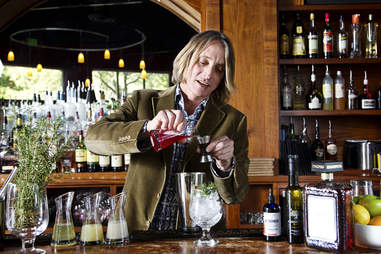 Jonathan Boncek/Thrillist
Cocktail Ingredients
2 oz Disaronno
1.5oz Cranberry Shrub*
2 oz Almond Milk (unsweetened)
1 oz Lemon Juice
1 oz Egg white
.5 oz Blood orange Olive oil
8 drops Bitterman's Elemakule Tiki Bitters (Falernum bitters)

Cocktail Instructions
Dry shake together (i.e. sans ice) first, and then again with ice.
Jonathan Boncek/Thrillist
Cranberry Relish Ingredients
48 oz fresh cranberry
Zest of 10 oranges
3 tablespoons ground corriander
4 cups of sugar

Cranberry Relish Instructions
Grind in a ninja or meat grinder (or whatever you have; even a blender will work)
Jonathan Boncek/Thrillist
Shrub Ingredients (to be added to relish)
400ml Pomegranate/ quince white balsamic (regular Pomegranate vinegar will suffice)
400ml champagne vinegar
Leaves from 12 sprigs of rosemary

Shrub Instructions
Allow the cranberry relish to macerate for a couple of days and then add your vinegars. Allow to macerate a few days more -- maturation will all but vanquish the vinegar notes and leave you with a bright, fruity flavor profile that's high in acidity -- and then strain off.