14 Occasions You Haven't Been Bringing Wine to, But Absolutely Should
Fact: What activity isn't made better when someone swings by with a nice bottle of something? And why is wine the smart choice? Because it's refined, tasteful, and you'll get way fewer stern looks in your next job interview. Yes, we said job interview -- read on to find out just what the heck we're talking about.
1. Poker Night
Why: The clear tops of wine glasses will make it way easier to spy on all your friends' tells. And their cards. And someone is way more likely to take a bottle of wine in lieu of a tallboy if you run out of cash.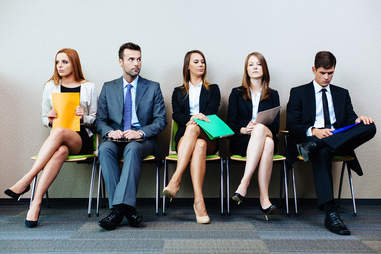 baranq/shutterstock
2. Post Job Interview
Why: Drink for the job you want, not the job you have. Celebrate what's sure to be an offer by uncorking something legitimately celebratory.
 
3. When Your Buddy Gets Dumped
Why: Your first inclination might be to bring something much harder, but the point of enduring a breakup is maturation and coming out smarter and wiser on the other side. There's no better symbol of this process than a bottle of red.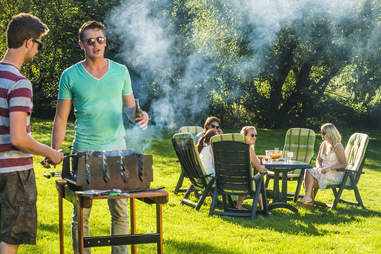 Corepics VOF/shutterstock
4. Backyard BBQ
Why: Red meat = red wine. No brainer.
 
5. Building Weird Nordic Furniture
Why: As opposed to a beer, because you're going to be way more mindful of that wine glass you left in the middle of 37 pieces of oddly shaped particle board, and way less likely to spill it all over those incredibly helpful instructions that include no words.
Dragon Images/shutterstock
6. Giving a Business Presentation
Why: Because office culture is loosening up and bringing in post-presentation beverages is starting to become a thing. Show clients that your utterly sick power point is complemented with an equally sick after-meeting vintage. That's a bold power move.  
7. Tailgating
Why: Light beer will turn this awesome weekend party into a bloated nap-fest punctuated by too-frequent trips to portable relief areas. But a few decent bottles of vino should keep you and your crew enthusiastic until the 4th quarter. Even if your team is terrible!
Advertisement
This Wine Goes With… Everything
A swathe of different occasions like these require a versatile vino. That's where Carnivor Cabernet comes in. This robust red goes with any event you throw at it, because the flavor is bold enough and the finish smooth enough to complement even the most outlandish of plans -- whether you're nailing that presentation or sending the best man out in style.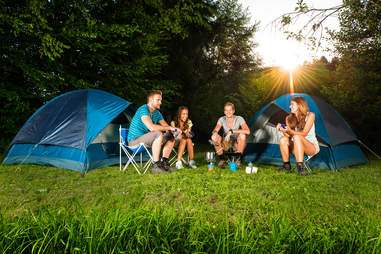 Corepics VOF/shutterstock
8. Camping
Why: Six-packs take up room in the rucksack better reserved for things that, you know, can keep you alive in the wilderness. Wine conserves space and you can brighten up whatever fresh-caught dish you're trying to cook on an open flame.
 
9. A Friend's Terrible Artistic Performance
Why: Show your pal that his terrible slam poetry is actually artful by bringing an artfully crafted cabernet.
Suzanne Tucker/shutterstock
10. Bachelor Party
Why: Tell the groom that this very grown-up step means graduating to a more adult beverage. Then go someplace called "Silver Spurs" and wreck all the progress you've just made as human beings.
11. Laundry Day
Why: What better way to celebrate newly cleaned white sheets? Live dangerously.
 
Alexander Lukatskiy/shutterstock
12. Fishing
Why: The angler's liquid of choice is beer, which is why you may be more used to catching tall tales. Maybe with a little wine you may finally be able to outsmart a creature dozens of rows below us on the evolutionary ladder.
 
13. Happy Hour
Why: Because double-fisting gin & sodas is a rookie move. You just got off work, loosen up and settle down with something refined. There's no rush (pro tip: happy hour is a lot longer than one hour, you know).
 
14. Cocktail Parties
Why: Because wine cocktails are real and really delicious.