Starbucks' Newest Drink Combines Hot Cocoa and Your Favorite Cookie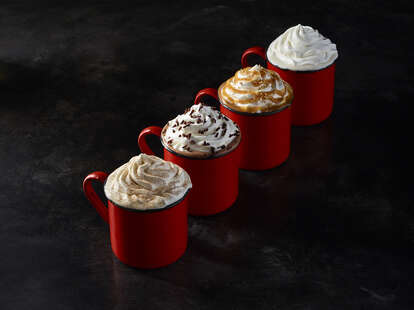 OK, look -- normally, I do prefer my cookies in solid form. I know this because I blended 300 Oreos for dinner last night and it was just a dusty clusterfuck. However, this brand-freaking-new snickerdoodle hot cocoa from Starbucks might just change my mind.
According to a press release, this piping-hot drink is made with "steamed milk, white chocolate sauce and cinnamon dolce syrup, topped with whipped cream and a dusting of cinnamon sugar." The cocoa tries its best to mimic the taste of a snickerdoodle -- which you may remember as the upgraded sugar cookie (which is coated with cinnamon sugar) from your grandma's cookie jar.
It joins Starbucks' roster of speciality cocoa, like its salted caramel and white chocolate hot cocoa. And it isn't the first time it's tried bringing dessert flavors to its beverage -- remember the S'mores Frappuccino? Or the over-the-top tiramisu latte? Or the (potentially healthy) gingerbread latte? But frankly, it will probably -- and hopefully -- surpass them all.
The hot cocoa is available at Starbucks nationwide starting December 2nd.
Sign up here for our daily Thrillist email, and get your fix of the best in food/drink/fun.
Wil Fulton is a staff writer for Thrillist. He actually blames Gwyneth Paltrow for most of the world's problems. Follow him @wilfulton.