New Year's Resolutions for Serious Beer Drinkers
Daisy Barringer/Thrillist
As we say goodbye to 2015 (suck it, year!) and hello to 2016, everybody starts making resolutions, and most of them involve cutting back on things we love. Well, we at Thrillist love beer. And we're not cutting back, dammit. We're going to resolve to drink more of it. You can too. But we are resolving to broaden our horizons, see more of the world, and try new things. These are our New Year's resolutions for serious beer drinkers. One for each month of 2016. Drink up.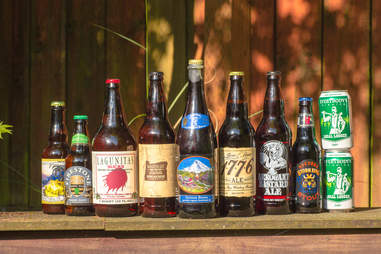 Andy Kryza/Thrillist
Make a "to-drink" list for the year
Schmucks like us aren't the only ones who should be making lists of essential beers to drink. Make your own checklist of beers you've always wanted to try (or use ours if you're lazy), then quest for them.
 
Drink a beer style you think you hate
If you hate gose, it's time to drink it. That's because it's likely not the style you claim to hate, it's the execution of that style. For example: if we gave this guy who hates IPAs a sip of a well-balanced beer and didn't tell him it was an IPA, he might have a difficult time even recognizing what he was drinking. And he might like it. Deciding you don't like a style is a great way to shut yourself off from potentially delicious drinking experiences.
 
Meet your favorite brewer
Go to the brewery and shake hands with the person who makes your life better and your belly bigger. He should be pretty easy to find: he's almost certainly a bearded white dude.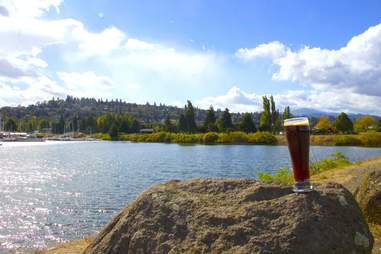 Andy Kryza/Thrillist
Take a beer trip
There are tons and tons of destination breweries out there, giving you a perfect excuse to go all Clark Griswold and pay a visit to the folks who make your favorite beer. You can also find breweries en route to discover. Just, you know, get a hotel in the towns you visit.
 
Convert a naysayer
Everybody has friends who claim to hate beer, or at least refuse to drink anything not sold in tallboy form. Without being obnoxious, get them to try a gateway beer and see if you can get them to see the light. But not the light beer. Because that's what he's currently drinking.
 
Become an expert at food pairings
There's nothing wrong with cracking a beer open on a Friday night and hoping someone texts you so you don't have to stay home alone playing Just Cause 3 again. But you can make beer taste better by pairing it with food -- it heightens the taste of the food and beer. As a side note, crying in your beer makes it taste salty. The Brewers Association has a handy chart with some suggested pairings to get you started.
Revisit your first love
If Adele taught us anything this year, it's that sometimes it feels good to reach out from the other side and touch base with your first love (that's mine above). Find the first beer that really knocked your socks off and have a fling with it. Unless it's Red Dog. RIP, Dog.
 
Drink a beer from each state
Preferably the best beer from each state, but we won't ding you if you can't find a super-small nanobrewery in a beer shop way the hell out in Alaska.
 
Visit one new brewery a month
Looking at how many new breweries are opening up every year, it shouldn't be that difficult to find a new place to get a beer. Think about how much new beer you can excite your bored palate with if you get a flight of four beers at 12 breweries a year. That's a lot of beers you probably never would drink unless you visited those taprooms.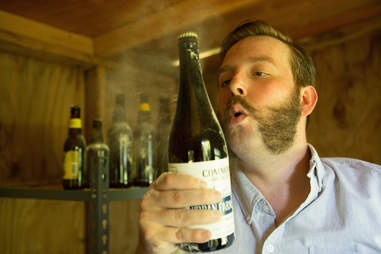 Dan Morris/Thrillist
Decrease your snobbiness
It's totally cool that you have a magazine rack full of beer books that you keep in your perfectly temped cellar, but if you're a total beer snob who's no longer truly enjoying himself, maybe do some soul searching -- preferably outside the cellar -- and rediscover why you fell in love to begin with. Your friends will thank you.
 
Try homebrewing
A great way to learn about beer is to make it. And the best part is that you get to drink it in the end. Sure, it's a pain in the ass, and it's definitely easier to spend $12 for a six-pack of craft beer at the store than to follow the 24 steps it takes to make a beer. But then you can't brag to your friends that you're a homebrewer. And you'll learn way more about the beer you drink from brewing it than by throwing a sixer in your trunk.
 
Save a beer for a full year
We're not saying to start a cellar. If that's your thing, by all means, go ahead. But regardless, purchase one beer that's good for bottle conditioning -- maybe a barley wine, perhaps, but never an IPA -- and just... wait. For some of us -- and Tom Petty -- it's the hardest part. But you'll be happy you did it when you find a beer you love has pulled a Kafka.
Sign up here for our daily Thrillist email, and get your fix of the best in food/drink/fun.
Thrillist senior writer Lee Breslouer took a break from playing Just Cause 3 to contribute to this list.
Andy Kryza is a senior editor at Thrillist who can't keep a single beer in his fridge for more than 15 minutes. But he's gonna try! Follow him to Tom Petty rock blocks: @apkryza.