The Perfect Beer for Every NFL Playoff Team
Shutterstock/Jennifer Bui/Thrillist
There is no greater pairing than beer and football. It's a fantastic combination, like peanut butter and jelly, or Seattle Seahawks quarterbacks and abstaining from pre-marital sex.
But we digress -- this is all about pairing playoff teams and a beer from their city. And while the beers we've chosen are brewed in the same city (or suburbs) of your team, it's not necessarily the best beer in that city. It is, however, a beer that reflects the team's playoff prospects, or their fan base, or the fact that Russell Wilson is a virgin. Sorry, it still doesn't make sense no matter how many times we type it.
(Editor's Note: The National Football League and the teams mentioned here are in no way affiliated with any of the beer brands mentioned, and were not involved in the creation of this article. We did not receive express written consent for any of this.)
Arizona Cardinals
Their beer: North Mountain Brewing CardinAle Red
Since this story is all about choosing unofficial beers for teams, how could we not choose a 5.5% ABV "hoppy red" that North Mountain already named "the Officially Unaffiliated Beer of the Arizona Cardinals." It's like they're doing our job for us! Thanks, guys. And how grateful must the Cardinals be that the earliest they'd have to play the Seahawks is the conference championship? The answer: as grateful as Larry Fitzgerald is that getting an education at the University of Phoenix provides him with the flexibility to finish his college degree online. The money they pay him to say that is probably nice too.
 
Carolina Panthers
Their beer: Free Range Brewing Cream of the Crop
Yes, this vaunted defense gave up 35 to the Giants and 38 to the Saints in November. And they lost to the below-average Falcons a few weeks back. But other than the hiccup to the Dirty Birds, the Panthers have done nothing but find ways to win games all season, and Cam Newton has all but wrapped up the MVP vote. The Panthers are clearly the NFC's cream of the crop, and the Microsoft Starbuckians seem to be the only team in the conference capable of standing in their way.
<a href="http://bit.ly/1kPvNlo" target="_blank">Wikimedia</a>/<a href="http://on.fb.me/1MVTxe6" target="_blank">Triple Digit Brewing</a>
Cincinnati Bengals
Their beer: Triple Digit Brewing Co. Aftermath
Bengals QB Andy Dalton broke his thumb on the Dec. 13th game against the Steelers. They lost. The aftermath of that huge injury has had such an effect on the team's prospects that the fact that his cast came off this week is a huge source of optimism for Bengals fans, even though whether or not he plays is uncertain. With Dalton, you'd expect the Bengals to go deep into the playoffs. Without him... did we mention Aftermath is a 10.5% Scottish-style ale? You'll need every bit of that high ABV to erase the last four years of Wild Card losses. And maybe a fifth on Saturday.
 
Denver Broncos
Their beer: Little Machine Beer Sandwich Winter Lager
In honor of Manning serenading America to "chicken parm you taste so good" again and again this year, we present a 6.2% ABV winter brew that's made so close to Sports Authority Field at Mile High that Peyton could sneak out during halftime for a beer and still be back for the second half kickoff. And it's a surprise that he's even part of the Broncos postseason hopes at all, considering no one thought he'd be a part of the game plan prior to the team's season finale. But there he is, and he'll likely remain the QB for the postseason, however long that ends up being. Poor Brock.
 
Green Bay Packers
Their beer: Stillmank Brewing Co. Tailgater
Seemingly every craft brewery in Green Bay makes a beer dedicated to the Pack, and this English blonde ale is no different. What is different about this year is that the Packers tailgaters got to see the team go 5-3 at home. That explains all the booing. Looks like they won't miss home field "advantage" in the playoffs by going on the road to face Washington and the suddenly hot scream-machine Kirk Cousins. Feels like a one-and-done year for the Pack. We'll always have those Discount Double Check commercials.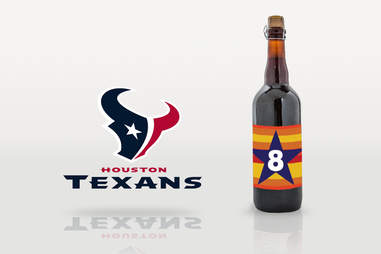 <a href="http://bit.ly/1hUU0Wq" target="_blank">Wikimedia</a>/<a href="http://bit.ly/1ivi0jt" target="_blank">Wikimedia</a>/Shutterstock/<a href="http://on.fb.me/1KCRbq0" target="_blank">8th Wonder Brewery</a>
Houston Texans
Their beer: 8th Wonder Brewery Alternate Universe
Try to imagine an alternate-universe Texans team -- one with someone else other than a former Cleveland Browns QB behind center, and with a healthy Arian Foster and Jadeveon Clowney. Sorry, Texans fans. That universe does not exist. At least in this one, they have a fighting chance with J.J. Watt and DeAndre Hopkins. They'll lose to the Chiefs in the first round, but they'll put up a fight. And at least there's a tasty altbier from 8th Wonder to make everything better.
 
Kansas City Chiefs
Their beer: Boulevard Brewing Co. Harvest Dance
If you haven't seen Andy Reid do a "Harvest Dance" of his own, then you must take five seconds to watch this. Then we'd encourage you to drink some of this wheat-wine beer, which is a sort of a barleywine and sort of an ale. Watch the video again. It's probably even funnier now. But aside from Big Red's dance moves, the important thing to note is that the Chiefs have 10 wins in a row. Granted, they haven't won a playoff game since 1993. But thanks to a dominant defense, this appears to be their year, and even a cast-free J.J. Watt will likely not stand in their way.
 
Minnesota Vikings
Their beer: Indeed Brewing Company Stir Crazy
Indeed says its winter ale is designed "to warm you from within during the coldest time of year." And the good people of Minneapolis will need all the warmth they can get for their first home playoff game, as it will be between 1 and -9 degrees, which means the Vikings could win and start a deep playoff run, as long as Russell Wilson first gets frostbite and his brain freezes, and he somehow forgets how to play football.
 
New England Patriots
Their beer: Beer Works Contender IPA
Despite losing four out of their last six, the Pats are still contenders, making this 6.5% ABV beer with 80 IBUs perfectly named. Their performance earlier in the season earned them a bye, and they're rewarded with a week off for Brady to further heal his ankle and eat the most bizarre pre-game food: tiny footballs made out of lentils. With talent like Brady, Belichick, and the anthropomorphic beard who coaches their defense, it's tough to ever count this team out. Ask the Seahawks.
<a href="http://on.fb.me/1PM7HTO" target="_blank">Pittsburgh Steelers</a>/<a href="http://on.fb.me/1RcesBs" target="_blank">Spoonwood Brewing</a>
Pittsburgh Steelers
Their beer: Spoonwood Brewing Co. Collapsium
DeAngelo Williams, the Steelers starting RB, is walking around with a boot this week, and not because Pittsburgh is super snowy. Unless it is? Would he then have to wear a boot over his boot? Oh man, that would be crazy. Also this week, QB Ben Roethlisberger is publicly calling out WR Martavis Bryant to "toughen up." If you have to tell a football player to be tough, perhaps football is not the sport for him. This year is just not the Steelers' year. In honor of that, let's raise a glass of the 11.3% ABV Collapsium barleywine to the soon-to-collapse 2015-2016 Pittsburgh Steelers.
 
Seattle Seahawks
Their beer: Naked City The Knowledge
It is undoubtedly hilarious to associate Russell Wilson -- known virgin/Ciara arm candy/excellent football player -- with anything naked (he has never had intercourse!), but The Knowledge part of this 8% English-style strong ale is also relevant. The Hawks have all the knowledge needed to win another championship. They've been here before. Oh, and it doesn't hurt to have a healthy Marshawn Lynch and Luke "Not That Wilson" Willson back on offense, either.
 
Washington Redskins
Their beer: Bluejacket Full Bloom
This Brett farmhouse beer full of "strawberry & grass" notes might trick your palate into thinking it's still summertime. But Washington is playing the greatest trick of them all: making their fans have some hope they might make a run in the playoffs. Mr. You Like That! is the "NFL's second-rated passer and owns the fifth-best total QBR" and is in serious Full Bloom in the last 10 games, which is so unbelievable I'm linking to it to make sure you know I didn't make it up. With a QB that on-point, Dan Snyder's boys have a shot at an upset or two.
Sign up here for our daily Thrillist email, and get your fix of the best in food/drink/fun.
     
Lee Breslouer is a senior writer for Thrillist, and still thinks the Eagles have a shot. Follow him to dashed dreams: @LeeBreslouer.