Tip These Queens
Presented By

How Nicky Doll Found Herself By Becoming Someone Else
This sickening fashion queen talks growing up global and the art of drag.
Presented By

Nicky Doll was the first francophone drag queen to grace the main stage of Ru Paul's Drag Race. Although she was eliminated relatively early in the competition, she captured our hearts with her immaculate makeup and high-fashion looks.
Born in France, Nicky spent time in Morocco, the Carribean, Paris, and San Francisco before settling in New York City. I put on my best lipstick and FaceTimed with her about Japanese pop culture, the difference between American and French drag, and what it was like to do Pete Davidson's makeup for SNL.
John deBary: So, Nicky, what is life like for a drag performer right now?
Nicky Doll: I had the amazing opportunity to be on season 12 and it aired right before the pandemic. Usually, the price to pay to travel around the world is to go through this insane competition but then after you get to hug the fans and enjoy the fame, and all of this….just did not happen. I was watching it on TV like everyone else on their couch. So that was not the best feeling. On the other hand, it really allowed me to keep hustling and find ways to keep creating art and connect with the fans. But yeah, I'm alive and I'm excited about the future.
JdB: I love your YouTube. The video you did with Rock em Sakura about the fashions of Final Fantasy VIII…
ND: My favorite game of all time. The best storyline.
JdB: So good. And when you talked about how the game's villain Edea made you want to be a drag queen I was like, 'Oh my god, there is someone else out there who this game turned gay.' And reflecting on those costume designs, I was struck by how the characters look really gay and super straight at the same time.
ND: Right, that's pretty true. That's why some of the styling ideas of anime and video games are so cool but once you try to transcribe them into reality it's like, ohh…no.
JdB: You're also a big fan of anime and J-Pop. How did you get into that?
ND: I was living in Morocco at the time. I started to realize that something was different in me, and it was hard to be out, so the internet was my safe space. I was the type of kid who was always on MSN, I had my little blog, and I discovered—not only porn—but everything else also, anime and video games and J-Pop. Japanese pop culture was something that really helped me go though the teenage years in high school. My favorite artist is Hikaru Utada.
JdB: I was hoping you would mention her. What's your favorite song of hers?
ND: Impossible to answer. I love 'Colors', that one really made me go 'Wow.' I love 'Passion' from Kingdom Hearts. My dream is to go to a concert of hers. Her albums helped me go through all those years trying to accept myself.
JdB: You said that Nicky Doll is the superhero that you created to deal with the difficulty of life. Can you talk more about that?
ND: I was always targeted for being too femme, too different, not enough. One day I wanted to do a social experiment to dress up in drag for Pride in Paris in 2009. Once I did that, I realized that it was helping me to navigate people's perspective of who I am. When I had lashes and a wig but was still behaving like Karl, it was suddenly 'amazing' and 'iconic'—fully accepted and normal and I was like, 'Oh my god.'
Once I created Nicky Doll and she was fully realized, it really helped me to channel all the femininity and this character and I was finally able to psychologically just focus on 'Who is Karl? What does Karl like?' and that helped me to find the answer and to accept myself.
JdB: I love that you did Pete Davidson's makeup for SNL. What was that phone call like?
ND: I was in the airport and World of Wonder called me and said, 'Hey do you still do makeup gigs because Ru specifically asked for you.' That sentence alone: 'Ru specifically asked' kind of fucked with my brain. When they told me it was Pete I was like, 'Oh okay I like a challenge.' When I see Pete's face I don't automatically see…
JdB: ...a face for drag?
ND: Right, so I took the challenge. It was amazing having this huge straight cis man sitting on my chair for like three hours. It was a great experience, he's really fun. And you know what? She turned out really cute, kind of looking like Rebecca Glasscock from season one.
JdB: Wow. That's a deep cut, but I see it. What's the difference between makeup makeup and drag makeup?
ND: As a makeup artist, I try to analyze your face and what are your assets and what are the things that if I erase a little bit is going to go in your favor. Always try to use your natural beauty and enhance it. Drag is just creating other features and having a transformative experience. It's a big misconception that as a makeup artist I might have a heavy hand with makeup, but it's two different skills depending on what I'm doing it for.
JdB: You said 'transformative' and the French term for drag queens is transformistes, right?
ND: Wow, yes, I'm impressed! Yes, transformistes is the term we use for a drag queen who does a revue dressed as maybe Cher, or Britney, or Liza. But there are not really that many performers, and bar culture is not as developed in France. Also we don't have a one Euro bill, so unless you want to throw coins at the queens…[laughs]
Advertisement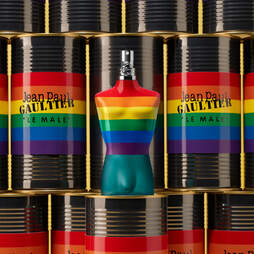 Celebrating what makes you, you is important every month -- but especially during Pride. Few things are as unique to you as your signature scent, which is why Jean Paul Gaultier's Le Male Pride Collector's Edition Eau de Toilette proudly sports the rainbow of tolerance. It has notes of mint, lavender, and vanilla to keep you smelling fresh and (most importantly) feeling confident.
JdB: You used to bartend, right?
ND: It was in Paris at a club called the Velvet, but I don't think I ever bartended in drag, maybe once, but mostly I was a broke student twink. I had fun. I was behind my counter and there is a synergy between myself and the customer when shaking your cocktails or making a mojito, it's very empowering because it's like, 'He's in control'
JdB: What's your favorite drink?
ND: A classic that I love because it's not too sweet and a little tart is the Cosmopolitan. It's my go-to. Everyone thinks it's so sweet because it's pink! Although if I had the power to change, I would change the freaking glass that everyone pours the Cosmo in. I hate it! Give it to me in something else.
JdB: Yeah martini glasses are the worst. What's your favorite bar in NYC?
ND: I love Pieces because it's just a tiny little bar, but I think the drag there is incredible and there is always a positive energy.
JdB: What is something you wish more people knew about drag?
ND: I wish that people knew how uncomfortable it is and how time-consuming it is. Sometimes people think that we put on a tank top and a wig and we're ready to go. Also drag is fun and there is no real label on it—as long as you have a point of view and you're working hard for your craft to be watchable. Focus on doing good drag and, whoever you are, there will be a spot for you, because at the end of the day, we all love good art.
John deBary is a cocktail and bar expert with over a decade of experience working in award-winning New York City bars and restaurants. He is also the co-founder and president of the Restaurant Workers' Community Foundation, which is dedicated to improving the lives of hospitality industry professionals through advocacy, grantmaking, and impact investing. John is also the creator of Proteau, a line of non-alcoholic drinks.