According to most brew-enthusiasts, we're currently drinking our way through the golden age of American beer. The rise of micro-brewing in the Nineties & Aughts brought on higher-quality ingredients & colossal variety, while the rise of the Internet made it possible for anyone, anywhere, to indulge in (and argue about) every pioneering pint this nation produced.
But in this great future, we can't forget our past, so I asked a baby boomer & former beer man to tell me about the near-forgotten dark ages of American beer -- before craft beer, green-bottle imports, or even nationally distributed light lagers.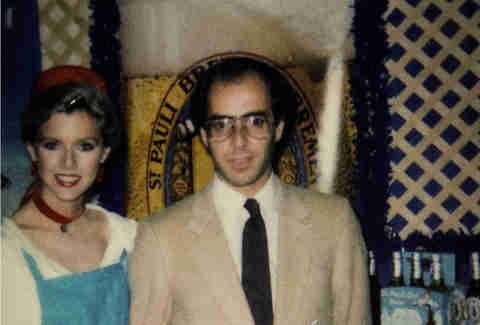 Full disclosure: That was a Bob Marley quote.
Fuller disclosure!: The expert is my father, Nick Infante. He grew up drinking Rheingold & Ballantine in a Connecticut factory town, then went on to work in marketing for St. Pauli Girl, Labatt, Rolling Rock, and many more.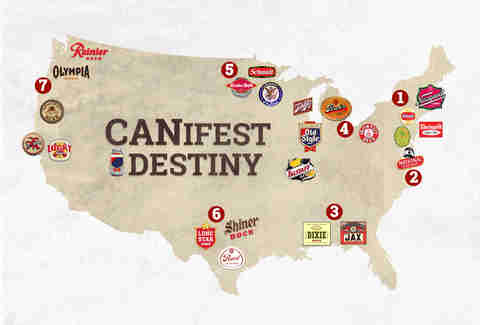 America's back-in-the-day beer landscape
As my father tells it, the US beer industry was basically a fiefdom for those intervening decades between Prohibition's blessed repeal and the industrial improvements in bottling, shipping, and mass-batch brewing that arrived post-WWII. Provincial breweries dominated their respective regions, but rarely expanded beyond the invisible boundaries of cost-effective distribution.
By the Seventies, he says, these insular realms were entrenched in crippling competition with Big Beer, and when the Nineties dawned, there were only a handful of indie brewers still successfully defending their local shelf-space from the constant threat of homogenous, homogenized brew.
What follows is a primer on 23 American beers of yesteryear: formerly glorious brews that are either dead & gone, drastically enfeebled or -- in a few improbable cases -- still thriving today. These brave brands fought the good fight, in their failures paving the way for an entire second act in local American beer-brewing. Cheers to that.
NARRAGANSETT
Founded: 1890, Rhode Island
Home territory: New England
Claim to fame: As the largest brewery in New England, 'Gansett won hearts & minds by sponsoring the Red Sox for decades. It was a Boston sportscaster who immortalized the beer's slogan on-air -- "Hi neighbor! Have a 'Gansett!"
Present-day status: After changing hands twice (once to St. Louis' Falstaff, then to private investors), the label mounted a comeback in the Aughts with a focused offering that's contract-brewed by Genesee in upstate New York. They even do special editions.
RHEINGOLD
Founded: 1883, NYC
Home territory: NY, NJ, PA, CT
Claim to fame: In 1962, the German-American brand became the official beer of the then-new New York Mets. Its Miss Rheingold contest blazed the trail on disguising crowd-sourced sexy photos as "marketing".
Present-day status: Sold into irrelevance, then nostalgically dredged back to the surface by my father's former boss, R is available -- albeit sparsely -- throughout the Tri-State area these days.
BALLANTINE
Founded: 1840, Newark
Home territory: NJ, NY, CT, PA, MD, DE
Claim to fame: The brand's "three-ring" logo was synonymous with the New York Yankees for decades thanks to a longstanding partnership. Mel Allen -- the Bronx Bombers' legendary call-man -- was a key endorser.
Present-day status: Now owned by PBR, Ballantine makes a single brew, which is sold throughout the Northeast & Midwest in 40oz bottles instead of the traditional longnecks.
SCHAEFER
Founded: 1842, NYC
Home territory: Northeast, Mid-Atlantic, Midwest
Claim to fame: Popularly credited with introducing American drinkers to Germany's lager-style beer, Schaefer held the crown as the country's largest brewery until giving up the ghost to Anheuser in the Seventies.
Present-day status: Also owned by PBR, Midwestern fans can still slug "the one beer to have when you're having more than one". Sadly, the rest of us are out of luck.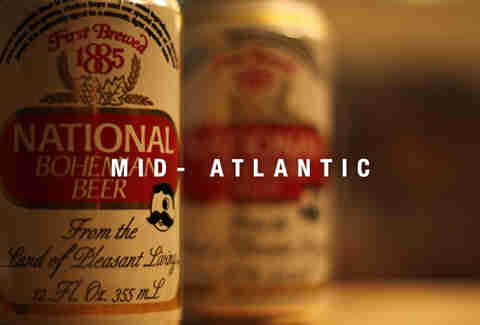 NATIONAL BOHEMIAN
Founded: 1885, Baltimore
Home territory: Mid-Atlantic, NJ, PA
Claim to fame: Mr. Boh, the beer's monocled Monopoly Man-esque mascot, is a mythic Baltimore figure on the magnitude of Omar Little himself. Natty Boh has backed the Orioles since 1965 and is considered the official beer of Maryland.
Present-day status: Mr. Boh keeps his cycloptic watch over "The Land Of Pleasant Living" from a tower in the original brewery complex. You can drink the stuff in Maryland, DC, and parts of Virginia.
DIXIE
Founded: 1907, New Orleans
Home territory: LA, AL, MS, Florida Panhandle
Claim to fame: Until Hurricane Katrina broke the levees in 2005, Dixie's Tulane Avenue facility held the title of NOLA's oldest brewery. Sadly, the storm knocked out the water supply long enough that local operations had to be shut down.
Present-day status: The brand was forced to contract-brew elsewhere following the disaster, but it's still very much available in the Southeast, and there are rumors that Dixie is plotting a glorious return to its old, still-standing brewery.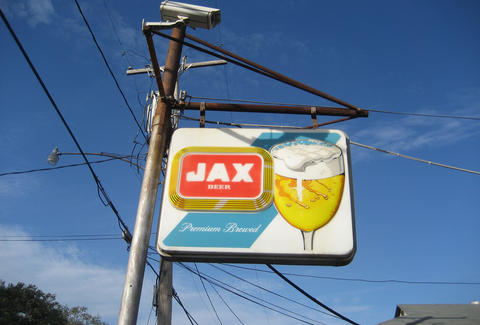 JAX
Founded: 1913, Jacksonville, FL
Home territory: FL, GA, MS, AL, LA
Claim to fame: The brand that allegedly invented the six-pack didn't last long, but its hand-painted signs & vintage paraphernalia still fetch good money at auction.
Present-day status: Bought by New Orleans' unaffiliated Jackson Brewery after WWII, Jax died when that outfit went bust in the Seventies.
FALSTAFF
Founded: 1838, St. Louis (as the Lemp Brewery)
Home territory: Midwest, Southeast, TX
Claim to fame: Before the Lou was Anheuser-Busch's backyard, this label was a powerhouse, using the city's natural caverns to lager its beers. Legendary sportscaster Harry Caray was a fan, and would plug Falstaff on-air. Fun literary fact: it's named for Shakespeare's character in Henry IV!
Present-day status: Corporate maneuvers hit the big F hard, and, after bouncing from one holdings company to the other, the label was laid to rest by Pabst in 2005.
IRON CITY
Founded: 1861, Pittsburgh
Home territory: Western PA, Western NY, OH
Claim to fame: Though it pioneered aluminum bottles, resealable caps, and a whole host of other now-standard beer-packaging options, IC will always be remembered for one in particular: its Super Steelers commemorative cans, which marked one of the first (and, it'd turn out, last) times an active pro sports franchise would grace alcohol products.
Present-day status: The Eighties weren't kind to IC, which slipped into bankruptcy after vicious union disputes. Purchased by an investment group in 2007, the label has resumed brisk business in the 'Burgh & its surroundings.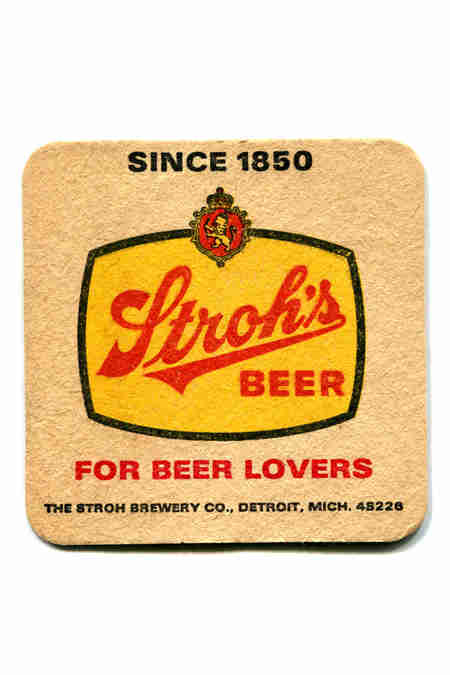 STROH'S
Founded: 1850, Detroit
Home territory: Midwest, Northeast
Claim to fame: A behemoth in its day, the label took on acquisition (it picked up Schaefer's old breweries & Schlitz outright), international expansion (it was the first foreign beer brand in India), and corporate structure (it hired execs from other industries before that was "a thing").
Present-day status: The once-proud empire lives on in booze products like Colt 45 and Mickey's Malt Liquor, which are owned & operated by -- you guessed it -- Pabst. The eponymous brew is still distributed in Michigan, especially up North and in the UP.
SCHLITZ
Founded: 1849, Milwaukee
Home territory: WI, IL, MI, OH, NC
Claim to fame: After the Great Chicago Fire in 1871, Joseph Schlitz sent hundreds of kegs to the city (because, as everyone knows, only beer can reverse smoke damage). At the turn of last century, the brand was the country's largest; in 1970, it was the world's largest. Innovations like its light-blocking brown bottle, pop-top cans, and "tallboys" established precedents that beer makers follow to this day.
Present-day status: Now owned by PBR (seeing a pattern here?), the once-proud brew is still sold in parts of the Midwest. Its bullish malt liquor, however, is distributed more widely.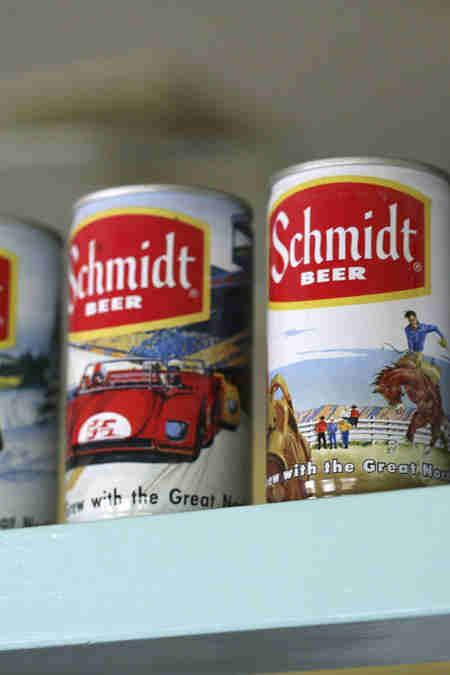 SCHMIDT
Founded: 1855, St. Paul
Home territory: Midwest
Claim to fame: As the "official beer of the American sportsman", it's no surprise the brewery's crowning achievement came in service of its country. During WWII, the family owners locked in a federal contract with the Army to provide beer for overseas G.I.'s.
Present-day status:  Still alive in its original stomping grounds, Schmidt is begrudgingly beloved for its yeomanly taste & price.
HAMM'S
Founded: 1865, St. Paul
Home territory: Midwest, TX, CA
Claim to fame: The Hamm's Bear, the label's cartoon ursine mascot, was so damn loveable, it won advertising awards nationwide before getting benched so as to avoid the fate of Joe Camel. On the West Coast, Hamm's San Francisco outpost was famously seen used for establishing shots in Dirty Harry.
Present-day status: Owned by MillerCoors, Hamm's is still available in select markets.
GRAIN BELT
Founded: 1890, Minneapolis
Home territory: MN, MI, WI, IA, IL, Eastern Dakotas
Claim to fame: Before the Twin Cities finally decided to tolerate each other, the brewery (which was actually an amalgamation of four subsidiaries across the Midwest) was in a dogfight with St. Paul neighbors Hamm's & Schmidt.
Present-day status: Moved to La Crosse by a Wisconsin parent company that also owned Schmidt, GB stumbled through the late '90s & Aughts. Now it's on the come-up thanks to its current owner: one-time Minnesota rival brewer Schell's.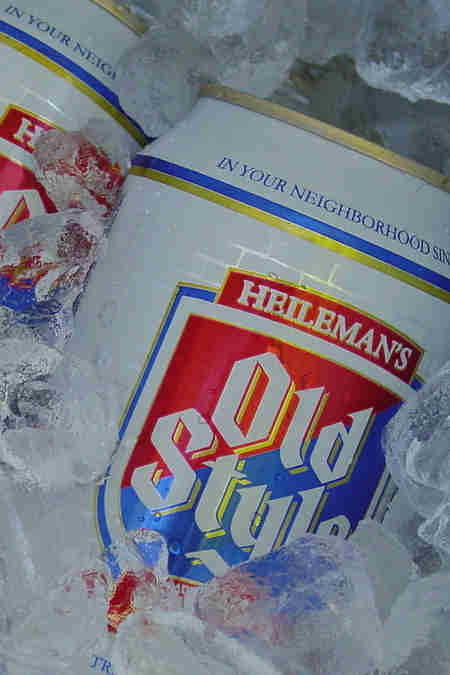 OLD STYLE
Founded: 1902, La Crosse, WI
Home territory: Chicago! (Plus most of the Midwest)
Claim to fame: Technically a Sconnie brew, Heileman's popular lager started making serious money when a bottlers' strike opened up an entre to the Windy City's beer-thirsty multitudes. The label has sponsored the Cubs since 1950.
Present-day status: Owned by Pabst, Old Style is alive & well to this very day. Next time you're in Chi-Town, grab one.
LONE STAR
Founded: 1884, San Antonio
Home territory: TX, OK, NE, LA
Claim to fame: Well, first of all, it's the "National Beer of Texas", which is nice. But Lone Star also lays claim to the state's first mechanized brewery, plus bragging rights as one of the brands to which Adolphus Busch (yes, that Busch) lent his magic touch.
Present-day status: Purchased by Pabst -- do these guys own everything?! -- Lone Star is still contract-brewed in Texas today.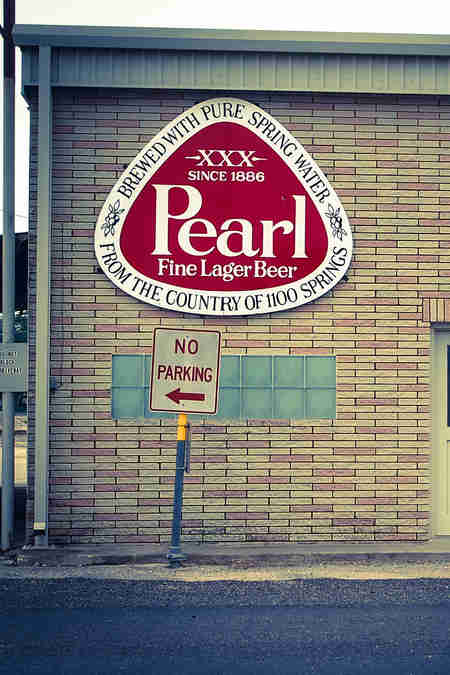 PEARL
Founded: 1883, San Antonio
Home territory: TX
Claim to fame: Technically, Pearl was a bigger producer than even Lone Star in their home state, and the company strolled through Prohibition and both World Wars relatively unscathed. At one point, it purchased a candy company, just 'cause.
Present-day status: Owned & operated by Pabst, you can still find the light, refreshing beer on shelves throughout Texas, as well as some nearby states.
SHINER BOCK
Founded: 1909, Shiner, TX
Home territory: Texas, Southeast, Southern portions of the Midwest
Claim to fame: The brand's cultishly popular Bock has turned up in episodes of The X-Files, and Texas transplants have successfully demanded its distribution as far away as New York & Connecticut.
Present-day status: Shiner is alive & well to this very day, but more impressively -- they're still independent. Well done, cowboys.
OLYMPIA
Founded: 1896, Tumwater, WA
Home territory: Pacific-Northwest
Claim to fame: Oly was a player in its heyday, buying up both Hamm's & Lone Star (for a time) with a war chest fortified via a loyal (and thirsty) Wash State market. But forget business: The brand endorsed Evel Knievel. Seriously. So yeah -- hows that for fame?
Present-day status: The label fought hard through the Seventies before selling to Pabst in 1983. The brewery has been shuttered since 2003.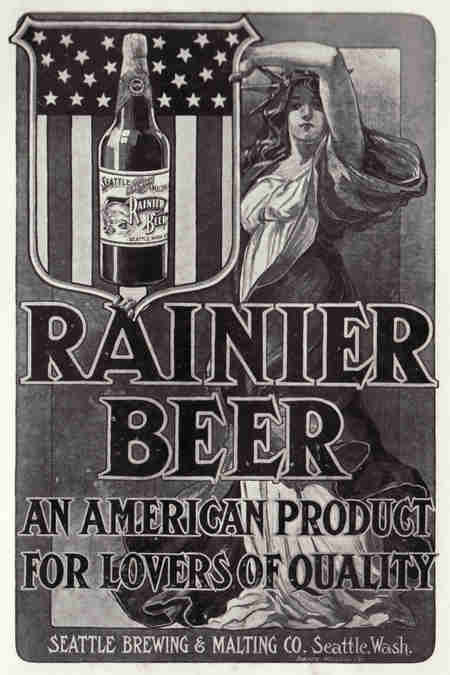 RAINIER
Founded: 1883, Seattle
Home territory: Pacific-Northwest
Claim to fame: 11 years before Washington became a state, this plucky brand had already entered its second decade (its ancestral Washington Brewery was founded in 1854). Urban legend has it that the brewery's owner bribed a government official to rename Mt. Tacoma "Mt. Rainier".
Present-day status: Rainier was sold in 1916 when Washington banned booze; then sold again; then sold again. Eventually, it landed in Heileman's hands, who then sold it again. To Pabst. Nevertheless, it remains an Evergreen State mainstay to this day.
BROWN DERBY
Founded: 1973, Eureka, CA
Home territory: CA
Claim to fame: Unlike many of its elders, Derby never went through Prohibition, so it hit markets with a vengeance once that horrid law was repealed. It was also a "store brand" owned by Safeway -- an early predecessor to Whole Foods' & Trader Joe's own direct-sale efforts decades later.
Present-day status: Safeway sold most of its locations in 1988, and somewhere in the ensuing shuffle, Brown Derby was discontinued.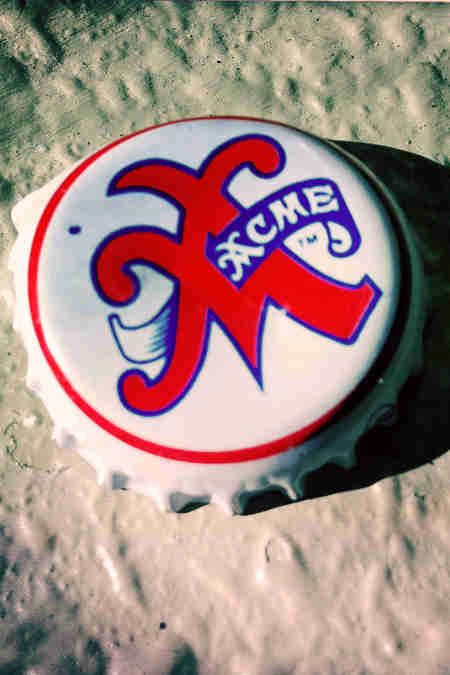 ACME
Founded: 1907, San Francisco
Home territory: CA
Claim to fame: Initially, the A was just an extension of Oly's Washington brand, but when an earthquake took out much of Frisco's existing breweries in 1906, the company captured the market with a whole separate brand. Legendary boxer Jack Dempsey was the spokesman for an offshoot label (Bulldog).
Present-day status: The brand changed names & owners several times, but lives on today as part of North Coast Brewing.
LUCKY
Founded: 1934, San Francisco
Home territory: CA, ID, NV, UT, MT, and of course, Vancouver Island
Claim to fame: The lager didn't make as many appearances in pop culture as many of its competitors, but Jack Nicholson could be seen crushing Luckys in many scenes of Five Easy Pieces. And about that Vancouver thing: the brew has a strong following in the city owing to Lucky's onetime brewery there.
Present-day status: The X can be found sporadically throughout California, the Pacific-Northwest,  and Western Canada.