American beers of yesteryear: 23 old-school brews your parents drank
According to most brew-enthusiasts, we're currently drinking our way through the golden age of American beer. The rise of micro-brewing in the Nineties & Aughts brought on higher-quality ingredients & colossal variety, while the rise of the Internet made it possible for anyone, anywhere, to indulge in (and argue about) every pioneering pint this nation produced.
But in this great future, we can't forget our past, so I asked a baby boomer & former beer man to tell me about the near-forgotten dark ages of American beer -- before craft beer, green-bottle imports, or even nationally distributed light lagers.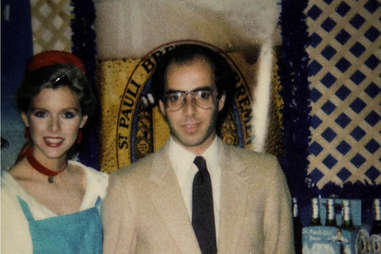 Full disclosure: That was a Bob Marley quote.
Fuller disclosure!: The expert is my father, Nick Infante. He grew up drinking Rheingold & Ballantine in a Connecticut factory town, then went on to work in marketing for St. Pauli Girl, Labatt, Rolling Rock, and many more.
America's back-in-the-day beer landscape
As my father tells it, the US beer industry was basically a fiefdom for those intervening decades between Prohibition's blessed repeal and the industrial improvements in bottling, shipping, and mass-batch brewing that arrived post-WWII. Provincial breweries dominated their respective regions, but rarely expanded beyond the invisible boundaries of cost-effective distribution.
By the Seventies, he says, these insular realms were entrenched in crippling competition with Big Beer, and when the Nineties dawned, there were only a handful of indie brewers still successfully defending their local shelf-space from the constant threat of homogenous, homogenized brew.
What follows is a primer on 23 American beers of yesteryear: formerly glorious brews that are either dead & gone, drastically enfeebled or -- in a few improbable cases -- still thriving today. These brave brands fought the good fight, in their failures paving the way for an entire second act in local American beer-brewing. Cheers to that.
NARRAGANSETT
Founded: 1890, Rhode Island
Home territory: New England
Claim to fame: As the largest brewery in New England, 'Gansett won hearts & minds by sponsoring the Red Sox for decades. It was a Boston sportscaster who immortalized the beer's slogan on-air -- "Hi neighbor! Have a 'Gansett!"
Present-day status: After changing hands twice (once to St. Louis' Falstaff, then to private investors), the label mounted a comeback in the Aughts with a focused offering that's contract-brewed by Genesee in upstate New York. They even do special editions.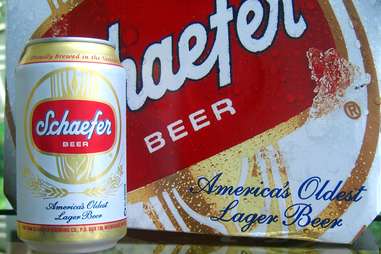 NATIONAL BOHEMIAN
Founded: 1885, Baltimore
Home territory: Mid-Atlantic, NJ, PA
Claim to fame: Mr. Boh, the beer's monocled Monopoly Man-esque mascot, is a mythic Baltimore figure on the magnitude of Omar Little himself. Natty Boh has backed the Orioles since 1965 and is considered the official beer of Maryland.
Present-day status: Mr. Boh keeps his cycloptic watch over "The Land Of Pleasant Living" from a tower in the original brewery complex. You can drink the stuff in Maryland, DC, and parts of Virginia.
DIXIE
Founded: 1907, New Orleans
Home territory: LA, AL, MS, Florida Panhandle
Claim to fame: Until Hurricane Katrina broke the levees in 2005, Dixie's Tulane Avenue facility held the title of NOLA's oldest brewery. Sadly, the storm knocked out the water supply long enough that local operations had to be shut down.
Present-day status: The brand was forced to contract-brew elsewhere following the disaster, but it's still very much available in the Southeast, and there are rumors that Dixie is plotting a glorious return to its old, still-standing brewery.
JAX
Founded: 1913, Jacksonville, FL
Home territory: FL, GA, MS, AL, LA
Claim to fame: The brand that allegedly invented the six-pack didn't last long, but its hand-painted signs & vintage paraphernalia still fetch good money at auction.
Present-day status: Bought by New Orleans' unaffiliated Jackson Brewery after WWII, Jax died when that outfit went bust in the Seventies.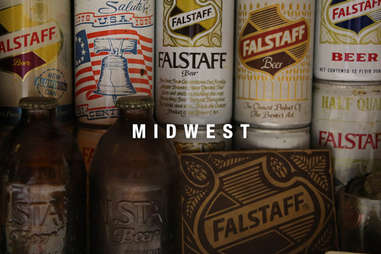 FALSTAFF
Founded: 1838, St. Louis (as the Lemp Brewery)
Home territory: Midwest, Southeast, TX
Claim to fame: Before the Lou was Anheuser-Busch's backyard, this label was a powerhouse, using the city's natural caverns to lager its beers. Legendary sportscaster Harry Caray was a fan, and would plug Falstaff on-air. Fun literary fact: it's named for Shakespeare's character in Henry IV!
Present-day status: Corporate maneuvers hit the big F hard, and, after bouncing from one holdings company to the other, the label was laid to rest by Pabst in 2005.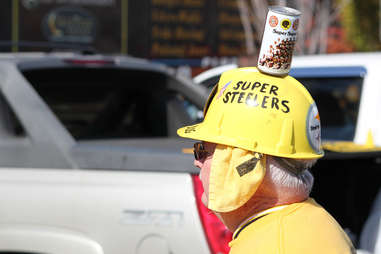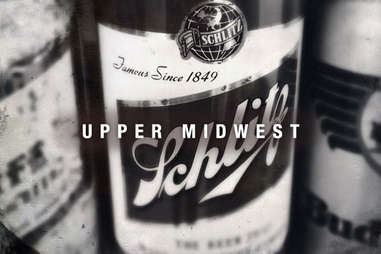 SCHLITZ
Founded: 1849, Milwaukee
Home territory: WI, IL, MI, OH, NC
Claim to fame: After the Great Chicago Fire in 1871, Joseph Schlitz sent hundreds of kegs to the city (because, as everyone knows, only beer can reverse smoke damage). At the turn of last century, the brand was the country's largest; in 1970, it was the world's largest. Innovations like its light-blocking brown bottle, pop-top cans, and "tallboys" established precedents that beer makers follow to this day.
Present-day status: Now owned by PBR (seeing a pattern here?), the once-proud brew is still sold in parts of the Midwest. Its bullish malt liquor, however, is distributed more widely.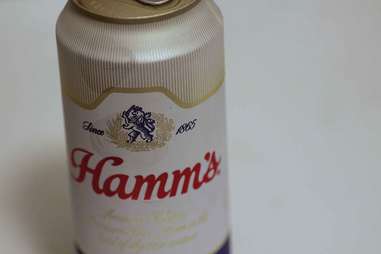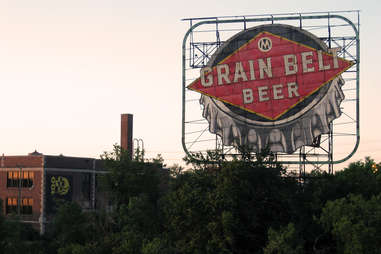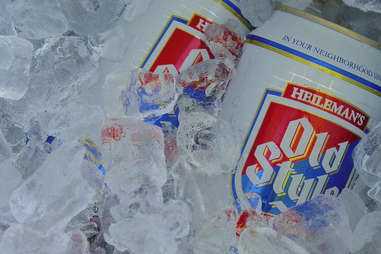 LONE STAR
Founded: 1884, San Antonio
Home territory: TX, OK, NE, LA
Claim to fame: Well, first of all, it's the "National Beer of Texas", which is nice. But Lone Star also lays claim to the state's first mechanized brewery, plus bragging rights as one of the brands to which Adolphus Busch (yes, that Busch) lent his magic touch.
Present-day status: Purchased by Pabst -- do these guys own everything?! -- Lone Star is still contract-brewed in Texas today.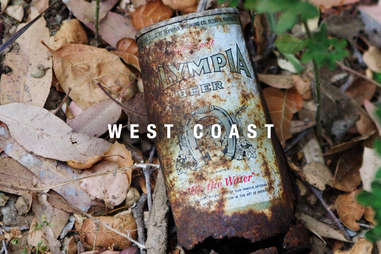 OLYMPIA
Founded: 1896, Tumwater, WA
Home territory: Pacific-Northwest
Claim to fame: Oly was a player in its heyday, buying up both Hamm's & Lone Star (for a time) with a war chest fortified via a loyal (and thirsty) Wash State market. But forget business: The brand endorsed Evel Knievel. Seriously. So yeah -- hows that for fame?
Present-day status: The label fought hard through the Seventies before selling to Pabst in 1983. The brewery has been shuttered since 2003.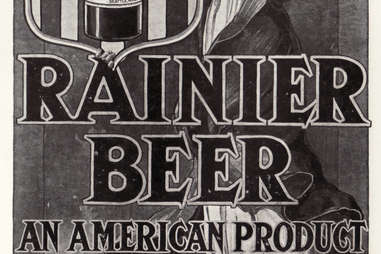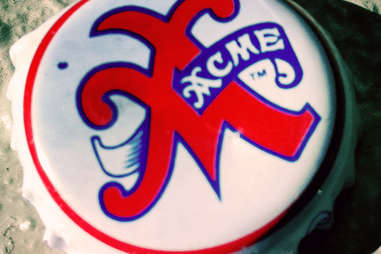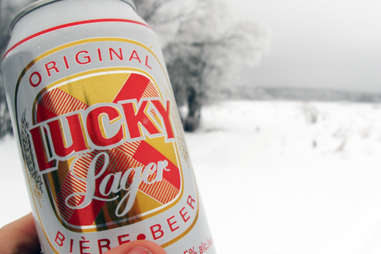 Dave Infante is a senior writer for Thrillist food & drink. He can sing the Schaefer jingle with troubling accuracy. Follow him on Twitter at @dinfontay.