Oreo and Chips Ahoy-Flavored Drinks Are Coming to Dunkin' Donuts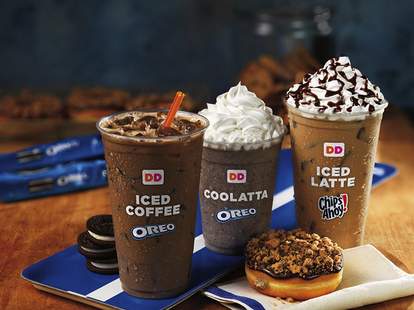 Everyone wakes up craving cookies; this is just a simple fact of life. And since you obviously need coffee as well, cookies in your coffee is just good efficiency.
Well, Dunkin' Donuts is coming to your rescue, announcing that, starting today, it will offer Oreo and Chips Ahoy-flavored drinks throughout the summer at participating locations. On menu will be Cookie Flavored Iced Coffee (with either Oreo or Chips Ahoy flavor), as well as Oreo and Chips Ahoy Coolatta Frozen Beverages (cookie-flavored Coolatta frozen drinks with actual cookie mix-ins). No word on whether or not Red Velvet Oreos will be involved, so, Dear Dunkin' Donuts: please make Red Velvet Oreo drinks a thing. Please.
In case that isn't enough for you, because you are a crazy person, you can also get Chips Ahoy Crème or Crunch Donuts (the former filled with cookie dough-flavored buttercreme, frosted with chocolate icing, and dipped in crumbled cookies; the latter frosted with chocolate icing and dipped in crumbled cookies).
To celebrate its cookie concoctions -- and your impending sugar high -- Dunkin' is also offering prizes to fans who play a cookie-themed game, the Grand Prize being JetBlue travel certificates and a year's worth of Dunkin' Donuts Iced Coffee. That is A LOT of coffee.
Lucy Meilus is a staff writer for Thrillist and wonders why we're not all just drinking coffee with donuts floating in it. Follow her on Twitter at @Lucymeilus and send news tips to news@thrillist.com.