Ask someone for a short list of America's finest beer cities and you'll likely hear the same names again and again: your Denvers, your San Diegos, your Portlands (Oregon AND Maine!). You know… Portland might have been the only one that made sense to pluralize there. Whatever.
The thing is, with craft beer having exploded to the point that it feels silly to even bother pointing out said explosion, there's some legitimately impressive brewing happening pretty much throughout the country. As a result, many cities that might not be top of mind when it comes to "great beer cities" are nonetheless doing serious suds worth your attention. Check out a selection of those cities below, and then let us know which overlooked cities we STILL overlooked in the comments.
Albuquerque, NM
The good people of the city where Bugs Bunny frequently failed to make left turns may well scoff at being labeled "overlooked," arguing they belong at the grown-up table -- and they are not without a point. In fewer than five years La Cumbre has established itself as a beer force to be reckoned with (as anyone who's scored a bomber of Project Dank or cracked a can of GABF Gold Medal-winning Elevated IPA already knows). Chama River Brewing Company feels like the result of a steamy affair between a brewpub and a steakhouse, and Marble Brewing has a way with stouts that'll make you say "I don't care if it's 110 degrees out, I'm having an oatmeal stout anyway." The Albuquerque brew scene's clearly getting the attention of important people -- the mayor just signed legislation encouraging the tapping of more local suds at city-sponsored events, a wise move considering there are a bunch more breweries on the way.
Anaheim, CA
San Diego and the Bay Area rightfully draw the bulk of the Cali-centric beer accolades, but Anaheim is on the upswing in a big way, helping numb the pain of recent Ducks playoff disappointments. Bottle Logic is an experiment-minded brewery (as in "we very much know what we're doing from a scientific standpoint," not as in "let's throw some goddamn peppers and bacon in this beer and see what happens"), which could explain why its Madagascar vanilla, bourbon barrel-aged Fundamental Observation has people going fundamentally crazy.
Noble Ale Works carries on the West Coast tradition of having a way with hop-centric beers with aplomb, to the point that you might want to take the name of its highly sought after Citra Showers literally (pro tip: shower beer = good, beer shower = bad). Even the old Anaheim Brewery (which dates back to 1870, but, like far too many outfits, couldn't hack it through Prohibition) has seen its name revived in recent years. Phantom Ales is a nanobrewery that also does some fine work with ciders and meads, and also doubles as a homebrew shop. Furthering Anaheim's rising cred: The Bruery tapped it for Terreux, its sour-centric side project complete with its own tap room.
Anchorage, AK
Truth be told, Anchorage has been plugged into the craft beer thing for a while, but what with the whole "not being connected to the rest of the United States" and "occasional bouts of unbearable cold and darkness" thing, many of Alaska's finer points tend to be lost, or at least somewhat overlooked, when it comes to the rest of the country. Midnight Sun has been at it since the mid '90s, and Berserker has long been coveted by anyone who appreciates robust imperial stouts/that one scene from Clerks.
A more recent addition to the scene, Anchorage Brewing Company makes up for what it lacks in imaginative company names with brews like A Deal With The Devil, a barleywine whose drinkability belies its 17+ ABV, which is the exact criteria one should seek in a beer to pair with an Alaskan winter. Glacier Brewhouse is an ideal setting to simultaneously indulge in local beers (Big Woody is an excellent barleywine; this town has a way with barleywines) and local seafood, because the healthy attributes of salmon pretty much cancel out any damage you're doing with the beer, right? If you're looking to get down on a bunch of local beers at once, Humpy's is a local institution that also does some of its own brewing in conjunction with other local outfits.
Baltimore, MD
It's not just about Natty Boh in Charm City (though rest assured one-eyed Mr. Boh will always have his special place there): gypsy brewery and master of saisons and other funky ales Stillwater has Baltimore roots, but for something with a little more permanence head to Union Craft for some Double Duckpin (its ridiculously hoppy, yet quaffable double IPA) and a game of cornhole. Meanwhile, local OG's DuClaw and Heavy Seas continue to reliably and prolifically turn out excellent work.
On the other end of the spectrum, co-op brewery Peabody Heights serves as a local craft beer incubator, contracting out to numerous smaller fledgling breweries to help them get a foothold in the game, paving the way for outfits like Raven Beer, because, well, do YOU want to live in a world without an Edgar Allan Poe-themed brewery? No, you do not. Also, don't make a trip here without a meal at The Brewer's Art, one of the best brewpubs you'll find anywhere, combining its own Belgian-leaning brews with a well-curated bottle list that you can pair with dishes like lamb neck osso bucco and Icelandic cod poached in lobster broth.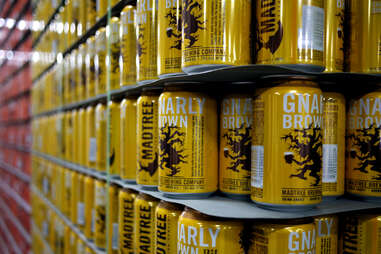 Cincinnati, OH
Cincinnati can sometimes even feel a little overlooked within its own state, what with regional giant Great Lakes and Fat Head's headlining a strong Cleveland lineup and college-town fave Jackie O's consistently turning heads out in Athens. But that just isn't right, dammit! MadTree has some seriously sexy cans, but there's plenty of beauty on the inside, too (see Galaxy High), and its barrel-aging game is on point, too (see Axis Mundi). Rhinegeist might just be a few years old, but its home was an old 1895 bottling plant. When you name your flagship IPA "Truth," you better back it up, and luckily Rhinegeist did. Rivertown's founder started building a name for himself in homebrew competitions, and now you can pair his excellent lambic with a side of video games and pinball, as the brewery's equipped with a 100-machine-strong arcade. Bar-wise, don't miss HalfCut, with a small, but thoughtful list of (often rare) stuff on tap along with 32 and 64oz growler fills.
Houston, TX
Cool kid Austin casts a long shadow on the Texas beer scene -- a frequently sour shadow if you're talking Jester King. What, shadows can't be sour? Shut up, you get the idea. Anyway, while St. Arnold is the true original Texas craft-brewing heavyweight (and continues to kick ass), it's far from the only game in town. Karbach has quickly gained a significant following with brews like the fantastically balanced Hellfighter porter (get the barrel-aged version if you can).
You have to head outside the city limits to Magnolia to pay a visit to Lone Pint, but it's worth it, especially to taste some Yellow Rose, which also happens to be on tap at many of Houston's finer beer bars. And speaking of beer bars, Houston has some excellent ones, like Hay Merchant, which also excels at burgers and, well, pretty much everything. Converted gas station Petrol Station reliably rotates excellent beers on tap and… ALSO kicks ass at burgers. Houston is a good city in which to enjoy a beer and a burger, apparently.
Indianapolis, IN
Craft beer in Indy goes back a long way (Broad Ripple Brewpub just celebrated its 25th birthday), but it has also come a long way, as it's up to 23 breweries and counting. Sun King is the biggest game in town, purveyor of colorful tallboys with colorful names. Anyone who can craft a tart, tasty sour called Cherry Busey is setting its priorities properly. Indy particularly excels when it comes to exciting smaller outfits though, as more recent additions to the scene like TwoDEEP, Flat12, Thr3e Wise Men, and Black Acre (which apparently didn't get the memo about numbers) make names for themselves.
With a dozen different moules frites preparations and outstanding Belgian-leaning brews, you could be forgiven for forgetting you're in central Indiana during a visit to Brugge, and while it isn't technically a native Indy brewery, you'd be remiss to forego a trip to Upland's satellite taproom (its mother ship is down the road in Bloomington). If you want to get your hands on a bunch of local (and other delicious) stuff at once, Twenty Tap is a good move, because it actually has 38 taps, and makes up for its lack of arithmetic skills with outstanding taste.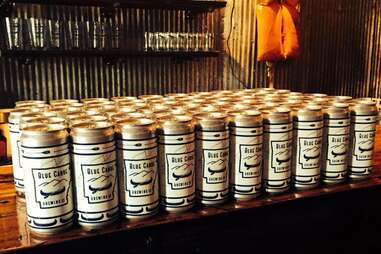 Little Rock, AR
The state of Arkansas might have been late to the craft-beer party, having just jumped into the fray about 15 years ago, but when you grow from four breweries statewide to more than 20 in the course of a few years, you've got yourself a boom. And with nearly half of the breweries doing their thing in Little Rock, you've got the makings for the South's next big beer city.
Vino's Brewpub is the OG on the scene, having been pairing beers like Razor Bock with fat calzones since most of the new wave was drinking NA lager, but upstarts are starting to make a splash too. Among them is Stone's Throw, a crowdfunded nanobrewery that's flipping the script with Belgian-style IPA and dipping its toes into pear cider. Diamond Bear -- another of the few old-guard spots ("old" being defined as "15 years old") brings the prestige with its award-winning pale and a whipping 9.9% IIPA, while Damgoode Pies continues the storied Little Rock tradition of pairing great beer with excellent pizza. Take heed: Little Rock is moving at a rapid clip, thanks to stalwarts and upstarts like the new Blue Canoe and soon-to-open Rebel Kettle working in tandem to make the city the next big beer destination. Get it while it's still fresh.
Tampa Bay, FL
While Cigar City (rightfully) gets its due as one of the most consistently outstanding breweries in the country (mmm... Hunahpu's), the Tampa-St. Pete area's overall beer game deserves to be recognized as a serious force, especially with the volume of promising breweries that have filled the scene out in recent years.
7venth Sun innovates (often spectacular) barrel-aged beers at a breakneck pace, and also has a decided way with names (Or Else It Gets The Gose Again… well played). Angry Chair is another smaller outfit that swings big with creations like a German Chocolate Cupcake Stout and Raspberry Berliner Weisse. Coppertail is another fledgling operation that's drawn a serious following in a short time, from its Flagship Freedive IPA to special releases like its barrel-aged Sabotage imperial stout. The brews at Peg's Cantina & Brew Pub were (and are) so beloved that Peg's started distributing them to a larger audience under the name Cycle Brewing, but no matter what name you drink them under, you'll be glad you did.
Tulsa, OK
Oklahoma, like Arkansas, came to the craft-beer table a tad late, and it took a minute for it to get its momentum. Now, though, that momentum is getting mighty, and much of it is coming out of Tulsa. Hell, were Prairie Artisan Ales -- purveyors of the magnificent barrel-aged Pirate Bomb imperial stout and dry-hopped Funky Gold Amarillo sour -- the city's sole brewer, it would make Tulsa a destination. Even better, Prairie is expanding its reach, right along with Marshall -- brewing up year-round greatness like Atlas IPA and seasonal favorites like Big Jamoke porter -- and Dead Armadillo, which floods markets with bombers of Black Hop IPA and cans of Amber ale. It may not be the biggest in terms of volume, but Tulsa deserves respect for keeping the region supplied with great beer that defies expectation, and its ability to up the South's entire game allows the city to stand tall with the big dogs.
Sign up here for our daily Thrillist email, and get your fix of the best in food/drink/fun.
Matt Lynch is Thrillist's Deputy Editor and feels his hometown of Chicago is properly rated. Follow him @MLynchChi.