Party like Pinkman with these Breaking Bad cocktails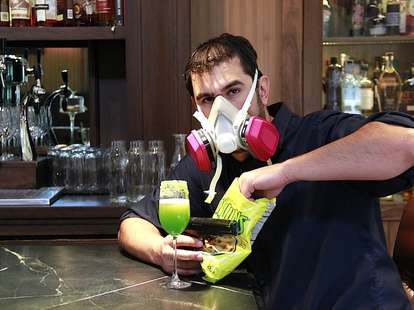 Walter White's journey from mild-mannered teacher to really evil person is coming to a close, but your journey from Schraderbrau-swilling simpleton to master chemist of cocktails has just begun. We've enlisted our own set of Heisenbergs -- David Shenaut and Alan Akwai of mixology superlab Raven & Rose in Portland -- to cook up these amazing Breaking Bad cocktails you should deftly create, and take to the face. Sorry, Gus.
Blue Sky
1.5oz Pisco brandy
1/4oz Absinthe
1/2oz lemon juice
3/4oz Orgeat
1 egg white
1/4oz Blue Curaçao
Soda
For a little crystal blue persuasion, just pour everything but the soda into a shaker (without ice), then jostle that sucker until the egg's all foamy. When the chemical balance of cold and blue is complete, pour it into a glass, top it with crushed ice, then fill it with soda until the foam reaches the top. Garnish it with 99.1% pure blue rock candy.
The Captain Cook
1oz pepper-infused vodka
3/4oz pineapple gomme syrup
1/4oz lemon juice
1/4oz orange juice
4oz beer (Schraderbrau if you've got it, a nice saison if you don't)
Blue Curaçao
Funyuns
Sea salt
As a tribute to Jesse Pinkman, this drink combines his signature dash of pepper -- and his ability to subsist mainly on Funyuns and beer -- into one yellow-and-green goblet. Drop the vodka, pineapple, lemon, and orange juice into a shaker full of ice and jiggle it like you were Gale dancing to opera stuff. Take your goblet and dip the rim in a mixture of crushed Funyuns and sea salt. Pour the mixture in the goblet, then add the beer and a splash of Blue Curaçao. Mix it up and it'll be the color of the Funyuns bag. Yeah science!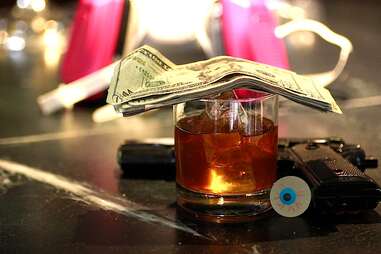 The Mr. White
2oz rye whiskey
2 barspoons creme de cacao
1 barspoon muscovado
4 dashes Angostura bitters
Absinthe rinse
A fat stack of scrilla
Combining Walt's favorite celebratory drink -- rye -- with chocolate and bitters (to represent the sweetness of power and the bitterness of rising to power to the detriment of your family and hairline), this drink is as simple as making money from car washes. Just stir all ingredients except the absinthe together, then pour it over rocks in an absinthe-rinsed glass. Top it with a stack of dollars, sit back, and realize it's good to be king. Yeah b***h!